2018 | OriginalPaper | Chapter
On the Tasks and Characteristics of Product Owners: A Case Study in the Oil and Gas Industry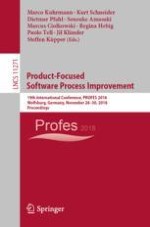 Authors: Carolin Unger-Windeler, Jil Klünder
Publisher: Springer International Publishing
Abstract
Product owners in the Scrum framework – respectively the on-site customer when applying eXtreme Programming – have an important role in the development process. They are responsible for the requirements and backlog deciding about the next steps within the development process. However, many companies face the difficulty of defining the tasks and the responsibilities of a product owner on their way towards an agile work environment.
While literature addresses the tailoring of the product owner's role in general, research does not particularly consider the specifics of this role in the context of a systems development as we find for example in the oil and gas industry. Consequently, the question arises whether there are any differences between these two areas. In order to answer this question, we investigated on the current state of characteristics and tasks of product owners at Baker Hughes, a GE company (BHGE).
In this position paper, we present initial results based on an online survey with answers of ten active product owners within the technical software department of BHGE. The results indicate that current product owners at BHGE primarily act as a nexus between all ends. While technical tasks are performed scarcely, communication skills seem even more important for product owners in a system development organization. However, to obtain more reliable results additional research in this area is required.