26-04-2019 | Issue 1/2020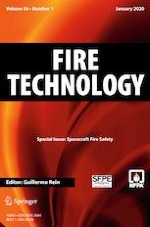 Opposed Flame Spread over Polyethylene Under Variable Flow Velocity and Oxygen Concentration in Microgravity
Journal:
Authors:

Yoshinari Kobayashi, Kaoru Terashima, Muhammad Arif Fahmi bin Borhan, Shuhei Takahashi
Important notes
Publisher's Note
Springer Nature remains neutral with regard to jurisdictional claims in published maps and institutional affiliations.
Abstract
Thermoplastics are melted and often dripped down during the flame spread over them in normal gravity. The flame spread behaviors, therefore, could be quite different from those in microgravity because they involve the dripping. However, no studies have addressed the flame spread over thermoplastics to be dripped in microgravity. This work then studied the opposed flame spread over polyethylene (PE) in microgravity with varying flow velocity and oxygen concentration. Two different PEs, a semi-transparent low-density polyethylene (LDPE) and an opaque high-density polyethylene (HDPE), were tested. Microgravity experiments were conducted in parabolic flights which provided a microgravity environment of 10−2 g for 20 s. Experimental results showed that the limiting oxygen concentration (LOC) of LDPE was 20% and 1% lower than that of HDPE. The flame spread of LDPE was faster than that of HDPE too. These indicate that LDPE is more flammable than HDPE, which well agrees with the literatures on the flame spread over PE-insulated wires. Flame spread rates of both LDPE and HDPE increased with flow velocity and oxygen concentration. The flame length also increased with flow velocity, but the preheating length showed an opposite dependence. The effects of flow velocity and oxygen concentration on flame spread rate, flame length, and preheating length are discussed via a simplified flame-spread model. This study's findings help ensure fire safety in spacecraft because a flame spreads without melted materials being dripped in a spacecraft environment.