01-12-2013 | Issue 4/2013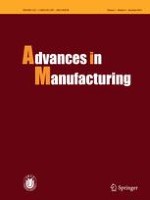 Optimal machining conditions for turning Ti-6Al-4V using response surface methodology
Journal:
Authors:

Satyanarayana Kosaraju, Venu Gopal Anne
Abstract
Machining titanium is one of ever-increasing magnitude problems due to its characteristics such as low thermal conductivity, modulus of elasticity and work hardening. The efficient titanium alloy machining involves a proper selection of process parameters to minimize the tangential force (
F
z
) and surface roughness (
R
a
). In the present work, the performance of PVD/TiAlN coated carbide inserts was investigated using response surface methodology (RSM) for turning Ti-6Al-4V. The effects of process parameters such as speed (
v
), feed (
f
), depth of cut (
d
) and back rake angle (
γ
y
) on
F
z
and
R
a
were investigated. The experimental plan used for four factors and three levels was designed based on face centered, central composite design (CCD). The experimental results indicated that
F
z
increased with the increase in
d
,
f
and decreased with the increase in
v
and
γ
y
, whereas
R
a
decreased with the increase in
v
and
γ
y
, and increased with
d
and
v
. The goodness of fit of the regression equations and model fits (
R
2
) for
F
z
and
R
a
were found to be 0.968 and 0.970, which demonstrated that it was an effective model. A confirmation test was also conducted in order to verify the correctness of the model.