01-06-2015 | Issue 4/2015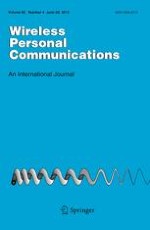 Optimization of Cooperative Spectrum Sensing with Parallel Frame Structure
Journal:
Authors:

Hang Hu, Hang Zhang, Yi Chen
Important notes
This work is supported by the National Fundament Research of China (973 No. 2009CB3020400) and Jiangsu Province Natural Science Foundation under Grant BK2011002.
Abstract
In cognitive radio (CR) networks, cooperative spectrum sensing (CSS) can greatly improve the sensing performance. In this paper, we propose a parallel frame structure for CSS in which spectrum sensing and data transmission are conducted concurrently over two different parts of the primary user (PU) spectrum band. We focus on the optimal fusion schemes of the proposed parallel CSS to minimize the CR user transmission delay and the average sensing error probability under the conditions of sufficient protection to PUs and required bandwidth for potential CR user data transmission. Some algorithms are proposed to calculate the optimal solutions. Computer simulations show that the delay performance is greatly improved by using the optimal fusion scheme I, and optimal fusion scheme II will further decrease the average sensing error probability compared to that using fixed thresholds in the fusion center.