12-06-2019 | ORIGINAL ARTICLE | Issue 6/2019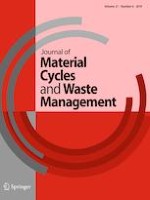 Optimizing acid leaching of copper from the wastewater treatment sludge of a printed circuit board industry using factorial experimental design
Authors:

Usarat Thawornchaisit, Kamalasiri Juthaisong, Kasama Parsongjeen, Phonsiri Phoengchan
Important notes
Publisher's Note
Springer Nature remains neutral with regard to jurisdictional claims in published maps and institutional affiliations.
Abstract
Heavy metal containing sludge from printed circuit board production (PCB) is not only classified as hazardous waste, but also as a potentially valuable raw material for copper recovery. Since sludge leaching is a significant first step in copper extraction yield via hydrometallurgy, we assessed the optimum copper acid-leaching conditions using a Design of Experiment (DOE) approach (3
3
full factorial design) and the multiple response method called the desirability (D) function. The effects of acid concentration, the ratio of acid volume to sludge quantity ("
L
/
S
ratio"), and leaching time on copper-leaching efficiency were evaluated. The model equation derived using Minitab 17.0 predicts that copper-leaching efficiency can reach 97.0% at optimal values of 0.84 M sulfuric acid,
L
/
S
ratio of 100:1, and a leaching time of 80 min. Experiments verified a 96.8% (
\(\sigma = 0.4\% )\)
copper-leaching efficiency. The small discrepancy between predicted and experimental data showed that the DOE approach was a suitable tool for predicting leaching efficiency from PCB sludge by sulfuric acid.