06-02-2019 | Full Research Article | Issue 3/2019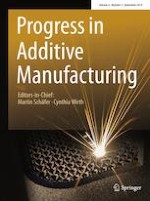 Optimizing additive manufacturing parameters for the fused deposition modeling technology using a design of experiments
Journal:
Authors:

Luiz Fernando C. S. Durão, Richard Barkoczy, Eduardo Zancul, Linda Lee Ho, Renan Bonnard
Important notes
Electronic supplementary material
Publisher's Note
Springer Nature remains neutral with regard to jurisdictional claims in published maps and institutional affiliations.
Abstract
Additive manufacturing (AM) technologies allow the manufacturing of parts directly from 3D models. These technologies, initially focused on rapid prototyping applications, have been increasingly considered for the production of final functional parts with high value added. The strengths and advantages of current AM processes include support for improved geometry for complex parts, reduction in tooling costs, material savings, and reduction in design to manufacturing lead-times. Along with those benefits, there are still production quality and performance factors, such as dimensional accuracy, strength of parts, and surface roughness, which may need to be improved depending on the product requirements. Therefore, there is a demand to increase the understanding of how AM production factors influence the final part parameters. This paper focuses on the investigation and optimization of material consumption, manufacturing time and dimensional accuracy (including linear error and surface flatness), for fused deposition modeling (FDM) technology. A design of experiments (DOE) is planned, executed and analyzed. Results indicate that print speed and the number of contours are the most important factors for the quality of the final part of the FDM process studied. Further research may consider the same approach, and the factors presented could be extended for AM technologies.