2013 | OriginalPaper | Chapter
Organisationskommunikation und Public Relations: Unterschiede und Gemeinsamkeiten. Eine Einleitung.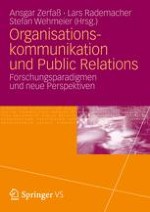 Authors: Prof. Dr. Stefan Wehmeier, PhD Prof. Dr. Lars Rademacher, Prof. Dr. Ansgar Zerfaß
Publisher: Springer Fachmedien Wiesbaden
This publication was motivated by the Annual conference of the German Communication Association, Public Relations/Organisational Communication division during November 2010 in Leipzig, Germany. Under the thematic guidance of "Organisational communication and communication management" a wide platform was established for discussion of all aspects of organisational communication and a greater foundation was enabled for communication management within organisational studies.