01-06-2013 | Issue 2/2013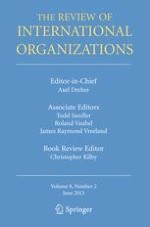 Organization without delegation: Informal intergovernmental organizations (IIGOs) and the spectrum of intergovernmental arrangements
Authors:

Felicity Vabulas, Duncan Snidal
Important notes
We thank Randy Stone, Nicole de Silva, Meredith Wilf, Deborah Avant, Judy Goldstein, Joseph Nye, participants at the University of Rochester Conference on Informal Governance in International Organizations, April 14–16 2011 and at the PIPES workshop at the University of Chicago, and panel attendees at the APSA 2011, IPES 2011, and PEIO 2012 conferences for valuable feedback, comments, and suggestions.
Abstract
The renaissance in the theoretical analysis of intergovernmental organizations (IGOs) has focused on
formal
IGOs (FIGOs), but many IGOs are subject to no formal treaty and/or have no permanent secretariat. Important examples of
informal
IGOs (IIGOs) include the G-groups that are the locus of much high-level interaction among states. We develop the spectrum of intergovernmental arrangements to show the wide variation in the formalization of international institutions and theorize when states will choose informal arrangements such as an IIGO over (or in combination with) a FIGO. A paired case comparison illustrates our claims that states use IIGOs when they need flexibility, to protect their sovereignty, to maintain close control of information, to lower short term transaction costs for speed, to minimize bureaucracy and to manage uncertainty during times of crisis. Finally, we examine how institutional choice is influenced by power.