Published in: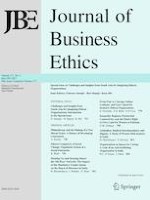 Open Access 24-03-2022 | Original Paper
Organizations as Spaces for Caring: A Case of an Anti-trafficking Organization in India
Published in: Journal of Business Ethics | Issue 4/2022
Abstract
Prior research has shown that human trafficking has multiple facets and is deeply enmeshed in societies around the world. Two central challenges for anti-trafficking organizations pertain to confronting systemic injustices and establishing caring organizations for survivors to start the process of healing and restoration. Analyzing the work of an anti-trafficking organization, International Sanctuary (ISanctuary) in Mumbai, we seek to elucidate how a space for caring for trafficking survivors is constructed in a largely non-egalitarian and unjust context. We contribute to discussions on how caring infrastructures are possibly developed so that they do not write off (pre)existing gendered and in-egalitarian social structures and how they shape individual biographies. We also highlight how the specific, situated context—defined by those very structures—shapes and influences the transformative potential of care interventions.
You think you are sinful and not worthy to fit in this society and think that this society won't accept who you are and they are always going to reject you or point fingers upon your character.
Quote by a Participant at ISanctuary
Publisher's Note
Springer Nature remains neutral with regard to jurisdictional claims in published maps and institutional affiliations.
Introduction
In recent years there has been a growing, albeit still limited, interest and awareness of the importance of building caring relationships and infrastructures (Care Collective,
2020
; Elley-Brown & Pringle,
2021
; Francis & Keegan,
2020
). Across diverse areas of management research, we see evidence of how the main insights of an ethic of care, rooted in feminist studies, offer a very distinctive angle to understand humans as relational beings (Gilligan,
1982
; Held,
2006
; Noddings,
1984
; Tronto,
1993
). An ethic of care perspective also brings a move away from understanding ethics as associated with the application of abstract and universal morals rules, turning attention to contexts and relationships instead. Such perspectives have been put to task to advance organizational scholarship on organized compassion and care (Lawrence & Maitlis,
2012
; Liedtka,
1996
) and caregiving organizations (Elley-Brown & Pringle,
2021
; Molterer et al.,
2020
).
This research has, however, paid limited attention to examining how particular institutional contexts shape the way care is understood, lived, and enacted. This lack of attention is unwarranted because, as care ethicists have argued, it means writing off gender, race, caste, and class privilege (Narayan,
1997
; Sircar & Dutta,
2011
; Tronto,
2013
) and how they shape subordinated and precarious lives (Butler,
2020
). As the quote at the beginning suggests, some lives are made to feel as if they do not matter, exemplifying how human beings are often ostracized and how localized social conventions prevent people from flourishing. In such cases, caring may also not function in an egalitarian manner (Tronto,
1993
). Focused efforts are thus needed to "change existing hierarchies of care" (Care Collective,
2020
, p. 33) so as to nurture, on the one hand a sense of autonomy embedded and understood in a condition of interdependence (Butler et al.,
2016
; Fraser & Gordon,
1994
), and, at the same time, to reduce the risks of domination that inhere in any care relationship. To explore the challenges and nature of this task, we focus on the case of anti-trafficking interventions in the context of India to address the question that guides our research: How is a space for caring constructed in a largely non-egalitarian and unjust context?
Drawing on an in-depth qualitative study, we focus our empirical efforts on the case of an anti-trafficking organization—International Sanctuary (ISanctuary) based in Mumbai. By offering a case study of an organization embedded in a hierarchical society split along lines of class, caste, and gender (Ambedkar,
2014
; Kumar et al.,
2021
; Pandey & Varkkey,
2020
), we reveal how an organization aiming to rehabilitate and restore victims of abuse, abandonment, and trafficking, addresses structural injustice by building caring infrastructures, through its daily operations, that encourage the healing, growth, and sense of autonomy of its members. We also highlight how the specific, situated context—defined by pre-existing gendered, non-egalitarian social structures—shapes and influences the transformative potential of those care interventions.
We present the article in three sections. We begin by specifying the theoretical underpinnings of the ethics of care and justice, providing a succinct review of the literature on institutional contexts and organized care. We then present the methods and findings of our study. We close with a discussion of the implications and intended contributions of our study.
Conceptual Framework
On an Ethic of Care and an Ethic of Justice
Research Design, Data, and Methods
Research Setting
To address our research question we focus on an information-rich single case (Patton,
2015
) of an anti-trafficking organization in India, International Sanctuary (ISanctuary), which works with girls and women exiting situations of abuse and trafficking. Confronting trafficking in India, as in many other contexts, is complicated due to the scarcity of reliable data guiding prevention and rescue efforts and inadequate state resources for rehabilitation of survivors (Shah,
2004
; Shih,
2015
). India is a complex country setting in which to analyze the work of creating a caring space is in a context characterized by prevailing institutional configurations, which act to produce multiple forms of neglect, discrimination, physical violence, stigma, and traumatic relationships. These arrangements have a disproportionate impact on girls and women. Many face direct forms of discrimination related to a patriarchal system that reinforces norms that confer control of girls' life decisions, labor, and income to men. This translates into decisions around being forced to stop schooling, marriage without consent, or even coerced sex-work (Seth,
2015
). In addition, such discrimination is often compounded with caste-based forms of discrimination. Many castes in India are constrained to carry on ancestral occupations even if those are not what they aspire to—such as bar dancing or intergenerational prostitution (Agrawal,
2020
). Such structural factors coalesce to form the basis of girls' relations of dependence and precarity (Kacker et al,
2011
).
In addition, survivors also struggle with stigmatization, fear, and trauma stemming from past neglect, abuse, and their occupation (Crawford,
2010
). Most victims of forced sex-work are not welcomed back in their family and close social circles after being rescued or fear returning due to accusations of dishonoring the family or community (Datta & Satija,
2020
; Irudayam et al,
2011
). This leads many to conceal their past, avoid discussing it or fictionalizing it. Others who cannot endure the stigma, often return to their former exploitative situations (Kempadoo et al.,
2015
; Patil,
2016
). Rescued girls' lives are further complicated by the difficulties of dealing with trauma and its hidden effects that often delays or prevents progress in seemingly routine tasks (Ray,
2018
). Together, these factors form an institutional context of profoundly unequal, violent, and oppressive dependencies (Sahoo,
2013
; Teltumbde,
2008
), which makes it extremely difficult for rescued girls to even envision other forms of relationality and being. This makes India's institutional arrangements a telling analytical case in which to explore the task of creating a caring space in a largely non-egalitarian and unjust context.
In such a context, ISanctuary was started in Mumbai in 2007 to enable women rescued by other anti-trafficking organizations from situations of abuse and trafficking, to heal and rebuild their lives. In 2019, it had revenues of over 900,000 US dollars from jewelry products under its brand, Purpose Jewelry, and currently has operations in five nations—India, Uganda, Mexico, Philippines, and the USA. For the purpose of this study, we focus on the Indian operations of ISanctuary where the organization has 8 staff members and between 16 and 25 participants in its full-time programs. Besides its in-house programs, it also partners with local anti-trafficking organizations and shelter homes in Mumbai to provide skills training for their members, while facilitating survivors' efforts in rebuilding their identities and finding purpose despite the trauma and stigma they often face.
Data Collection and Analysis
Over multiple trips to Mumbai, we engaged in several rounds of formal and informal discussions with other anti-trafficking organizations, researchers, and activists, thus verifying the information provided and finally both authors spent two weeks in India engaging with multiple stakeholders in the anti-trafficking field. This afforded a deeper understanding of the nuances and tensions of the anti-trafficking field in India and helped to focus our inquiry on the potential and challenges of caring interventions. Finally, throughout our study we collected various documents (promotional materials, presentations, financial reports, etc.) both internal to the organization as well as publicly available.
Findings
Creation of a Space for Caring
Our research question asks how a space for caring is constructed in a largely non-egalitarian and unjust context. To answer it, our findings are structured around two key elements: (1) the practices employed to transform what Tronto (
1993
) calls the "involved elements of human life"; and (2) the practices adopted to avoid the re-creation of particular and oppressive dependencies while developing a sense of autonomy. The first involves efforts to build deep and meaningful relationships that sustain human lives. These efforts are directed towards reorienting the types of relations girls have, from hierarchical and oppressive, to more horizontal and equal relationships. The second includes practices which enable the women and girls to develop a sense of autonomy which avoids both the idea that people are self-made and independent and the risk of creating new relations of dependence through caring.
Transforming the Involved Elements of Human Life
Within the larger category of activities that ISanctuary employs to transform the involved elements of human life, our analysis uncovered three sets of practices which include healing work, performing interdependence and deconstructing injustice through mundane practices and (re)signifying relationships at work.
Healing Work
Through various practices, ISanctuary emphasizes its commitment to its participants' need to heal their lives despite the discrimination, stigma, or trauma they frequently encounter. ISanctuary's 'healing work' includes counseling by professionals, mentoring by staff, and enabling trusting relationships between colleagues. The organization commits significant resources to meeting these needs, mindful that healing requires time, effort, and money. These costly practices, like hiring professional counselors, also complicate organizational processes by having to balance training, counseling, and jewelry production. However, prioritizing the emotional and psychological wellbeing of participants is seen as critical in facilitating their healing. As a participant explained:
"I had never heard of counseling before…so when our counselor joined the organization, I used to talk to her a lot. Like, I got to understand many of my changes through her as well, like, what I am thinking, why I am thinking that, and what other changes I will need if I must grow positively…like what habits I should change…my way of talking…or how much should I disclose..." (Participant 1)
Thus, 'healing work' encourages participants' personalities to flourish while embedded in a caring organization that patiently allows for learning through failure. Simultaneously, it entails an element of relationality, as ISanctuary seeks to develop and nurture participants' confidence through human interdependencies, the acknowledgment of their own needs and the needs of others. Through professional counseling, training, and personal mentoring, 'healing work' enables participants to confront their fears and develop self-belief to navigate society while learning to build balanced relationships with people, including their estranged families. As shared by a participant:
"Firstly, I did not have any confidence in myself. It is said that only if you have confidence in yourself then can you have confidence in others. I totally lacked it. I did not have the faith that I could go ahead or grow in life. I used to find myself very dumb…but this organization has helped me a lot…the Fusion class helps us with our relationships, like how to create bonds between ourselves and others."(Participant 2)
Often treated as inferior to men by society or having experienced emotional or physical abuse or betrayal by men, some participants struggle to relate to men in an assured manner. Staffed with both men and women who befriend and mentor the participants, ISanctuary provides space for them to address their fears regarding men and strangers and develop relational capabilities. As shared by another participant:
"Sometimes the past is so bad…and has such a hold…that we are trapped in it so badly that we do not know how to break out of it. Here we get a lot of support in counselling. Some people have a lot of problems in sharing with men, in standing next to or even talking to them. But now we realize that we can talk to them, meet them, go out in public and that's a big thing for us. Initially we would wonder 'what if someone does something to us' but now we feel that we are confident…we can take care of ourselves and can fight for ourselves. This is a big deal for us." (Participant 2)
For some participants, the rebuilding of trust was crucial to their healing. It required extended moments of being seen, known, and valued and feeling secure to try, fail, and learn—a process which cannot be hurried or forced. ISanctuary is thus, particularly attentive, to building a caring space where trust can develop relationally without fear of ridicule or judgment. As a participant so tellingly explained:
"There is a kind of closeness and there is a kind of relationship which is very good…there is trust that they will correct us if we go wrong. Often there is that fear that people will laugh. But here that does not happen. Here people protect you. Nobody will laugh." (Participant 9)
Finally, participants indicated how providing time and patient support was crucial for their healing and organizational practices that did not rush their recovery but allowed for progression at their pace, drew many to work with ISanctuary. This contrasted starkly with the previous workplace experiences of impatience and indifference. As explained by a participant:
"When I joined ISanctuary's office and started working, I had a lot of counselling and I met many different people and started talking to them. I got better...it happened slowly and took time. Gradually all the fears and insecurities in my life reduced- but it took a lot of time. They provided me with so many therapies and activities to help me overcome all my fears. It wasn't easy for them…they did not just take 1 or 2 classes but they took many sessions and gradually I got better…but it took a lot of time." (Participant 3)
Healing work thus involves a transformative process of repair and is a laborious journey with many possible routes aimed at supporting participants' social and emotional wellbeing.
Performing Interdependence and Deconstructing Injustice Through Mundane Practices
The second category of practices emerging from our analysis highlights how ISanctuary, through routine and mundane practices, attempts to build interdependence and community while deconstructing unjust experiences. Where existing hierarchical social structures combine to produce unequal, oppressive, and often violent forms of dependence (Kacker et al,
2011
; Seth,
2015
), our analysis shows how mundane practices such as collective celebrations, sitting on the ground and sharing and eating food together, and participating in each other's lives, begin to address such forms of dependence and perform a more sophisticated and egalitarian "sense of human interdependency" (Tronto,
1993
, p. 101).
These practices encourage participants to accept and appreciate each other in a safe community where they feel seen and valued. Our epigraph at the beginning of this paper provides an illustration of the need for such a community for girls who think that people "are always going to reject you or point fingers upon your character." Most survivors struggle to return or maintain relations with family or communities from where they were trafficked, either due to fear of exposure and being stigmatized or the danger of being re-trafficked. Being cut-off from primary social relations, this deracination hinders the building of supportive and meaningful connections and impedes their healing. Hence, a pressing need confronting ISanctuary is the creation of community as a place to belong, be valued, and even celebrated. Small celebrations offer opportunities for new forms of understanding and interdependence to emerge. As one of the participants explained:
"We do many activities where we meet in groups and we find ways to spend time with each other. I mean anything other than work. We are all girls, so we like to pamper ourselves…like we do nail art sometimes, may be art sometimes, etc. So we make groups and do some activity every month. We celebrate our birthdays together. Birthday celebrations are special moments for us, where we all get together. Then we spend a couple of hours just organizing the party." (Participant 5)
These celebrations are guided by organizational efforts to integrate care practices so participants feel valued and seen, while developing meaningful and transformative connections that counteract experiences of isolation, neglect, and prejudice. As expressed by another participant:
"At these celebrations people get a chance to appreciate each other. For example, our colleagues are asked to speak about us, 'what did you see in the person during the past year, what did you like', so we use that time to appreciate each other, if someone is good at their work, that is communicated to them verbally. So, they feel that they are being noticed and what they are doing is valuable." (Participant 1)
This deliberate deconstruction of the uncaring past and demonstration of value and dignity is for many participants essential to their experience with ISanctuary. As was corroborated by another participant:
"I remember it even today. I was just sitting in front like this. And they were saying good things about me…like she is very strong…I was in tears because no one had ever said such positive things about me before. After coming to ISanctuary, this was the first time I was getting to hear such nice things about me…yes, this happens every time. Like there are many girls in ISanctuary… they are appreciated. And things are done so that they feel happy. They are made to feel special." (Participant 8)
Besides developing a sense of community at the workplace, ISanctuary encourages caring relations that take into consideration the participants' whole lives, both within and outside the organization and where the personal is not compartmentalized from the professional. To visibly demonstrate belonging as well as equality and dignity, participation in meaningful events in the lives of the participants and staff is encouraged. As a staff member said:
"They invite us for their social celebrations and gatherings. We are happy and willingly participate in their social functions. It could be a birthday celebration of their child. It could be a marriage. It could be pre-marriage celebration like haldi or the rose thing. We are happy to participate. We make sure we are part of their lives...let our presence be known to them. That they are peers and our colleagues and not our 'beneficiaries'." (Staff Member 5)
Deconstruction of injustice is also fostered through mundane practices which visibly demonstrate the equality of all members irrespective of caste, class, or gender. A seemingly mundane practice of staff and participants sitting and eating food together contrasts radically with the hierarchical society observed and the inequality experienced outside. These internal practices contrast with the discrimination experienced outside ISanctuary, where girls are led to believe, that they are "not worthy to fit in this society." A participant discussed the unusual egalitarian treatment observed and experienced at ISanctuary:
"Yes, they treat everyone as equal. It is not that someone is higher or lower. But I have seen it, inequality, at certain times at certain places. Like I have seen it in the hostel, where I lived…like the staff of the hostel would sit separately to have food. And the girls sometimes, even if they want to sit together with the staff and eat, they are unable to…because they are staff…and we are students…I mean, sometimes I have experienced it as well. But in ISanctuary, the opposite happens…the staff members also sit together with the girls and eat…I like that a lot because there is no difference between us…everybody eats together….yes, you cannot see any one as high or low…even if he is a sir or boss…it is ok…here they are giving us an equal status, talking to us nicely. They do not act as if they are the boss and they can do certain things and we cannot…" (Participant 8)
Sometimes the visible demonstration of equality involved staff washing their own and participant's dirty plates. As explained by a staff member:
"So we wash our own dishes after lunch and sometimes the girls cannot understand why I am washing my own plate or sometimes (Staff Member 3) will take our participant's dishes and wash their dishes and they are like 'no no no, let me wash it'." (Staff Member 1)
When understood in the context of caste and gender-based discrimination, where often 'upper castes' do not participate in 'lower caste' celebrations, nor share their food due to beliefs about purity and pollution and where in many parts of India, women still eat only after men have finished (Bapuji & Chrispal,
2020
; Hathi et al.,
2021
), the mundane practices of celebrating and eating together, sharing each other's food or washing a participant's plate can be radically subversive to the existing order of graded inequality experienced by participants. ISanctuary's commitment to upending oppression and discrimination through visible demonstrations of equality is a foundational element of creating a caring space in order to transform its member's lives.
(Re)signifying Relationships at Work
A third category of activities that emerged highlights how ISanctuary provides opportunities for participants to experience, through their work, other forms of egalitarian and just relationships. By emphasizing service to others as a core value while affirming the worth of every person, the organization enables participants to transform previous violent and oppressive relations of dependence from past injustices and experience new ways of being. As a staff member explained to us:
"So no matter what kind of person you are, you should be willing to serve. And people here are willing to serve. So leaders in this organization…serve each other…and they make sure that, we model it out for them. It's not like that I'm the boss so I can dictate or command…so you are a person of equal worth and value. When they see everyone is being respected equally, so their confidence automatically rises up. So they see, that it's not that if I'm from a particular caste, I'm being favored or not being favored. So they see everyone, including the staff members are treated the way the participants are treated." (Staff Member 5)
Organizational practices which encouraged service within and outside the organization were perceived as enabling participants develop a sense of purpose and self-determination over their lives. Opportunities to contribute to those from similar backgrounds, enabled participants to actively counter injustice beyond their own lives and gave their work more meaning and purpose. As explained by a participant:
"First of all it was my dream that I should do something for all those who have done so much for me and have supported me and helped me at Saint Catherine's (shelter home) and at ISanctuary. I want to do something in return for them. Like I just want to do something for them…I want to be useful. All those who have helped me during my childhood, I want to help them back in return by teaching them whatever skills I have. I would like to teach them stuff." (Participant 3)
The desire to serve through newly acquired skills was also expressed in efforts to help others while demonstrating the possibility of real change. These efforts enable the creation of reciprocal forms of connection and relationships beyond organizational boundaries. Another participant explained further:
"There are lots of new girls who have come to the shelter home where I lived as a child. I go there on Sundays and sometimes on Saturdays too for an hour and I teach them how to dance and how to make jewelry and a little about computers. Whenever I have some free time, I go there to teach them stuff." (Participant 7)
Finally, ISanctuary responds to the loss of nurturing relationships by providing a caring work environment invested in participants' growth. Furnished with a close-knit community, many participants noted that other members were not just colleagues but more like family and friends they could rely upon for advice, guidance and help. Many participants reported that ISanctuary provided the critical guidance they often needed to develop as members of society. For instance, a participant explained:
"When a person comes in here for the first time, then he needs a lot of this, being understood and patiently being explained about how things work. And telling them nicely when a person is going wrong somewhere…if you do it this way, then you will be on the right path. So there is need for guidance, that this path could be better for you. There are a lot of difficulties in life that we face and we often wonder whether a particular path is right or wrong for us. Because it is actually our parents who point us to the right path usually…here my parents are ISanctuary, from the time I joined ISanctuary, I have got support." (Participant 8)
Thus, timely guidance provided by staff and colleagues benefits participants who are just discovering the possibilities opening up in life and fosters a sense of being part of the organizational community.
Avoiding the Re-creation of Oppressive Dependence Relations
The second set of practices which ISanctuary engaged in were directed towards enabling participants develop a sense of autonomy, while countering the potential dangers of re-creating oppressive relations of dependence—the 'dark side' of care (Barnes,
2012
). We found three specific types of practices (second-order constructs) which we term as facilitating voice, developing life skills and capabilities, and providing meaningful work and opportunities to develop expertise.
Facilitating Voice
Through various activities and practices, ISanctuary encourages participants to speak-up for themselves in society. Its various learning initiatives and confidence building practices such as public speaking or rights training, aim to develop participants' knowledge and ability to demand equal rights in society. As an informant explained:
"Now see… whoever comes to ISanctuary to work, the organization is also trying to educate all of them. How you can fight for your own rights…you should know your identity. You can't give in to all that people say because of pressure…you should set boundaries…you should know your rights. Because girls have to face so much of all of this…" (Participant 9)
For most survivors, having a say in their present and future is an experience many are unaccustomed to. In these practices, we also perceived arrangements that involved participants gradually developing decision-making and planning abilities. They indicated how acquiring such abilities was necessary for personal growth and fortifying their perceptions of their worth while simultaneously attaining a sense of effective agency without further dependency on ISanctuary.
For many participants, the opportunity to learn in a supportive environment meant the possibility of new beginnings in a society which had marginalized them. Belonging in an organization which considered and encouraged their dreams, furthered a sense of autonomy over their lives and signaled ISanctuary's determination to avoid infantilizing them. As put by a staff member:
"It's very clear…the focus is on the woman, is on believing, maybe relearning some of the ideas about confidence and the ability in herself and her future… the focus is very much about, you can do this, this is what you can equip yourself to be able to do this. And you do have the ability…to pursue the career you might want or pursue the education that you never finished…" (Staff Member 4)
Thus, being attentive to and honoring the ways in which the women will and desire to shape their own pathways away from their past enhances their sense of autonomy over their lives while allowing them to rely on the organization without becoming dependent on it for their future.
Furthermore, variation in participants' previous exposure to education and their differing learning abilities pushed ISanctuary to tailor the learning process to participants' needs rather than a one-size-fits-all approach. Their program allows for development at a pace suited to individual abilities and areas of interest. This benefits survivors dealing with trauma that hinders their learning (Seth,
2015
). Making accommodations or creating exceptions when necessary, thus, facilitates the meeting of particular needs and aspirations. As explained by one of the participants:
"They understood how I felt and thought. I spoke to people who were older than me, from the staff. They asked me which areas I wanted to grow in…and I was like 'Oh…are they asking me?' I said … maybe I need to grow in these areas …but I am not sure…I did not know, so they helped me in that." (Participant 6)
Thus, ISanctuary includes in its programs, participant's aspirations as well as their fears and limited self-perceptions, in order to disrupt the "life-cycle of gender-based violence" (Guha,
2018
, p. 68) in their lives.
Developing Life Skills and Capabilities
Another set of practices we uncovered corresponded to furthering participants' sense of autonomy by increasing their decision-making capabilities over their own lives. This includes payment of respectable wages, despite participants' working for half-days while learning during the other half. This practice countered the deprivation of self-determination and enabled the pursuit of personal goals, as shared by a staff member:
"ISanctuary is very much about giving women a chance… I think it starts with building confidence, it starts with a belief in the future, a belief in themselves to be able to change their future and I think equipping them with finances and the ability to be employable because everything else that you do, if you don't have the money to be able to live, it's very hard to think about the future." (Staff Member 4)
Paying participants well while gradually building their capacity to earn a living was a crucial practice addressing previous economic deprivation and freed participants to consider the possibility of a different life. In doing so, their exit options improved and they could start building alternatives to undesirable employment and reduce the risk of reverting back to forced sex-work. Another participant explained how ISanctuary enabled them to have more control over their lives by guiding them on goal setting and planning. In her words:
"Yes, a lot of things that they are doing for (teaching) us...for girls…how to live independently…how to save…how to focus on your work and focus on your goal…work on what you want to become. It is not that if I want to become a doctor, I will become one just by sitting here. That does not happen. You have to study and you have to plan." (Participant 9)
Thus, through multiple trainings, discussions with mentors regarding aspirations and plans to achieve them as well as the provision of planning tools, the organization contributes to increasing participants' sense of autonomy and their anticipation of a better future.
Another practice of encouraging regular savings from their income and budgeting for expenses equipped participants with a safety net for the future. Participants shared that having savings and plans provided impetus to pursuing interests, cultivating skills and widening their horizons without becoming dependent on the organization. Often these, developing capacities had spillover effects and contributed to growth in their personal lives outside the organization. As explained by a participant:
"At first I never thought that I would take a room on rent…that I would have to buy furniture and stuff…groceries and other things and have to live alone. Would I be able to manage living with other people or not, if I was sharing? I always felt that there was a lack of money…? But so many things have changed…and now it feels good to see that I am living on my own independently and making something of myself. I now trust myself that whatever will happen in the future will be good. And now I am able to save as well. Earlier, I never even knew the meaning of saving. Also budget making...I learnt all of this in ISanctuary." (Participant 5)
Thus, practical life skills and capabilities training provided by ISanctuary are extremely useful for the development of a sense of autonomy in participants' lives.
Offering Meaningful Work and Expertise
The final set of practices uncovered involved enabling participants to find purpose in their work and facilitating the development of expertise. Opportunities for meaningful work were key to mitigating the powerlessness and lack of self-determination many participants experience. While drawn to ISanctuary by the possibility of earning and studying simultaneously, the provision of meaningful work and opportunities for self-determination, instead of low-quality or menial jobs offered elsewhere (Guha,
2018
), encouraged participants to stay and grow with ISanctuary. Knowing their work mattered and having their names associated with beautiful pieces of jewelry being sold globally increased self-respect and belief in their abilities and potential. As put by a participant:
"Yes at ISanctuary they have used my designs...I feel really happy and proud. That at least something that I made is going out and the world is seeing it and it is selling. I feel very happy. It feels good to hear, that the piece that I have made is being sold abroad. It feels very different." (Participant 5)
Making products to global standards and gaining expertise in their work contributed to building self-respect and a sense of achievement among the participants. Through the practice of making jewelry within a relational community setting, ISanctuary encourages an outward disposition among its participant that they have something of value to offer the society—through their skills and abilities and as a community. The craft of jewelry making utilizes their creative abilities and increases self-awareness regarding their ability to create beauty and value and perhaps even facilitate meaningful change. Jewelry making was not just about producing saleable jewelry or skills training, but also encouraged participants to view their lives as purposeful in bringing positive social change and countering the deprivation many others face. As explained by a staff member:
"Our mission is to help them see their true value and their worth. We do it through the production of jewelry. However, we don't want them to be only jewelry producers. So our main goal is to help them to understand themselves, have self-awareness, understand their emotions, being able to process those things and also looking outward- How can- I am a part of a community- so how can I effect change while being part of this community?" (Staff Member 1)
Finally, participants shared about opportunities to grow in leadership, which was contrary to their previous work-experiences and demonstrated ISanctuary's commitment to their growth, irrespective of their background. Leadership roles challenged them to work with and bring together members of the organization and for those struggling with relational issues, pushed them to consider the needs of the group above their own. As a participant shared:
"I have also learned leadership...like, if someone is not part of a group…like we have now… have some work in a group...how to manage the group? To listen to other members of the group also…to not just do what we think just because we are in a position of leadership. But to listen to everyone equally." (Participant 4)
Thus, through an array of practices, ISanctuary provides a caring space for survivors of trafficking and abuse to experience healing while countering past injustices and discrimination faced by them. The opportunity to serve others through their work and contribute to the welfare of similarly marginalized girls and women and the creation of a close-knit and supportive community to be a part of teaches participants inter-dependence and provides them with a sense of belonging and identity that was previously missing. The mundane practices of equality demonstrate to each participant that their lives are valuable and worthy of dignity and the financial security and opportunities for advancement counteract past injustices of denied opportunities and the powerlessness that survivors often experience. Finally, through the provision of meaningful work, the gradual building of their capacity to choose and plan their future and the development of leadership capacity, the participants gain a sense of autonomy and purpose in their lives without further dependence on the organization.
Discussion
Limitations and Conclusions
This study reports the activities undertaken by ISanctuary to create a space for caring for trafficking survivors in a largely non-egalitarian and unjust context. We do not intend to claim that our findings represent the only way in which this can be accomplished. In fact, we do not believe that there is only one way to do it. We are aware that the settings and local conditions exemplified in this case limit the generalizability and transferability of its findings, particularly to societies where institutions like the caste do not exist and to societies where what we call the
emporium of the law,
may grant inclusion more effectively. However, critical and feminist scholars have largely shown how a close examination of the position of the "poor, people of color, women, the disabled, the colonized, and other excluded groups" (Tronto,
2013
, p. 143) reveals that their inclusion, even in societies considered more advanced or "modern," is far from being an accomplished matter (Butler,
2020
; Young,
2000
). In fact, we do claim that bringing such contexts to our conversations is an important reminder of how many forms of dehumanizing, stigmatizing, belittling, dominating, and humiliating others are very present in today's world while scholars seem to be "looking the other way to avoid uncomfortable truths" (Chrispal et al.,
2020
). Our analytical approach provides a useful lens for researchers studying a variety of phenomena where efforts are being made to, paraphrasing Fisher and Tronto (
1990
, p. 40), repair their 'world' so that all human beings, with no exception, can live in it as well as possible.
Declarations
Conflict of interest
The authors declare that they have no conflict of interest.
Open Access
This article is licensed under a Creative Commons Attribution 4.0 International License, which permits use, sharing, adaptation, distribution and reproduction in any medium or format, as long as you give appropriate credit to the original author(s) and the source, provide a link to the Creative Commons licence, and indicate if changes were made. The images or other third party material in this article are included in the article's Creative Commons licence, unless indicated otherwise in a credit line to the material. If material is not included in the article's Creative Commons licence and your intended use is not permitted by statutory regulation or exceeds the permitted use, you will need to obtain permission directly from the copyright holder. To view a copy of this licence, visit
http://​creativecommons.​org/​licenses/​by/​4.​0/​
.
Publisher's Note
Springer Nature remains neutral with regard to jurisdictional claims in published maps and institutional affiliations.