2006 | OriginalPaper | Chapter
Oriented k-windows: A PCA driven clustering method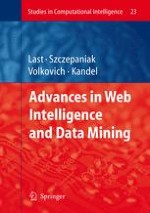 Read first chapter
Authors: D. K. Tasoulis, D. Zeimpekis, E. Gallopoulos, M. N. Vrahatis
Publisher: Springer Berlin Heidelberg
In this paper we present the application of Principal Component Analysis (PCA) on subsets of the dataset to better approximate clusters. We focus on a specific density-based clustering algorithm,
k
-Windows, that holds particular promise for problems of moderate dimensionality. We show that the resulting algorithm, we call Oriented
k
-Windows (OkW), is able to steer the clustering procedure by effectively capturing several coexisting clusters of different orientation. OkW combines techniques from computational geometry and numerical linear algebra and appears to be particularly effective when applied on difficult datasets of moderate dimensionality.