Published in: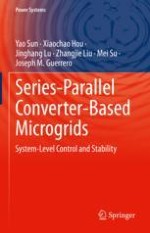 2022 | OriginalPaper | Chapter
1. Overview of Microgrid
Abstract
Microgrids are key building blocks of future smart grid to support sustainable and resilient urban power systems. The development of microgrid has been fraught with challenges of low inertia, renewable energy uncertainty, load complexity, and communication integration reliability. The system-level control and stability issues with microgrid are urgently in need for research. From the perspective of the architecture of microgrid, it can be classified into series-type microgrid and parallel-type microgrid. With the transition of microgrid application from low voltage/low power rating to the medium voltage/high power rating, the traditional parallel-type microgrid will not be suitable for the medium-voltage microgrid. Recently, the series-type microgrid and hybrid series–parallel microgrid have been emerging and applied by directly integrating the low-voltage resources into user-level or medium-voltage power system. This book gives a comprehensive and in-depth introduction into the cooperative control, power regulation, and the series–parallel converter applications in the microgrid system. For each topic, a theoretical introduction and overview is backed by very concrete simulation cases that enable the reader to better understand the topic.