15-06-2020 | Original Research | Issue 13/2020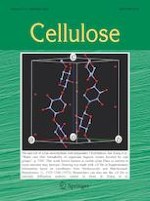 Palladium nanoparticle colored cotton fabric as a highly efficient catalyst for colorimetric sensing of H2O2
Journal:
Authors:

Bin Tang, Chengna Xu, Fan Zou, Ji Zhou, Jin Zhang, Jingliang Li, Jinfeng Wang, Xungai Wang
Important notes
Publisher's Note
Springer Nature remains neutral with regard to jurisdictional claims in published maps and institutional affiliations.
Abstract
Palladium nanoparticle (PdNP) loaded cotton fabrics were successfully prepared through in situ synthesis of PdNPs via heating. The resulting PdNP-treated cotton fabrics showed color originated from the localized surface plasmon resonance (LSPR) effect of PdNPs, with satisfactory color fastness to washing and rubbing, and enhanced UV protection properties. The PdNP-treated cotton greatly accelerated the reduction reaction of 4-nitrophenol (4-NP) by sodium borohydride, exhibiting distinct catalytic activity. More importantly, the PdNP-treated cotton fabric displayed enzyme mimicking activity to catalyze the oxidation of a chromogenic enzymatic substrate (3,3′,5,5′-tetramethylbenzidine) in the presence of hydrogen peroxide, which provides a visual sensing platform for hydrogen peroxide. This work demonstrated a versatile approach to fabricate PdNP-treated cotton fabrics with multiple functions. This study on the surface modification of cotton fabrics with PdNPs could promote the practical applications of functional fibrous materials in catalysis and sensing fields.
Graphic Abstract
×