28-09-2019 | Technical Paper | Issue 4/2020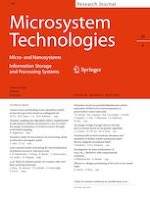 Parametrically excited nonlinear dynamics and instability of double-walled nanobeams under thermo-magneto-mechanical loads
Journal:
Authors:

Farzad Ebrahimi, S. Hamed S. Hosseini
Important notes
Publisher's Note
Springer Nature remains neutral with regard to jurisdictional claims in published maps and institutional affiliations.
Abstract
This work is motivated by lack of research in the nonlinear dynamics and the instability of the double-walled nanobeams caused by the parametric excitation and also subjected to the thermo-magneto-mechanical loads. In this paper, firstly, a short double-walled nanobeam is modeled and embedded on a viscoelastic foundation. The double-walled nanobeam is subjected to an axial parametric force and the thermo-magneto-mechanical loads simultaneously. Secondly, based on the nonlocal elasticity and the nonlinear von Karman beam theories, the nonlinear governing equation of motion is derived. A class of nonlinear Mathieu–Hill equation is established to determine the bifurcations and the regions of the nonlinear dynamic instability. The numerical results are performed while the emphasis is placed on investigating the effect of the parametric excitation, the thermo-magneto-mechanical loads, the viscoelastic foundation coefficients and the damping coefficient. The results emphasize that the outer layer of the nanobeam plays a significant role in the nonlinear instability of the system than the inner layer.