2018 | OriginalPaper | Chapter
Parkinson's Disease Database Analysis of Stereotactic Coordinates Related to Clinical Outcomes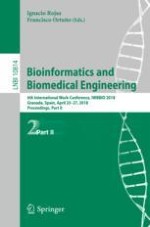 Read first chapter
Authors: Francisco Estella, Esther Suarez, Beatriz Lozano, Elena Santamarta, Antonio Saiz, Fernando Rojas, Ignacio Rojas, Fernando Seijo
Publisher: Springer International Publishing
Abstract
Parkinson's Disease is one of the leading movement disorder diseases. It is the fourth most common neurological disease, after migraine, stroke and epilepsy. The motor symptoms of the disease significantly impair daily living and quality of life and exact a high burden on both patients and their caregivers. Deep Brain Stimulation is a proven therapy for this disease, getting positive outcomes while reducing medication. In this paper, stereotactic system used for Deep Brain Stimulation (DBS) procedures will be described. Different planning methods will be observed and compared to the gold standard normally used, neurophysiological coordinates recorded intra-operatively. MRI, CT scan and direct calculation of stereotactic coordinates will be compared and group in three different groups, according to DBS therapy outcomes: "very good DBS therapy", "good DBS therapy" and "not major improvement".
Database of 72 DBS electrodes implanted in Parkinson's Disease patients will be studied. Most potentially beneficial ranges of deviation within planning and neurophysiological coordinates from the operating room will be assessed, in order to provide neurosurgeons with more landmarks in order to achieve the best outcomes within a millimetric technique.
We could confirm three main highlights out of this study: the neurophysiological length of the Subthalamic Nucleus does not play a major role in outcomes while being within normal range; CT scan calculations were the most accurate; direct calculations should not be used as major deviations were observed.