17-09-2019 | Brief Original | Issue 6/2019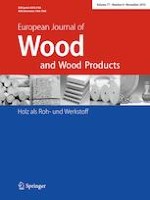 Particleboard bonded with bio-hardeners of tannin adhesives
Authors:

Benoit Ndiwe, Antonio Pizzi, Raidandi Danwe, Beda Tibi, Noel Konai, Siham Amirou
Important notes
Publisher's Note
Springer Nature remains neutral with regard to jurisdictional claims in published maps and institutional affiliations.
Abstract
A totally bio hardener acting with an unusual and new hardening mechanism derived from the exudate extract of the African trees
Vachellia nilotica
and
Senegalia senegal
was used to harden a maritime pine tannin resin without any aldehyde obtaining a completely bio adhesive for interior particleboard. For a density and pH given, the internal bond (IB) values increased simultaneously with the rate of bio-hardener. The optimal dry IB values (0.63 MPa) were obtained with 15% of bio-hardener solids. The low IB value (0.38 MPa) was obtained with 6% of bio-hardener solids. The IB of panels manufactured with UF as hardener are slightly higher than those using the above bio-hardeners.