03-01-2019 | Full Research Article | Issue 3/2019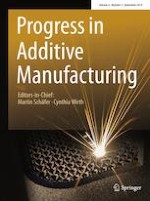 PCA-based desirability method for dimensional improvement of part extruded by fused deposition modelling technology
Journal:
Authors:

Azhar Equbal, Md. Israr Equbal, Anoop Kumar Sood
Important notes
Publisher's Note
Springer Nature remains neutral with regard to jurisdictional claims in published maps and institutional affiliations.
Abstract
Fused deposition modelling (FDM) is an extrusion-based additive manufacturing technique that has the ability to build complicated geometry of parts in least possible time without any tooling problem. Extrusion-based methods offer various advantages but the part quality of fabricated part is poorer when measured in terms of dimensional accuracy. Quality of its fabricated part primarily depends on processing parameters like raster angle, air gap, layer thickness, etc. For improving the part accuracy, present work is aimed at optimization of FDM processing parameters. Response surface methodology-based face-centered central composite design is used for designing the experimental matrix and also to reduce the number of experimental runs. Analysis of variance is used to study the effects of processing parameters on responses. Empirical model relating the parameters and responses is also developed. The suitability of developed model is tested using Anderson–darling normality test. Dimensional measurement shows that measured dimensions of fabricated part are always more than CAD model. Restriction of shrinkage during part fabrication causes oversize dimension of part. Besides, chosen processing parameters is the major reason for dimensional inaccuracy of the fabricated part. Weighted principal component analysis (WPCA)-based desirability function method is used as a hybrid approach to find the optimal parameter setting for part fabrication with minimum overall deviations in dimension. Optimization process suggests that part fabrication should be done at 30° raster angle, − 0.004 mm air gap and 0.4064 mm raster width for minimal relative changes in length (
∆L
), width (
∆W
) and thickness (
∆T
).