03-04-2021 | Issue 1/2021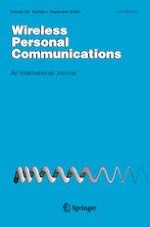 Performance Analysis of Multi User Mimo System With Successive Hybrid Information and Energy Transfer Beamformer
Journal:
Authors:

Uma Maheswari Ramisetty, Sumanth Kumar Chennupati
Important notes
Publisher's Note
Springer Nature remains neutral with regard to jurisdictional claims in published maps and institutional affiliations.
Abstract
The current proliferation of communication networks such as MU-MIMO necessitates high throughput coupled with high data rates. For maximization of harvested power the power received must be increased. However, this causes an increase in interference adversely affecting the sum rate. It is imperative to work out the trade-off between energy harvesting and spectral efficiency which is directly related to the sum rate. This paper proposes the logic of optimization by the weighted coefficient method using successive hybrid information and energy transfer (SHIET) so that a trade-off can be achieved. As the multi-objective optimization seems to be more difficult, this is modified to a single-objective optimization using weight factor method. This method calculates channel state information (CSI) from the angle of perfectness which directly gives the sum rate. Further harvested power is calculated from achievable sum rate and truth value is determined by various weight coefficient factors. Simulation is carried out on MU-MIMO system for ascertaining the effectiveness of the proposed method for achieving an optimized trade-off between energy harvesting and spectral efficiency. The performance of trade-off is better with linear beamformers that employs ZF and MRT with a smaller number of information users, whereas the performance of SHIET outperforms when compared to the linear beamformers irrespective of any number of information users.