24-01-2020 | Issue 4/2020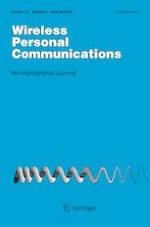 Performance Evaluation and Analysis of Peak to Average Power Reduction in OFDM Signal
Journal:
Authors:

M. N. Geetha, U. B. Mahadevaswamy
Important notes
Publisher's Note
Springer Nature remains neutral with regard to jurisdictional claims in published maps and institutional affiliations.
Abstract
The high spectral efficaciousness, gain etc. is preferred in OFDM, though it has PAPR problem. Owing to the nonlinear selves, power competence of the PA is forfeited to trade for desired linearity and it becomes exorbitantly low when the transmitting signal has high PAPR. The signal is knowingly distorted to increase the bit per error rate (BER) and radiation which will account for data loss. The harmonious kernel adaptive filter along with Slepian based flat top window is proposed for curtailing the BER by optimizing the signal to maintain orthogonally and also by noise elimination. This window average out noise in the spectrum and lessen the information loss by utilizing the stochastic resembling technique in exact amplitude measurement thereby reducing the PAPR. Thus, this proposed method elucidated OFDM problem such as PAPR, BER raises on the receiver side, deprivation in the date rate, computational difficulty, bandwidth complication, spectral effectiveness, sturdiness against channel dispersions in the future wave form 5G.