2006 | OriginalPaper | Chapter
Performance Measurement of Hedge Fund Indices - Does the Measure Matter?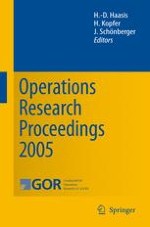 Read first chapter
Authors: Dipl.-Kfm. Martin Eling, Prof. Dr. Frank Schuhmacher
Publisher: Springer Berlin Heidelberg
It does not matter too much which performance measure one chooses to evaluate hedge funds. Because the newer performance measurement approaches result in rankings that are the same and thus result in the same assessments of hedge funds, use of the classic Sharpe ratio (even if it displays some undesirable features) is justified, at least from a practical perspective.
The results of this study will be helpful for investing in hedge funds that are constructed like indices. However, an important question is whether the choice of a specific performance measure matters when evaluating single hedge funds. The findings of the current study have motivated us to procure return data for single hedge funds in order to analyse this question in the future. However, the indices we examined in this paper appear to be representative for single hedge funds insofar as the return distributions deviate significantly from a normal distribution.
Another question not answered in this study is the relevance of performance measures that are evolved on the basis of correlations, such as the Jensen, Treynor and Treynor-Black measures. This question should also be examined in future studies.