01-07-2011 | Original Paper | Issue 10-12/2011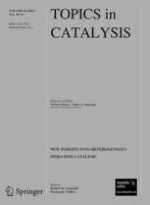 Performances of Pd Nanoparticles on Different Supports in the Direct Synthesis of H2O2 in CO2-Expanded Methanol
Journal:
Authors:

Salvatore Abate, Siglinda Perathoner, Gabriele Centi
Important notes
Dedicated to Professor Robert K. Grasselli on the occasion of his 80th birthday to honour his pioneering contribution to the understanding and industrial development of selective oxidation catalysts, and as an expression of esteem and friendship to a remarkable scientist.
Abstract
Catalysts based on Pd supported on SiO2, SBA-15, γ-Al2O3 and N-CNT were investigated for the direct H2O2 synthesis and decomposition/hydrogenolysis in CO2-expanded methanol in batch and semi-batch reactors working at room temperature and a pressure of 6.5 bar. The order of reactivity for the synthesis of H2O2 per g of Pd or for the rate of H2O2 decomposition, or the selectivity to H2O2 does not correlate with the acidity of the support. A relation was observed with the Pd particle sizes, i.e. smaller particles lead to a higher specific activity, but the sample supported on carbon nanotube shows an order of magnitude higher specific activity per g of Pd, indicating the presence of an additional factor attributed to the interaction with the carbon support which determines an intrinsic higher reactivity. However, this higher reactivity corresponds also to a higher activity in the consecutive conversion of H2O2, probably by hydrogenolysis reaction. A rough relation between activity in H2O2 synthesis and in H2O2 conversion was observed in the samples with the different supports, indicating the similar nature of the active sites responsible for the two reactions. Finally, the analysis of the recyclability of the catalysts and transmission electron microscopy (TEM) characterization data after the catalytic tests indicate that the use of CO2-expanded methanol allows improving the catalytic performances in H2O2 direct synthesis due to the enhanced solubility of H2 and O2, but induces a fast catalyst deactivation due to an enhanced mobility and sintering of the supported Pd particles. The effect is present in all the four type of support used.