23-07-2018 | Issue 1/2019 Open Access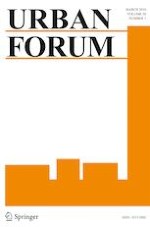 Peri-Urban Land Governance in Developing Countries: Understanding the Role, Interaction and Power Relation Among Actors in Tanzania
Journal:
Author:

Said Nuhu
Important notes
Key Message
1. Back and forth information from actors forms an important ingredient for peri-urban land governance.
2. The need for coordination and communication between actors regarding their mission, strategy and values is very important.
3. Effort to build trust among actors emerged as an important component to be given attention because land is a competitive resource in peri-urban areas.
Introduction
The previous sections give a background of peri-urban land governance in the developing world context. The next section provides descriptions and explanations of land governance in peri-urban areas by focusing more in Tanzania. The paper then, presents the employed research strategy followed by identification of different actors', analysing their interaction, power relation and its implication for peri-urban land governance. The final section provides conclusions and areas for further research.
Land Governance in the Peri-Urban Areas of Tanzania
Methods
This paper uses data from secondary sources such as published and unpublished literature, as well as government reports relating to peri-urban land governance. Ellis et al. (
2011
) defines secondary research as an approach which involves the systematic description, analysis and summarisation of the existing research or previously completed studies and applying the result to your own situation. Secondary data is used to make a critical analysis of peri-urban land governance in developing countries and Tanzania in particular in this paper. Research question-driven approach following Cheng and Phillips (
2014
) is employed, where the researcher has queries and then looks for suitable information to address them. The analysis built on pre-existing data in this paper addresses two questions:
Who are the key actors and their role in peri-urban land governance in Tanzania?

How do the key actors interact and the implication of their power and power relations in peri-urban land governance?
These questions allow the researcher to make analysis based on developed themes related to the subject as discussed in the next sections. The paper is focused on the peri-urban areas because peri-urban land is important for accommodating urbanisation and city expansion. Peri-urban area is also a transition zone between city sprawl and rural surroundings. Peri urban land market is a source of livelihood for various actors and hence contentious. Consequently, there is high tension and conflict between actors towards land access.
Key Actors and Their Role in Peri-Urban Land Governance
Different actors are involved in the process of access and delivery of land in the peri-urban areas in Tanzania (Kombe and Kreibich
2001
; Kombe
2005
; Kedogo et al.
2010
). Actors include the government and its agencies, private sector, development partners, civil society organisations (CSOs), academics and the media, as well as local communities and private land occupiers. The roles of these actors is discussed in the following sub-sections.
Government Actors and Agencies
Private Sector
Development Partners
Development partners are instrumental in building the capacity of government and other non-state actors to improve land governance through legal, institutional reforms and development of various framework that can be applied in the land sector (Magigi
2010
; Kedogo et al.
2010
; Deininger et al.
2012
). The World Bank and partner institutions for instance, developed the Land Governance Assessment Framework [LGAF] (Deininger et al.
2012
). With this framework, the World Bank has been a key actor among the development organisations in supporting the legal and policy land reforms in many Sub-Saharan Africa countries, while Food and Agricultural Organisation (FAO) guidelines on good governance in land tenure and administration (FAO
2007
) are applied to assess improvements in land sector governance in Tanzania. Ravnborg et al. (
2016
) note that development organisations such as USAID and FAO, among others, through the rights-based approach have supported a wide range of civil society-based initiatives, such as developing gender-disaggregated database and improving land access rights to vulnerable groups such as women (Magigi
2010
; Ravnborg et al.
2016
). Development partners have been instrumental in building capacity to develop land policy, legal framework, land administration and titling/registration programs and initiatives. These actors have also played a crucial role in the establishment and implementation of policy and strategies, land allocation and resettlement, dispute resolution or access to justice system, awareness rising and others.
Civil Society Organisations, Academics and the Media
CSOs, Academic Institutions and Media houses play an important role as pressure institutions for policy advocacy, mobilising resources and implementation of land projects (OECD
2013a
; Nuhu
2013
). CSO's have mainly engaged in land activism, supporting vulnerable groups to claim their land rights through representation and sensitisation (Kedogo et al.
2010
; Nuhu and Mpambije
2017
). These actors have also been fundamental in training poor people on various aspects including land acquisition and housing, intervening in the informal sector and assisting poor people against forced evictions, tenure regularisation and slum upgrading (Nuhu
2013
; Adam
2014
).
The efforts played by CSOs help to spread knowledge and show the gaps in urban land governance (Kombe
2010a
,
b
; Nuhu and Mpambije
2017
). In Tanzania, CSOs such as the Legal and Human Rights Centre (LHRC), Wat-Human Settlements Trust and
Haki-Ardhi
have been greatly involved in offering land-related legal services to the urban poor and putting pressure on the state for transparency and accountability on land matters (Sackey
2010
; LHRC
2016
). Researchers and academics are also engaged in adaptive governance initiatives (see Kombe
2010a
,
b
), for instance, in pointing out the weak governance concern in urban development. The land-use conflicts for example, in the peri-urban areas of Dar es Salaam, particularly in Chasimba, Msikitini, Kwembe and Luguruni have been raised by researchers in the media. The media as an independent actor has also supported dialogues and discussion related to land governance inviting various stakeholders to inform and educate citizens. The major roles of CSOs, academics and media houses have been focusing on sensitising the masses and protecting the land rights of the most vulnerable groups in the peri-urban communities.
Local Communities
Local communities include individual land users and non-land occupiers living in peri-urban areas (e.g. land/house renters). Peri-urban dwellers and land occupiers are concerned with the protection of their individual rights to use and occupy land as well as to participate in governance matters related to land in peri-urban areas. Communities and private landholders would like to hold and develop their land without restrictions from the state. Local communities may participate in urban land management and administration, and may identify the causes of land-use conflicts (Magigi and Majani
2006
; Massoi and Norman
2010
; Kombe
2010b
). Communities participate in signing documents on land transactions as witnesses between buyers and sellers. These initiatives are vital in preventing potential land-use conflicts in their surrounding environment (Kombe and Kreibich
2001
). It has been noted also, that local communities have played a role in developing their land. Layson and Nankai (
2013
) studying the Makongo Juu urban redevelopment project in Dar es Salaam point out how land occupiers and the community participated in the initiation for the project that was meant to create formal settlements. Magigi and Majani (
2006
) and Magigi (
2010
) noted the participation of local communities in provision of information relevant to land regularisation for informal settlements in Ubungo Darajani, in the known Kinondoni Municipality. The highlighted studies reveal that the local community is an important actor since it enhances the sense of ownership of land-related projects.
There are several actors in peri-urban land governance, some actors play multiple roles. These roles may either compliment or supplement each other's effort as pre-discussed. The roles are determined by power, authority and motives. This influences the interactions and power relations among actors as discussed in the next section.
Interaction and Power Relation Among Actors in Peri-Urban Land Governance
Conclusion
Different land actors as reviewed, play varying roles, and these may be influenced by conflicting motives, interests or perceptions. Some of these actors may play similar or related roles, whereas, others may participate in multiple roles, yet they have different influence on land governance issues. Hence, conflict and collision among actors may be unavoidable. The discussion reveals that some actors are more powerful than others, affecting fair interaction and participation in peri-urban land governance. The existing legal and institutional framework does not provide the supporting environment for equal participation of all actors. It gives room for conflict within and among actors, for example the conflicting laws and regulations which inhibits the central government to share power with local authorities (Massoi and Norman
2010
). It is not only important to understand the institutional framework guiding land access in peri-urban areas but also, the motives and perceptions of the different actors towards the governance structure. This is critical in providing effective lessons for policy and theory on peri-urban land use and transaction as well as improving land governance in general. The discussion also emphasises the significance of participation in improving land governance in peri-urban areas; therefore, integration of sectors and coordination of actors is not only a necessity but unavoidable for effective sustainable planning.
Acknowledgments
This work is for the author, is part of PhD study in Urban Governance and Environmental Studies in two Universities; Swedish University of Agriculture Sciences (SLU), Sweden and Ardhi University (ARU), Tanzania. I wish to acknowledge my supervisors; Prof. Wilbard Kombe, ARU, Dr. Colman Msoka University of Dar es Salaam, Dr. Camilo Caldron and Dr. Zainab Tag-Eldeen, from SLU, for their advice and encouragement. I would also like to thank SIDA-SAREC program for supporting my PhD studies and two reviewers for their beneficial and important comments on the initial version of this paper.
Compliance with Ethical Standards
Conflict of Interest
The author(s) declare that they have no conflict of interest.
Ethical Approval
The paper is based on information and data from various reviewed literature. The views expressed are an interpretation of the author from the literature.
Open Access
This article is distributed under the terms of the Creative Commons Attribution 4.0 International License (http://creativecommons.org/licenses/by/4.0/), which permits unrestricted use, distribution, and reproduction in any medium, provided you give appropriate credit to the original author(s) and the source, provide a link to the Creative Commons license, and indicate if changes were made.