23-03-2019 | Issue 1/2019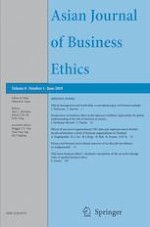 Perspectives on business ethics in the Japanese tradition: implications for global understanding of the role of business in society
Journal:
Authors:

Jessica McManus Warnell, Toru Umeda
Important notes
Publisher's note
Springer Nature remains neutral with regard to jurisdictional claims in published maps and institutional affiliations.
Abstract
The paper explores conceptual approaches to business ethics from the Japanese tradition and their potential to enhance our global approach to social and environmental sustainability, including discussion of a framework for understanding the embeddedness of the business in society. As globalization and economic and sociopolitical challenges proliferate, the nature of the connections between the USA and Asia is more important than ever. Following an expressed "pivot" or "rebalance" to Asia and the current nebulous alliances, we hope to raise the profile of Japan's potential to shape the conception and practice of business in society. We explore attempts to offer a universal business ethic, intended as guidance for businesses globally, and examine contributions of Japanese thought to these frameworks. Considering the traditional approaches of
sanpoyoshi
, or tri-directional (buyer, seller, and societal) welfare in business transactions,
kyosei
, which can mean "living and working together for the common good", and
mottainai
, or "grateful and sustainable consumption," the research explores the relationships between the private sector, government, and civil society. Further, we examine the related notion of moralogy, which has been described as a virtue-based stakeholder approach to business. We suggest that these concepts merit promoting the conception of the "homo socio-economicus" model to replace the prevailing "homo economicus" model that threatens what sound business should be. Through interviews with Japanese scholars and practitioners and exploration of Japanese cultural traditions, we present an overview of these approaches. With this perspective, we cite the case of the Tōhoku earthquake and Fukushima nuclear disaster as one illustrative example. We hope that this understanding of the embeddedness of business in society based on Japanese traditions and experience can contribute to a global conception of the role of business in society, relevant to the USA as well. Our goals are to contribute to existing discussions of Japanese business ethics and relevance to a global perspective, and to inspire ongoing exploration of applications of these ideas in teaching and scholarship.