10-10-2020 | Original Paper | Issue 3/2021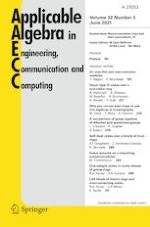 Peterson–Gorenstein–Zierler algorithm for differential convolutional codes
Authors:

José Gómez-Torrecillas, F. J. Lobillo, Gabriel Navarro, José Patricio Sánchez-Hernández
Important notes
Research supported by Grants MTM2016-78364-P and PID2019-110525GB-I00 from Agencia Estatal de Investigación and FEDER, and by Grant A-FQM-470-UGR18 from Consejería de Economía y Conocimiento de la Junta de Andalucía and Programa Operativo FEDER 2014-2020. The fourth author was supported by The National Council of Science and Technology (CONACYT) with a scholarship for a Postdoctoral Stay in the University of Granada.
Publisher's Note
Springer Nature remains neutral with regard to jurisdictional claims in published maps and institutional affiliations.
Abstract
Differential Convolutional Codes with designed Hamming distance are defined, and an algebraic decoding algorithm, inspired by Peterson–Gorenstein–Zierler's algorithm, is designed for them.