Published in: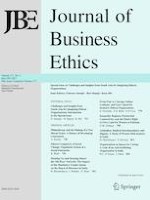 Open Access 07-04-2022 | Original Paper
Philanthropy and the Making of a New Moral Order: A History of Developing Community
Published in: Journal of Business Ethics | Issue 4/2022
Abstract
Community development, or the socio-economic transformation of local communities, has been a significant focus of organizational ethics. Such community development programmes—whether led by state, civil society, or businesses—are animated by modernization and have involved, I argue, the production of a new moral order. As part of which, communities were imagined in particular ways, historically. Drawing on a periodization of history of philanthropy of the Tata Group (India's leading multinational conglomerate) from the 1860s onwards, I outline the four stages involved in the production of this new moral order—each with a distinct formulation of community—as part of India's development. The shifts in imaginaries of community, I conclude, were justified and legitimized by the elites as part of the wider nation-building efforts.
Publisher's Note
Springer Nature remains neutral with regard to jurisdictional claims in published maps and institutional affiliations.
The transformation of communities constitutes a significant site of organizational ethics. Common with other postcolonial contexts, in South Asia, this transformation of communities is understood as community development, part of wider global development. A wide range of organizations: from postcolonial nation-states and public-sector organizations to civil society agencies such as NGOs, think tanks, and activist organizations have all contributed, historically, to community development (see for example: Batten,
1974
; Kapelus,
2002
; Mansuri & Rao,
2004
; McCarthy,
1995
). Businesses have also contributed to community development as part of their CSR or through philanthropy—be it corporate foundations or philanthropic organizations founded and established by business elites (Banks et al.,
2016
; Gautier & Pache,
2015
; Liu et al.,
2013
; Muthuri,
2008
; Porter & Kramer,
1999
,
2002
). Whether state-led, civil society-based, or sponsored by businesses and its elites, such community development programmes have been animated by modernization. Part of the post-World War II international development era, modernization sought to transform entire societies in the so-called third world from 'traditional' to 'modern' by encouraging them to adopt large-scale industrialization, urbanization, expansion of capitalism and markets, and intensification of science and technology (Bernstein,
1971
; Esteva,
1992
; Khilnani,
1999
).
Despite the invocation of its transformative potential for development, modernization resulted in large-scale dispossession, exclusions, and violence that undermined local communities, their livelihoods, cultures and knowledge (Alvares,
1992
; Escobar,
1995
; Rahnema,
1997
; Shiva,
1989
). Contributing to extant criticisms of development and modernization, I focus on the role of the "modernizing elites" (Bernstein,
1971
) in the production of a new moral order as part of postcolonial development in South Asia. In doing so, business elites' philanthropic organizations sought to install new "social imaginaries" of community, which were characterized by sameness and simultaneity (Anderson,
2006
; Taylor,
2004
). Social imaginary, following Taylor (
2004
, p. 2), is understood here as "not a set of ideas; rather, it is what enables, through making sense of, the practices of a society". Far from static, the production of the new moral order under modernization, I argue, necessitated shifting imaginaries of community from time to time. These shifts in social imaginaries of community were deemed desirable and justified in the name development and nation-building (Kumar,
2021
).
In probing the shifting imaginaries of community here, I present an "analytically structured history" of social imaginaries of community from twentieth century India (Rowlinson et al.,
2014
). Using periodization (Cooke & Kumar,
2020
), I map and explain the shifts in community imaginaries. I draw on the nearly century and a half long history of philanthropy of the Tata Group. The Tatas are widely recognized, including here in
JBE
, for their ethical leadership, corporate stewardship, and philanthropic history (Balakrishnan et al.,
2017
; Elankumaran et al.,
2005
; Sivakumar,
2008
). Alongside their leading role in the modernization of aviation, energy, and steel industries in the country, they have endowed institutions of higher education, founded leading research centres of science, social science, and humanities, and funded community development programmes, including in partnership with nongovernmental organizations, across the country (see for example: Lala,
1984
,
2004
; Witzel,
2010
). Even if somewhat misplaced, that they are considered exemplary when compared to their contemporaries and have played an influential role in India's development (Lala,
1984
; Witzel,
2010
; Worden,
2003
) makes it all the more important to scrutinize their philanthropy critically.
The rest of the article is structured as follows. A review of extant scholarship on modernization and development is presented next. As part of which, I also discuss the influential role of business elites and their philanthropy in development. In the second section, the research methodology is presented. From which, a periodization of "social imaginaries" of community are outlined in the third section. Next, I discuss how modernization has involved the production of a new moral order, which necessitated shifts in the imaginaries of community and how the shifts were justified by the business elites with the wider objective of building their own social acceptance. In conclusion, I outline the article's key contributions.
Development, Modernization, and Philanthropy: A Review
Notwithstanding the limited success of community development programme, modernization remained the predominant development force in mid-twentieth century India. As it turned the spotlight on the 'universal' and side-lined the 'particular', modernization (and so, development) caused dispossession, exacerbated gendered and ethnic inequalities, and caused lasting ecological damage, which I discuss in greater detail next.
Next, I review the influence of business elites' philanthropy on development, and their motivations for doing so.
Research Methodology
Before presenting the historical periods itself, a brief, historical overview of the Tata Group and its philanthropy follows.
Periodization of Community Imaginaries
Based on the object of study: imaginaries of community, the history of Tatas' philanthropy can be organized in to four distinct periods.
Development's New Moral Order: A Discussion
Drawing on the periodization of community's imaginaries presented above, in this section I explain the shifts in it.
Contributions
In this article, I have outlined how modernization—in the name of development—is sustained, despite its exclusions and now familiar criticisms. Using business elites' philanthropy from late nineteenth century to the present, I outline how "modernizing elite" (Bernstein,
1971
, p. 145)—to his list of politicians, bureaucrats, intellectuals, and military leaders, we should add business elites—have played a leading role in the production of a new moral order which necessitated shifts in the social imaginaries of community. Common to the shifts in the imaginaries of community were ideas of sameness and simultaneity (Anderson,
2006
; Taylor,
2004
). This is the article's central contribution.
The article makes two further contributions.
The Tatas are widely considered as exemplars in the field of business ethics, including here in
JBE
. For example, some scholars have commended its founder, Jamsetji N. Tata as an early exemplar of stakeholder welfare (Sivakumar,
2008
); while others have acknowledged the integration of Gandhian trusteeship at individual, organizational, and institutional levels within the Tata Group (Balakrishnan et al.,
2017
). Still others have noted how ethical codes and decision-making guidelines enable an ethical culture at Tata Steel, one of its more prominent companies, and more widely within the Group (Elankumaran et al.,
2005
). Problematizing such scholarship, I call attention to the predominance of elites' imaginaries over that of others. As scholars of business ethics engage more substantively with the global challenge of inequalities (Beal & Astakhova,
2017
; Rauf & Prasad,
2020
), it is imperative that we identify, challenge, and move past such elite and elitist formulations of ethics and sites where they are practised. This becomes all the more important given the significance of community as a prominent site of business ethics. Extant scholarship, for example, has paid considerable attention to the role of businesses in community development—from strategies for community engagement (Bowen et al.,
2010
; Liu et al.,
2013
), its effectiveness, and contingent factors (Brammer & Millington,
2003
). However, relatively little attention has been paid to what or who constitutes a community (Kapelus,
2002
; Littlewood,
2014
are notable exceptions). The article's second contribution, therefore, is in bringing into relief how business elites have imagined and reified conceptions of community, historically. That is, even though much of the field of business ethics continues to imagine 'community' as if outside or different from the businesses themselves, I have argued that through their philanthropy, business elites' have periodically sought to reimagine community, with very limited input or engagement with the members of the community itself.
Notwithstanding the increasingly global nature of businesses, internationally, the nation has remained an influential force that has shaped Tatas' philanthropy and in turn its ethics (Kumar,
2021
; Worden,
2003
; also see Saifer,
2020
for a similar acknowledgement from the Canadian context). Taking an historical approach, the article's third contribution is that even though the community's imaginaries shifted over time, these shifts were deemed desirable, even necessary, because they were in the wider national interests. In doing so, business elites such as the Tatas continued their pursuit of selective sameness and simultaneity in pursuit of modernization—all the while remaining silent on its limits and exclusions, most notably on the question of caste and gender, for example. Even when ethical concerns warranted otherwise, modernization continued apace as long as it was in the national interest. The article's third contribution is in calling attention to the problematization of the national question.
Declarations
Conflict of interest
The author worked as a part–time Consultant with the Sir Ratan Tata Trust between 2008 and 2012.
Research Involving Human and Animal Rights
The research presented in this paper did not involve any human participants or animals.
Informed Consent
Informed consent was not needed as research is based on archival material only. Necessary permissions for researching archival sources were secured from the relevant archivist.
Open Access
This article is licensed under a Creative Commons Attribution 4.0 International License, which permits use, sharing, adaptation, distribution and reproduction in any medium or format, as long as you give appropriate credit to the original author(s) and the source, provide a link to the Creative Commons licence, and indicate if changes were made. The images or other third party material in this article are included in the article's Creative Commons licence, unless indicated otherwise in a credit line to the material. If material is not included in the article's Creative Commons licence and your intended use is not permitted by statutory regulation or exceeds the permitted use, you will need to obtain permission directly from the copyright holder. To view a copy of this licence, visit
http://​creativecommons.​org/​licenses/​by/​4.​0/​
.
Publisher's Note
Springer Nature remains neutral with regard to jurisdictional claims in published maps and institutional affiliations.