2019 | OriginalPaper | Chapter
Phytosynthesis of Silver Nanoparticles Using
Rhynchosia heynei

Wight & Arn Leaf Extract: Characterization and

in Vitro

Assessment of Antimicrobial, Antioxidant and Anticancer Activities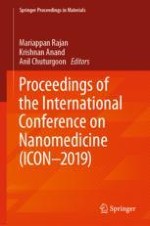 Read first chapter
Authors: S. Soneya, N. Vasudeva Reddy, K. V. Saritha, Venkata Subbaiah Kotakadi, T. Vijaya
Publisher: Springer International Publishing
Abstract
In the present investigation, here we first report the phytosynthesis of silver nanoparticles (AgNPs) using shade dried aqueous leaf extract of
Rhynchosia heynei
Wight & Arn is a crop wild relatives (CWR) of pigeon peas (
Cajanus
), beans (
Phaseolus
) and grams (
Vigna
).
R. heynei
is a rare, an endemic and vulnerable category as an according to the IUCN Red list of threatened species (ver.2012.2), a global database of Plant species to track at risk species, it is herbaceous under shrub, an important, indigenous, threatened forestry species of traditional shrub of tribal medicinal plant species belonging to family
Fabacaea
and it is classified in Tribe
phaceoleae
and sub-tribe
Cajaninae
and subfamily
papilionoideae
and it is found in the forests of seshachalam biosphere reserve in Tirumala hills, Chittoor district, Rayalaseema region, Andhra Pradesh state, Eastern Ghats of India. The shade dried aqueous leaf extract of
R. heynei
acts as reducing and capping agent that mediates the synthesis and stabilization of RH-AgNPs (
R. heynei
leaf synthesized AgNPs). Phytosynthesized RH-AgNPs were 5–20 nm in size, face centered cubic crystalline in nature, spherical in shape, and possesses zeta potential value of −31.4 mV. UV-Vis spectroscopy analysis confirmed the formation of silver nanoparticles. FTIR analysis demonstrated that polyhydroxy compounds and proteins respectively involved the bioreduction and capping processes of the particles that prevents agglomeration which in turn gives stability. The stability of RH-AgNPs will be further confirmed through zeta potential measurement by dynamic light scattering (DLS) analysis technique. Both X-ray Diffraction (XRD) and SAED results emphasized that the phytosynthesized RH-AgNPs were crystal particles in nature. Particle size distribution showed that RH-AgNPs were 5–20 nm in size with hydrodynamic radius of 11.2 nm. In addition to silvernano particles energy -dispersive X-ray analysis (EDX) analysis of the RH-AgNPs showed the elemental composition of colloidal solution of RH-AgNPs. The EDX spectrum of RH-AgNPs exhibit strong signal of silver (Ag) element. The elemental composition of the colloidal solution of RH-AgNPs. Transmission electron microscope (TEM) micrographs showed that the RH-AgNPs formed were polydispersed in nature without agglomeration. Phytosynthesized RH-AgNPs exhibited excellent bactericidal activity against different human pathogens including
Klebsiella pneumoniae
,
Escherichia coli
(Gram-ve),
Bacillus subtilis
and
Staphylococcus aureus
(Gram +ve). RH-AgNPs exhibited effective antioxidant property by scavenging DPPH and H
2
O
2
radicals with the IC
50
values of 77.7 and 88.6 µg/mL respectively. Further RH-AgNPs exhibited dose-dependent anticancer activity with maximum inhibition of 85% and 72% respectively against different cancer cell lines of human colon carcinoma (COLO205) and lung adenocarcinoma (A549). Application of silver nanoparticles (AgNPs) have revolutionized the medicinal industry. Due to their distinctive properties small size (1–100 nm), shape and electrical properties these nanoparticles are able to cross cell and nuclear membrane and induce cyto/genotoxicity. Phytosynthesized (plant based) AgNPs have targeting biological pathways has become tremendously prominent due to the higher efficiency and fewer side effects as compared to other commercial cancer drugs and have emerged as alternative antimicrobial agent to chemically synthesiszed nanoparticles assume their methods of synthesis is a simple, rapid and single-step bioreduction method which is environment friendly and non toxic and cost effective.