01-09-2014 | Issue 17/2014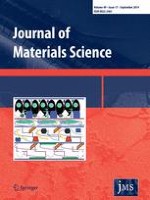 Plasma exposure inducing crystallization of indium oxide film with improved electrical and mechanical properties at room temperature
Journal:
Authors:

Lei Yang, Jiaqi Zhu, Jie Bai, Yuankun Zhu, Bing Dai, Hailing Yu, Zhenyu Jia, Jiecai Han
Abstract
A novel plasma exposure technique has been introduced into conventional magnetron sputtering process to enhance the crystallization of indium oxide (In
2
O
3
) films at room temperature. The effect of plasma exposure technique with different pulsed DC voltages on the electrical and mechanical properties of In
2
O
3
films was investigated. It is observed that film crystallization can be significantly enhanced when the pulsed DC voltage (|
V
p
|) is higher than |−500 V| (|
V
p
| > |−500 V|). By applying the plasma exposure process, In
2
O
3
films prepared at room temperature with thickness of 135 nm shows low resistivity of 4.11 × 10
−4
Ω cm, mobility of 42.1 cm
2
/Vs, and transmittance over 80 % in the visible range. Compared with the In
2
O
3
films without plasma exposure process, the In
2
O
3
films with plasma exposure show better crystallization and remarkably higher nanohardness. The plasma exposure technique is a useful candidate technique for enhancing film crystallization at low temperature.