29-10-2021 | Original Research | Issue 18/2021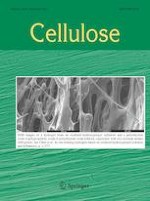 Plasmonic nanoparticle-analyte nanoarchitectronics combined with efficient analyte deposition method on regenerated cellulose-based SERS platform
Journal:
Authors:

Dabum Kim, Kangyun Lee, Youngho Jeon, Goomin Kwon, Ung-Jin Kim, Chang-Sik Oh, Jeonghun Kim, Jungmok You
Important notes
Supplementary Information
Publisher's Note
Springer Nature remains neutral with regard to jurisdictional claims in published maps and institutional affiliations.
Abstract
In this study, gold nanorods-embedded regenerated cellulose (AuNRs/RC) films were fabricated as SERS substrates via a simple vacuum filtration technique, and the effects of different analyte deposition protocols on the SERS performance were investigated. Four different analyte deposition protocols were tested. The experimental results demonstrate that the immersion of a dried AuNRs/RC hydrogel film in an analyte solution protocol outperforms the other deposition protocols by eliciting an excellent SERS activity which is due to an efficient analyte adsorption as well as an increase in the hot spot density. The AuNRs/RC hydrogel film in the I–HF method allows to detect crystal violet (model analyte) and thiram (pesticide) with concentrations as low as 1 attomolar (aM) with a high enhancement factor (EF) of 1.4 × 1013. The present study is conducive to the achievement of an efficient molecule adsorption/coverage on cellulose-based hydrogel surfaces as well as the enhancement of the SERS performance.
Graphical abstract
×