2013 | OriginalPaper | Chapter
8. Point Estimation Methods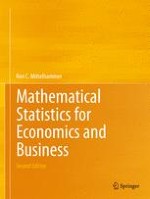 Read first chapter
Author: Ron C. Mittelhammer
Publisher: Springer New York
Abstract
In this chapter we examine point estimation methods that lead to specific functional forms for estimators of
q
(
Θ
) that can be relied upon to define estimators that often have good estimator properties. Thus for the only result in Chapter 7 that could be used directly to define the functional form of an estimator is the theorem on the attainment of the CRLB, which is useful only if the probability model {
f
(
x
;
Θ
),
Θ
∈Ω} and the estimand
q
(
Θ
) are such that the CRLB is actually attainable. We did examine a number of important results that could be used to narrow the search for a good estimator of
q
(
Θ
), to potentially improve upon an unbiased estimator that was already available, or that could verify when an unbiased estimator was actually the best in the sense of minimizing variance or in having the smallest covariance matrix. However, since the functional form of an estimator of
q
(
Θ
) having good estimator properties is often not apparent even with the aid of the results assembled in Chapter 7, we now examine procedures that suggest functional forms of estimators.