2020 | OriginalPaper | Chapter Open Access
4. Policies to Decarbonize the Transport Sector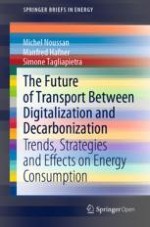 Authors: Michel Noussan, Manfred Hafner, Simone Tagliapietra
Publisher: Springer International Publishing
4.1

Introduction

This chapter discusses the different policies that may be adopted to foster effective decarbonization of the transport sector. The policies are divided into two categories depending on whether they involve passenger or freight transport. Within these categories, each contains two subcategories based on whether the policies discussed:
favor a reduction and/or a modal shift of transport demand; or,

promote the spread of cleaner vehicles.
The chapter discusses policies by following a common pattern. First, it explains what the policy consists of and what it aims to achieve. Secondly, it enumerates the measures which characterize the policy. Thirdly, it provides examples of best practices, i.e., cases in which local, national, or international authorities have attempted and been able to successfully implement these measures.
Following analysis of individual policies, the chapter will look to take a more holistic approach to policy implementation. In this context, it will illustrate the governance levels that involve each singular policy, the taxation issue, potentially emerging risks, and the distributional effects deriving from the implementation of these policies.
Horizontal analysis shows clearly that in developing successful policies for the decarbonization of transport policymakers face a multitude of challenges. The first criterion for the assessment of a policy would naturally be its effectiveness in reducing carbon emission, in itself given the complexity of modern economic systems is not an easy task. Moreover, policymakers must consider the interaction of policies and their broader socioeconomic impacts. Considering effects on the price and efficiency of transport would be prime candidates here. More particularly, the regressive nature of many policies is an area that must be considered and addressed. Finally, many policies are predicated on the development of large-scale, sophisticated digital software and data processing. An investigation into possible side effects of digitalization is outside the scope of this chapter but their existence should be noted nonetheless.
4.2

Passenger Transport—Reduction and Modal Shift of Transport Demand
4.3

Clean (Automated and Connected) Vehicles for Passengers
4.3.1

Emissions Standards

One of the most common policies designed to cut CO 2 emissions in the transport sector consists of setting emission standards. This kind of policy generally identifies a certain level of emissions (measured in CO 2 grams per kilometer) for newly registered vehicles. In the event in which these targets are not met the legislation usually stipulates financial penalties. For example, if the average CO 2 emissions of a certain manufacturer's fleet exceed the target defined by the authorities in a given year, the manufacturer has to pay an excess emissions premium for each car registered. Also, emission standards provisions are often accompanied by directives on fuel quality, which require a reduction of the greenhouse gas intensity of transport fuels.

In China, the corporate average fuel consumption limit for passenger cars is dropping from 8.2 l/100 km in 2010 to 5.0 l/100 km in 2020, and then 4.0 l/100 km in 2025 (Lubrizol,

2019

). According to estimations (Ibid.), in 2020, there will be a saving of around 160 billion liters of fuel (over a trillion RMB) and 370 million tons of CO

2

every year.

In 2017, the EU average emissions level of the new cars registered was 118.5 grams of CO 2 per kilometer (g/km) (European Commission, reducing CO 2 emissions from passenger cars). From 2021, phased in from 2020, the EU fleet-wide average emission target for new cars will be 95 g CO 2/km.

Within its Mid-Century Strategy for Deep Decarbonization, the USA also established fuel economy and GHG emissions standards for both light- and heavy-duty vehicles, which have reduced transportation GHG emissions significantly in recent years (US Mid-Century Strategy for DEEP DECARBONISATION). However, on April 2, 2018 the Trump Administration announced its intent to revise through rulemaking the federal standards that regulate fuel economy and greenhouse gas emissions from new passenger cars and light trucks.

Emissions standards are, by definition, an effective tool for reducing emissions associated with road transport. Governments should communicate clear plans for progressively increasing the stringency of emissions standards over time.
4.3.2

Country-Level Bans on Commercialization of Petrol/Diesel Cars

In order to meet emission reduction targets, governments have increasingly considered policies to promote the use of zero emission vehicles. Aiming to boost the commercialization of cars and vans powered by clean energy, some countries have committed themselves to end the sale of new conventional petrol and diesel vehicles in the future. In so doing, they expect almost every car and van in circulation 10–15 years after the introduction of the ban to be zero emission.

With respect to this policy, European countries seem to be at the forefront. Denmark has proposed a ban on the sale of new cars with internal combustion engines from 2030 and hybrid from 2035 (Reuters,

2018

). Prior to Denmark, France and the UK had pledged to stop supplying fossil fuel-powered vehicles by 2040. The UK government has subsequently proposed to bring this target forward to 2035 (BBC,

2020

). The Dutch Government has proposed a plan to ban all petrol and diesel vehicles by 2030, so that all new cars in the country must be emission-free (Wiredbugs).

India has recently announced that its commercialization of petrol and diesel cars will cease in 2030. China has also joined the initiative and announced that its ban will cover the commercialization of internal combustion engine cars and commence in 2040.

Country-level bans can be viewed as an effective way to shift the incentives for car manufacturers toward producing non-petrol or diesel vehicles. Bans are in that sense very attractive but must be accompanied by more intermediary measures to help guide developments toward a longer-term target. Bans will only serve to penalize the population if there are not already feasible transportation alternatives in place.
4.3.3

Public Investments in Clean Vehicles R&D

Driven by climate change and air pollution concerns, research and development of electric and other clean vehicles have become a crucial tendency in the transportation sector.

China is the country which has allocated most financial resources to clean vehicles R&D.

China began R&D for electric vehicle under the National High-Tech Development Program "863 Program" (Report on National R&D Programmes on the Fully Electric Vehicle). The national 863 Program was introduced during the 10th Five-Year Plan (2001–2005), where also the goal to commercialize and industrialize electric vehicles was introduced. This goal was refined in the 11th Five-Year Plan (2006–2010).

The main objectives of the "863 Program" are to fund technological research and innovation in areas of strategic importance to the nation's economic and social development. In particular, it is engaged in the funding of electric vehicle related activities. To this end, in 2001, the "863 ElectricDrive Fuel Cell Vehicle Project" received an initial investment of RMB 800 million (approximately equivalent to 103 million Euros).

This strong public engagement has resulted in significant development of EV technology, which, in turn, has reduced EV production costs, in particular by reducing battery costs, further nurturing the development of the EV market.

The EU too has made concrete steps by adopting the strategic action plan for batteries. In particular, the European Commission:
In collaboration with Member States makes available, research and innovation funds (H202018) for battery-related innovation projects, according to pre-identified short- and longer-term research priorities across the batteries value chain.

Launches calls for proposals for an additional total amount of EUR 110 million for battery-related research and innovation projects (in addition to EUR 250 million already allocated to batteries under Horizon 2020; and EUR 270 million to be allocated in support of smart grids and energy storage projects as announced in the Clean Energy for all European package).

Supports the creation of a new European Technology and Innovation Platform to advance on battery research priorities, define long-term visions, and elaborate a strategic research agenda and road-maps.

Prepares the launch of a large-scale Future Emerging Technologies Flagship research initiative, which could support long-term research in advanced battery technologies for the 2025+ timeframe.

Optimises solutions for integration of stationary storage and electric vehicles in the grid within Horizon 2020 smart grid and storage projects23 as well as Smart Cities and Communities' projects.
Alongside penalties and bans for the use of polluting vehicles, it is very important for governments to play a role in driving forward research into the cleaner technologies that will one day offer a replacement. The benefits from R&D and innovation in clean vehicles are likely to be far-ranging. Government schemes should look to effectively unlock private investment at the same time as providing some public funds.
4.3.4

Public Investments in Clean Vehicles Infrastructure (E.g., EVs Charging Network)

A successful strategy aiming to expand the electric vehicle ownership requires considerable investment in relevant infrastructure. Drivers must have confidence in the performance and connectedness of charging and fueling networks before they will purchase or use a zero-emissions vehicle (ZEV). With this respect, local, state, and utility stakeholders need to cooperate to stimulate the accessibility and ease of use of all types of charging infrastructure, both public and private ones.

The State of California has invested much effort on the development of an effective charging infrastructure. In January 2018, the Californian government signed an Executive Order, setting ambitious targets of 200 hydrogen fueling stations and 250,000 electric vehicle chargers to support 1.5 million ZEVs on California roads by 2025, on the path to 5 million ZEVs by 2030 (Governor Edmund G. Brown Jr,

2018

). The initiative is designed to focus multistakeholder efforts on deploying charging and fueling infrastructure as well as making ZEVs increasingly affordable to own and operate.

In particular, the California Public Utilities Commission has approved roughly $1 billion in programs to incentivize residential, workplace, and public charging from Pacific Gas & Electric, Southern California Edison and San Diego Gas & Electric (Greentech Media,

2018

).

The intent of the government is also to help expand private investment in zero-emission vehicle infrastructure, particularly in low income and disadvantaged communities. With this in mind, the 2018 Executive Order serves inter alia the purpose to develop a concise document mapping the relationships between existing and planned ZEV infrastructure investments. Moreover, it identifies the need to create a platform for stakeholder engagement, feedback, and information sharing.

The Chinese central government is also aggressively pursuing the development of EV charging networks. As of January 2019, there were roughly 2.6 million EVs on the road in China. There were 808,000 eV chargers, of these roughly 330,000 were public and 480,000 were home chargers. Charging infrastructure is growing rapidly throughout China, with major cities (Beijing, Shanghai, Guangdong Province) having taken the lead on this front. The majority of provinces in China added over 1000 new charging posts in 2018 alone. Highway corridors have also been created for EV charging between Beijing and Shanghai as well as other major cities (Center on Global Energy Policy,

2019

).

Central government policies are clear on the drive for larger infrastructure. In September 2015, the State Council issued the "Guidance on Accelerating the Construction of Electric Vehicle Charging Infrastructure." This guidance called for a charging infrastructure sufficient for 5 million EVs to be developed by 2020. Furthermore, 10% of parking spaces in large public buildings must be available for EV charging (Ibid.).

There is a pivotal role for governments to play in providing the public good of charging networks. Incentives are reduced for both manufacturers to design, and consumers to purchase, clean vehicles without clear plans for an effective network in place. A structured plan would provide the necessary certainty to companies that investing in ZEVs will be worthwhile.
4.3.5

Clean Vehicles Production Quotas for Carmakers

Quotas usually refer to restrictive practices. For example, they may be used to limit imports thereby benefiting local producers. However, quotas may also serve the purpose to stimulate production instead of restricting it. More precisely, they may be devised to encourage the production of certain goods and curb output of others. In the context of the transportation sector, the goal of this strategy is to promote a shift. In fact, authorities may apply quotas on EVs production or import to car manufacturers. In other words, car industry corporations are obliged to reach a certain level of EVs as a percentage of their total vehicle production or import. By encouraging the commercialization of electric cars, this kind of quota clearly boosts a shift toward cleaner vehicles.

The State of California adopted a quota policy to meet its health based air quality standards and greenhouse gas emission reduction goals. Some years later, China introduced a slightly modified version of California's program (International Council on Clean Transportation,

2018

). The Chinese regulation was formally introduced in 2018 and applies only to passenger cars. It establishes New Energy Vehicle (NEV) credits, which need to be achieved by producing or importing enough new energy passenger cars. Higher performance vehicles get more credits. At the same time, the rule allows manufacturers to use surplus NEV credits to offset corporate average fuel consumption credit deficits.

The Chinese government specified EV targets for car manufacturers: 10% of the conventional passenger vehicle market in 2019 and 12% in 2020. Failure to meet these credit targets after adopting all possible compliance pathways will lead to Ministry's denial of type approval for new models that do not meet their specific fuel consumption standards until those deficits are fully offset.

Clean vehicle quotas can be an effective tool for encouraging production; however, governments should be careful not to create perverse incentives toward particular models and technologies. Any quota should remain as technologically neutral as is possible.
4.3.6

Public Procurement for Clean Vehicles

The market for clean vehicles may also be stimulated by direct purchase from the public administration. Although the means of transport used by the public services account for just a small share of the total vehicles in circulation, this measure may still impact on the deployment of low or zero emission transportation.

Authorities at regional or state level may commit themselves to purchase environmental friendly automobiles to raise the demand for this kind of vehicles. Also, and more importantly, they can promote clean mobility solutions in public procurement tenders by defining targets that cities and other authorities at local level have to meet.

The European Commission proposed a directive which sets minimum procurement targets for each category of vehicle and for each Member State (European Parliament,

2019a

). The scope of the directive is broadened to include forms of procurement other than purchase, namely vehicle lease, rent or hire-purchase, and to public service contracts for passenger transport by road and rail, special-purpose road transport passenger services, non-scheduled passenger transport and hire of buses and coaches with driver.

The proposal sets minimum procurement targets for each category of vehicle and for each Member State. For light-duty vehicles, Member States must reach a share ranging from 16 to 35%, which is the same for the 2025 and for the 2030 deadlines. For buses, individual Member State targets range from 29 to 50% (2025) and from 43 to 75% (2030), and for trucks from 6 to 10% (2025) and from 7 to 15% (2030).

Furthermore, the proposal introduces reporting and monitoring obligations for the Member States and aligns the Commission's and Member States' reporting obligations. It provides for intermediate reporting in 2023 and full reporting in 2026 on the implementation of the targets for 2025, and further reporting every three years thereafter.

In China, individual provinces have embarked upon their own public procurement of electric vehicles, backed by the central government with an ambition for China to establish a position as a world leader in battery technology. In 2017, Shenzhen became the first city in the world to realize the full electrification of its public bus fleet with a total of 16,359 electric buses. This was thanks to a combination of subsidies from central and local government. As of January 2019, 99% of taxis are also electric (The Guardian,

2018

; Institute for Transportation and Development Policy).

The lessons learned from China and in particular Shenzhen are that public procurement can play a very effective role in stimulating the clean vehicle industry.
4.3.7

Subsidies and Other Special Provisions (E.g., Grants, Tax Credits, Tax Exemptions)

Clean vehicle commercialization can be boosted by fiscal incentives. Consumer purchasing incentives for EVs, just as subsidies on other goods, promote EV sale by reducing the final cost for consumers. Several states across the USA cover part of the EV costs. Equally common are subsidies for home chargers and public chargers in the form of tax credits, rebates, and grants.

Some states offer the same subsidies to all types of electric vehicles, some provide a different amount to plug-in hybrid EVs (PHEVs) and battery EVs (BEVs), and others offer the benefit only to BEVs (Lutsey et al.,

2015

). "Examples are California's Clean Vehicle Rebate Project, which offered $2500 for BEV and $1500 for PHEV purchases in 2013; Colorado's motor vehicle credit that offers up to $6000 based on battery capacity and purchase year; Massachusetts' MOR-EV rebates of up to $2500 for plug-in vehicle purchases; and Georgia's income tax credit for ZEV purchases and leases of 20% of the vehicle cost, up to $5000. Georgia's program is set to expire in mid-2015" (Lutsey et al.,

2015

, p. 15).

In some cases, income tax credits are accompanied by state sales tax exemptions for electric vehicle purchases and related services. Examples include Washington's retail sales tax exemption for alternative fuel vehicles; Maryland's excise tax credit of up to $3000 based on battery capacity for purchase or lease of a plug-in vehicle, and the district of Columbia's excise tax exemption for high fuel economy vehicles.

Aside from federal and state vehicle purchasing support, several cities have contributed to promoting electric vehicle purchases by offering additional financial support. Furthermore, utilities may offer a multitude of incentive programs for customers who own electric vehicles. Some utilities offer discounted rates for electric vehicle charging, and many offer time-of-use rates, which allow charging at much lower cost during off-peak hours.

It is important, in areas such as subsidies, that governments follow a clear and coherent plan. Stop-and-start subsidy programs, such as those typically experienced for household renewable energy subsidies, will not be effective in facilitating the development of a strong zero-emission vehicle industry that can survive when subsidies are eventually removed.
4.3.8

Non-fiscal Incentives (E.g., Parking Benefits)

Beside subsidies, non-fiscal incentives have played a significant role in promoting low emissions vehicles over the last years. The most common measures concern parking benefits and unrestricted access to high-occupancy vehicle (HOV) or carpool lanes for electric vehicle drivers.

Two US states provide free parking for electric vehicles. Hawaii offers free parking for electric vehicles at eligible parking locations that are metered (Slowik & Lutsey,

2017

, p. 5). In Nevada, local authorities with public metered parking areas are required to launch programs for alternative fuel vehicles to park in these areas without paying a fee.

Cities also commit to provide parking benefits, New York City (NYC) and Denver being two examples. NYC demands that 25% of new parking be electric vehicle ready. Denver set a rule that calls for new lots with at least 100 spaces to have at least one designated for electric vehicles (Lutsey et al.,

2015

, p. 11).

As for the other measure, ten states offer unrestricted access to HOV or carpool lanes for electric vehicle drivers. California and Florida also exempt electric vehicles from toll charges on high occupancy toll (HOT) lanes, sometimes called "express lanes" but essentially HOV lanes that single occupancy vehicle drivers can access by paying a toll. Access to HOV and HOT lanes reduces the time that electric vehicle drivers spend on the road during peak traffic hours.

In China, the registration lottery for new cars is significantly more lenient and accessible for those who purchase an electric car compared with those who purchase a gasoline or diesel powered vehicle. Stringent restrictions and years long waiting lists for registrations of gasoline/diesel vehicles are targeted at encouraging reduced demand for driving alongside shifting some of this demand toward electric vehicles. Registered cars in Beijing must also lie idle for one day of the week determined by license plate number.

Governments therefore have many options, both fiscal and non-fiscal, for promoting the spread of low emissions vehicles. Most effective strategies should involve a combination of both.
4.3.9

City-Level Bans on Circulation of Petrol/Diesel Cars

As a part of a drive to clean up air pollution, some local authorities have considered significantly reducing CO 2 emissions by banning petrol or diesel cars from driving in the city.

To this end, the city of Amsterdam has drafted a strategy divided into three steps (Guardian,

2019

). From 2020, diesel cars that are 15 years or older will be banned from going within the A10 ring road around the Dutch capital. From 2022, public buses and coaches that emit exhaust fumes will no longer enter the city center. The city council plans to ban cars and motorbikes running on petrol or diesel from driving in Amsterdam from 2030 completely. At the same time, the city is investing in charging stations and new infrastructure to promote the uptake of zero-emission vehicles and encourage citizens to switch their transport mode.

Meanwhile, Madrid has also begun to restrict car access to the city center. By 2020, all older diesel and gas-powered cars will not be allowed to enter the center at all. Hybrid vehicles with an "eco-label" will be permitted to enter.

Since January 1, 2018, Brussels has been a low-emission zone. Older diesel vehicles are now banned from the city center. The ban will be gradually extended to other diesel vehicles by 2025. The same applies to petrol vehicles: some grades are already banned while petrol vehicles up to the EURO 2 standard will be banned from 2025 (Brussels Capital Region).

In December 2016, mayors from Paris, Madrid, Athens, and Mexico City simultaneously announced plans to ban diesel cars and roads from their roads by 2025. It is not yet clear whether diesel vehicles in the four cities will be subject to a total ban, or which areas of the cities will be covered (The Guardian,

2016

).
4.4

Freight Transport—Switch from Road to Rail

Freight transport represents almost one third of total transport emissions. This major impact is due to the large use of road transport which is responsible for the greatest part of the entire sector emissions. In fact, not only goods shipment by road accounts for the largest part of total freight sector, but it causes considerably more pollution than other transportation systems, such as railway. Therefore a switch from road to rail would have a significant, positive impact on the environment. Policies to support such a switch include the measures described below.
4.4.1

Subsidies

An increase of the modal share of rail freight can largely absorb the expected growth in freight transport and minimize its climate impact on the environment. A shift toward cleaner shipment schemes may be conducted by modernizing the rail freight industry, enhancing efficiency and standardization, improving cost-effectiveness and accelerating technological innovation. These aims may, in turn, be achieved through government financial support to rail freight operators. Benefiting from subsidy policies, operators will be expected to pass on their savings to their freight shipping customers via lowered rates.

In 2018, the German government announced that it had adopted an aid scheme to support a shift from road freight transport to rail transport (European Commission, State Aid). The scheme has a yearly budget of €350 million and will run until 2023.

In particular, the newly introduced policy provides that rail freight operators will be compensated for up to 45% of their track access charges, i.e., the charges that railway undertakings have to pay for the use of the rail network. By lowering operational costs faced by rail freight operators, this aid scheme makes rail transport more competitive in the shipment sector. Customers have, thus, incentive to shift their preferences from trucks toward a cleaner transportation system.

This kind of policy not only will benefit environment—as carbon emissions will be significantly reduced: it will also positively impact on congestion as medium and heavy freight vehicles' presence on the roads would decline.

In South Africa, the Department for Environmental Affairs in 2014 commissioned a report into the possibilities of a freight shift from road to rail. Since deregulation of the railways in the 1980s, the freight modal share by rail has been decreasing. The conclusion of the report was that such a shift is highlighted as one of the most favorable measures in reducing greenhouse gas emissions. One concern of the report was that rail freight is less labor intensive than road freight and so the transition could be associated with job losses (Department of Environmental Affairs RSA,

2014

).

The Department of Transport has since released a Draft White Paper in which it details plans for rail to serve as the national land transport backbone by 2050 (Department of Transport RSA,

2017

). Interventions will be two-pronged: infrastructure investment interventions to enhance rail's competitiveness, and enabling interventions to adjust institutional arrangements to ensure that rail functions effectively in delivering its share of national transport. It is recognized that funding of freight rail is inadequate and the government should ensure that additional sources are tapped. The government will limit its funding contribution to rail infrastructure only. This will consist of capital grants from national government as well as capital grants or long term investment instruments from provinces.
4.4.2

Cross-Border International Railway Connections

As of today, international goods shipment is mainly carried out by road. One reason explaining the lower use of rail is the lack of developed international infrastructure connections and service provisions. In order to promote a shift toward more environmentally friendly freight transport schemes, national authorities should coordinate themselves or with supranational institutions to improve cross-border international railway connections.

With this aim in mind, policies should consider the following measures:
Implementing a stable long-term planning and financing framework for cross-border railway projects;

Fostering coordination of national or supranational statistical offices to collect data and produce reports regarding the development of cross-border missing links;

Funding cross-border infrastructure projects;

Creating a platform to coordinate cross-border projects;

Involving people at local level. Special attention must be given to resident's concerns about environmental impact and citizen's questions about the use of public money;

Making information on cross-border rail connections available to potential customers operating in the freight segment;

Providing a common, transparent and solid regulatory framework for infrastructure managing;

Equalizing diverging, national taxes, administrative costs, and infrastructure access charges.
In order to develop a Europe-wide infrastructure network, the EU has established the Trans-European Transport Network (TEN-T), a policy which includes the implementation of cross-border railway lines.
The ultimate objective of TEN-T (European Commission, TEN-T) is to close gaps, remove bottlenecks and eliminate technical barriers that exist between the transport networks of EU Member States, strengthening the social, economic and territorial cohesion of the Union and contributing to the creation of a single European transport area (European Commission, Mobility and Transport).
The implementation of this policy is crucial to promote an effective modal shift in freight transport. This modal shift would result in an improvement of air quality. Preliminary estimates show a potential, significant impact on air pollution: the development of cross-border railway infrastructure, together with other measures carried out in the TEN-T framework, will boost the reduction in GHG emissions by about 7 million tons between 2015 and 2030 (European Commission—DG for Mobility and Transport,
2017
).
In the USA in 1980, rail freight transportation accounted for just 20% of intercity freight miles down from 70% in the 1930s. The 1980 Staggers Rail Act deregulated many aspects of rail infrastructure development and service provision, allowing much greater flexibility in price setting and service levels. A stable environment encouraged investment, and between 1982 and 2009 the rail industry invested $510 billion in capital improvements. Technological standardization across the North American rail network played a crucial role in enabling long-haul freight transportation to be economical by rail. Since 1980, both the volume and productivity of US freight rail transportation have been steadily increasing (World Bank Group,
2019b
).
While maintaining focus on improving national rail policy, governments must also recognize the importance of developing cross-border solutions if they are to develop an environment in which more significant volumes of freight transportation can be carried out via rail. Key policy considerations should revolve around stimulating coordination, standardization, and transparency for investors.
4.4.3

High-Speed Train

An effective policy designed to promote a modal shift toward greener transport modes may not only rely on the widening of the existing infrastructure. In fact, the enhancement of the service quality must accompany projects concerning the rail network extension. With this respect, investments on high-speed rail play a major role.

As of today, high-speed lines are generally utilized for passenger trains. This is due to the fact that the related infrastructure mostly reaches city centers which are generally destinations for passenger but not freight transport. Nevertheless, due to the current e-commerce boom, the demand for express delivery of goods, and thus high-speed freight transport, is fast increasing.

HSR travel in China is however still primarily designed for passenger traffic. HSR freight service mainly uses the vacant space in high-speed passenger trains. The operation time, section, and schedule are constrained by passenger traffic. Moreover, HSR passenger stations do not have sufficient freight operation conditions such as warehouses and stacking areas. The conditions in China are thus ripe for a burgeoning future of HSR freight transport but this has not yet been fully realized (Ibid.).

An obvious lesson is that any developments in HSR have so far been aimed at passengers while freight has been largely neglected. Under certain circumstances, there may be significant gains to be realized from stimulating a shift into HSR freight transportation. In countries that have already invested heavily into passenger HSR, there are likely to be substantial cross-benefits from a strategy that focuses upon utilizing HSR for both passengers and freight. Countries who have not yet significantly invested should consider optimal policies for combining passenger and freight HSR.
4.5

Cleaner and More Efficient Freight Transport
4.6

Transport Policies and Governance Levels
City level

Country level

International level

Passenger Transport

Carpooling

X

Car sharing

X

X

Public transport promotion

X

X

Supporting connected and automated mobility

X

X

Congestion charging

X

Parking management

X

Cycling and walking zones promotion

X

Multimodality

X

License plates limitation

X

X

Emission standards

X

X

Bans on diesel and petrol vehicle commercialization

X

Public investments in clean vehicles R&D

X

X

Public investments in clean vehicles infrastructure

X

X

Clean vehicles production quotas

X

Public procurement for clean vehicles

X

X

Subsidies

X

X

Non-fiscal incentives

X

X

Bans on diesel and petrol vehicle circulation

X

Freight Transport

Subsidies to freight transport on railways

X

X

Support to high-speed train

X

X

IMO regulation

X

Promotion of alternative fuels

X

X

Truck regulation

X

Digitalization of railways

X
4.7

Taxation

Taxation plays an essential role when considering policies to decarbonize the transportation sector. Providing a comprehensive, global overview of taxes linked to the automotive industry is complex for two reasons. First, a large variety of heterogeneous taxes are levied on the motor vehicle segment. Direct taxation includes taxes on vehicle acquisition (VAT, sales tax, registration tax), ownership (annual circulation tax, road tax) and motoring (fuel tax). This is complemented by indirect taxation, of which parking fees are an example.

Secondly, tax systems vary considerably from country to country. In fact, some national governments prefer to levy all the types of taxes on vehicle acquisition while adopting only few on ownership. By contrast, some others put greater emphasis on taxes on vehicles ownership. Certain others have significantly increased fuel taxes and, at the same time abolished some of those on vehicle ownership. Furthermore, governments can adopt the same tax, but charge different rates or complement it with other fiscal measures. For example, Germany applies VAT at 19% on the sales of new vehicles while Greece at 24%; Italy, instead, applies a 22% VAT but has introduced a bonus/malus scheme based on CO 2 emissions. Besides the levels of CO 2 emissions, other criteria contribute to differentiating rates at which taxes on motor vehicles are applied: engine's attributes (such as size, power or age), cylinder capacity, fuel type, and vehicle's attribute (weight, age, or number of axles). In sum, the tax framework is strictly dependent on national politics.

In this section, fuel taxation is first explored through cross-country comparison on the magnitude of excise taxes. Cross-country comparisons of vehicle acquisition and ownership taxes are harder to compare cross-country but insights into the EU, USA, and Chinese taxation systems are offered.
4.7.1

Fuel Taxation

The OECD has carried out some cross-country analysis with regards to fuel taxation. Figure

4.1

shows the average effective road energy tax on both diesel and gasoline. There is an apparent and significant heterogeneity between countries. The data presented are the average effective fuel taxes for both diesel and gasoline for road use by country. Significant differences in the pricing of diesel and gasoline are highlighted.
×
4.7.2

Acquisition and Ownership Taxation

The European Automobile Manufacturers' Association (ACEA) published its annual Tax Guide which presents an overview of the specific taxation on motor vehicles in Europe. The Guide (ACEA Tax Guide,

2019

) provides a summary of the taxes on acquisition and ownership of motor vehicles in all EU Member States.

Taxes on acquisition within Europe comprise of a VAT paid on initial purchase as well as a registration tax. The lowest VAT rate is 18% in Malta, while the highest is 27% in Hungary. Croatia, Denmark, and Sweden also have a notably high VAT rate at 25%.

Registration taxes across Europe vary significantly in terms of how they are computed. Typical variables used are CO 2 emissions, cylinder capacity, vehicle purchase price, and other emissions standards. For example, CO 2 emissions are used to compute payments in Austria, Belgium, Croatia, France, and Portugal among others. Cylinder capacity is taken into account for Belgium, Cyprus, Hungary, Poland, and Portugal. The purchase price or value is considered by Croatia, Denmark, Finland, Greece, Ireland, and Malta among others.

The UK imposes a flat 55 GBP registration fee for all types while Sweden is the only EU country without a registration tax. In France, the registration tax varies by region and includes an additional CO 2 component. In Germany registration fees are 26.3 EUR. In Italy, the registration fee is based on vehicle type and horsepower, as well as CO 2 emissions. In Spain, registration fee is based on CO 2 emissions.

Taxes on ownership differ for passenger cars and commercial vehicles. For passenger cars, engine power and CO 2 emissions are two commonly used metrics. For commercial vehicles, gross vehicle weight and number of axles are two commonly used metrics (i.e., the size of the vehicle is the important factor in determining tax).

Engine power determines part or all of the passenger cars ownership tax in Austria, Bulgaria, Croatia, Czech Republic, and Hungary. CO 2 emissions are considered in Cyprus, Finland, Greece, Ireland, Luxembourg, and Malta among others. In France, the fiscal power and CO 2 emissions are considered. In Italy, power, emissions and fuel type are all important. Estonia, Lithuania, Poland, and Slovenia have no ownership taxes on passenger cars.

Gross vehicle weight is used in calculating commercial vehicles ownership tax for Czech Republic, Estonia, Finland, Italy, Lithuania, the Netherlands, and Poland.

For Germany, as well as weight and pollution, noise category is also taken into account. In Luxembourg, the suspension type is a component in price setting alongside weight and axles. The UK considers dead weight and environmental characteristics. Spain considers only payload in determining tax. Slovenia has no ownership tax on commercial vehicles.

Taxation in China can be grouped into two primary categories:
Taxes to be paid by the vehicle manufacturer

Taxes to be paid by the vehicle owner
Zongwei, Yue, Han, and Fuquan (
2017
) provide an overview of the general structure of China's taxation system as it is applied to automobiles, detailing which taxes are due at which stage of a motor vehicle's life cycle and whom they must be paid too.
Unlike within the EU, VAT is charged throughout the production life cycle of the motor vehicle rather than simply at point of sale. The first phase of VAT is therefore paid by manufacturers and indirectly passed through to consumers.
There are four phases of taxation in the Chinese system: producing, purchasing, retaining, and using. A variety of taxes are paid by automakers in the producing phase. These include a circulation tax which varies between 1 and 40% depending on engine. VAT is paid, split between central and local governments. Surtaxes are levied on urban maintenance and construction and education. An estate property tax and city and town land use tax must also be paid.
The rest of the taxes for stages purchasing, retaining, and using are all paid directly by consumers. Consumers pay a 10% tax of the vehicle price when purchasing to the central government. Local government's then charge VVT which is a local tax varying by engine displacement and applied for the retaining of an automobile.
The final stage of taxation comes from using an automobile. Circulation taxes are paid on both gasoline and diesel. These are approximately $0.25/L for gasoline and $0.2/L for diesel. VAT, UMCS, and ES are all paid to the central government. UMCS and ES are surtaxes of VAT on refined oil.
In the USA, most vehicle taxes are imposed at the state rather than federal level. One exception is the "gas guzzler tax.'' This tax was established through the Energy Tax Act of 1978 and applies to the sale of new vehicles whose fuel economy fails to meet certain statutory requirements. Its purpose is to discourage the purchase of fuel-inefficient vehicles.
The tax code has also recently been utilized to promote the purchase of electric vehicles and plug-in hybrid vehicles through providing tax credits to purchasers. Such vehicles purchased in or after 2010 may be eligible for a federal income tax credit. The minimum credit amount is $2500 rising to $7500 depending on traction battery capacity and the gross vehicle weight rating.
The credit is applied until the manufacturer has produced 200,000 eligible vehicles counted from January 1, 2010. The IRS announces when a manufacturer exceeds this production figure and will announce the phase out schedule (for the tax credit). As of October 2019, tax credits have been phased out for both Tesla and General Motors.
Most US states impose a sales tax on vehicle purchases. This is a tax on consumption, displayed as a percentage of the sale price. All US states impose vehicle registration fees. These fees are imposed on all vehicles regardless of age and are generally collected annually (ACEA Tax Guide,
2019
).
4.8

Risks Linked to Digitalization

Digitalization plays a key role in several of the policies examined. On the one hand, modern digital technologies enhance public transport efficiency, make carpooling and car sharing services more accessible to users, support multimodality and pave the way for smart cities and grids which, in turn, represent the essential prerequisite for automated and interconnected vehicles. On the other hand, increasing levels of digitalization, which we notice inter alia in the spread of the so called Internet of things

2

(IoT), entail potential risks in terms of security.

As digitalization growingly pervades our everyday life, potential targets of cyber-attacks evolve and become more numerous. Cyber-attacks have predominantly targeted IT systems operating in computers and smartphones. Yet, as our everyday objects are increasingly connected to digital networks, they become vulnerable to intrusions from hackers.

This threat involves all sectors, including transport. As one possibility, one could imagine the consequences deriving from a cyber-attack targeting a software which regulates automated cars and trucks. Hackers could stop vehicles' circulation or, in worse cases, trigger accidents.

Aside from security risks, digitalization presents privacy concerns. Privacy issues arise because the functioning of digital technology requires large amounts of personal data. For example, every time we buy bus tickets online, book a car sharing trip or use bike sharing services we provide operators with personal data. We share our starting point and our destination. Also, in the case we carry out the same trip regularly, we share important information regarding our daily routine (where we live, places that we and our relatives frequent, time at which we move, routes we follow). Such data could be used for commercial data mining. That is, customers might be exposed to intrusive targeted marketing techniques or even criminal activities.

It is highly likely that automated and interconnected vehicles will require even more detailed personal data. Therefore, the privacy-linked concerns are set to rise in the future.

Authorities have stepped up efforts to address challenges posed by digitalization. In order to face the cyber security issues, the EU adopted the Network Information Security Directive (Directive (EU)

2016

/1148) in 2016, requiring Member States to develop a national strategy. This directive established a co-operation group to facilitate strategic cooperation between the Member States regarding the security of network and information systems. As regards privacy, a new regulation, GDPR (Regulation (EU)

2016

/679) was drafted to protect personal data. The GDPR states that "consent should be given by a clear affirmative act establishing a freely given, specific, informed and unambiguous indication of the data subject's agreement to the processing of personal data." Moreover, it sets rules regarding data breach notifications.
4.9

Distributional Effects of Policies

This final section sheds light on the potential distributional effects deriving from policies to foster the decarbonization of the transportation sector. Specifically, it discusses the social risks linked to fiscal measures pursued to discourage the use of conventional internal combustion engine vehicles as well as potential solutions. Such measures include the introduction of a carbon (or fuel) tax and the reduction of fossil fuel subsidies.

Although environmentally friendly, these measures, as any other fiscal measure, entail wealth distribution which, in turn, may result in social protests. Carbon pricing and similar fiscal initiatives particularly involve major hazards, as they have serious repercussions on a large part of the population, including low-income classes. The case of France will help identify key aspects of this issue.

The French carbon tax was introduced in 2014 at a rate of €7/tCO

2e

.

3

Within four years, it rose sixfold, thus reaching the rate of €44.6/tCO

2e

. Spurred by the necessity to comply with the Paris agreement requirements, as well as the desire to step up efforts toward an effective ecological transition, the French government proposed a further reform in 2018. The new carbon tax was set on a rising price trajectory toward €86.2/tCO

2

in 2022 and accompanied by an increase in fuel prices.

This proposal soon triggered serious social turmoil. Strongly opposing these measures, the "yellow vests" movement spontaneously emerged and spread throughout the country. Demonstrations were not only motivated by direct and indirect increase in fuel prices, but also (and mainly) by a perceived discrimination. In the yellow vests' opinion, higher fuel costs predominantly affect workers from the countryside. In fact, these people massively consume fuel because, on average, they drive longer distances than workers in cities. Beside the geographical (countryside-city) discrimination, this proposal gave rise to lower-income people's concerns, as they cannot necessarily afford modern, cleaner vehicles. Their concern is that they will have to carry the tax burden alone, since wealthier people gradually shift toward new generation, lower CO 2 emitting cars.

As a consequence of large scale protests, the French government decided to modify (and partially withdraw) its plan: the tax rate in 2019 will remain at the 2018 rate of €44.6/tCO 2. As the yellow vests' riot is still continuing at the time of writing despite nation-wide consultations, a new attempt to increase the carbon tax in the near-term is highly unlikely.

Aside from the French case, there are examples where governments successfully introduced plans to support an ecological transition without neglecting dangerous social implications. Carbon pricing or reforms to reduce fossil fuel subsidies were implemented together with cash transfers (or other similar measures) to most vulnerable social classes with the purpose to mitigate inequalities. Such combined plans were able to bring benefits on two different fronts.

In 2008, British Columbia, Canada unilaterally introduced a broad-based carbon tax applying to carbon emitted from the combustion of all greenhouse gases, with few exemptions granted. The tax began at 10 Canadian Dollars (CAD)/tCO

2

and rose to 30 CAD/tCO

2

by 2012. The tax was implemented in a revenue neutral manner with measures designed to ensure equitable effects. Revenue from the tax was used to reduce the bottom two personal income tax rates and the low-income climate refundable tax credit was introduced returning annually up to $100 per adult and $30 per child. Furthermore, all residents received a one-time $100 dividend aimed at contributing toward lifestyle restructuring away from carbon emitting sources (British Columbia,

2008

). The combination of these measures ensured the political survival of the tax through attempts to alleviate some of the worst distributional consequences.

Recently, Jordan and Iran have embarked on a process to lower fossil fuel subsidies while, in parallel, developing benefit programs to counter poverty effects. In 2012, the government of Jordan "used various social safety net measures to protect vulnerable groups, including cash transfers to low-income households, a targeted food subsidy program, and increasing the public sector wages for lower income households" (World Bank Group,

2019c

, p. 78). Similarly, "Iran implemented electronic cash transfers that accounted for 50% of projected savings from fossil fuel subsidies reforms" (Ibid.).

In sum, the experiences in France, British Columbia, Jordan, and Iran show two essential aspects related to the topic of this chapter. First, fiscal policies to foster decarbonisation are likely to bring about distributional effects. Given the nature of the policies, these distributional effects tend to disadvantage lower-income classes. Second, measures increasing carbon or fossil fuel prices do not necessarily imply growing inequality. If complementary fiscal programs are implemented, two key aims can be achieved at the same time, thereby benefiting both environment and population.
4.10

Conclusions and Key Take-Aways

This chapter has looked to offer a broad overview of the policies available to ensure effective decarbonization of transport sectors. There are a wide range of policies that can be implemented. Individual countries will have particular and specific advantages/disadvantages with regards to the implementation of each individual measure. There is therefore no perfect policy combination for ensuring effective decarbonization of the transport sector but the aforementioned policies are the key areas in which countries have tried, are trying, and must continue to try to invoke positive climatic change.

One common theme emerging from the chapter is of the wide range of positive externalities associated with decarbonization policies. These policies primarily have an impact on reducing carbon emissions however so many are found to impact society in a multitude of other positive ways. For instance, measures aimed at a reduction of road transport demand lead to cleaner cities in terms of air pollution, while developments in automated technologies lead to wide-ranging efficiency benefits. Meanwhile, measures such as the digitalization of railways and promotion of multimodality not only reduce carbon demand but can ensure a smoother and more enjoyable transit experience for passengers.

In terms of precise policy implementation, there is no one-size-fits-all strategy. In order to implement successful decarbonization policy mixes, this chapter has shown that policymakers must pursue a range of subsidies, fines, regulatory measures and standards, bans, R&D investments, management strategies as well as cross-border cooperation.

One area stands out in which governments should look to adopt an effective policy mix. Certain policies are aimed at directly reducing the occurrence of polluting activity, e.g., emission regulations and city- or country-level bans. These policies, by design, will be effective. However, governments should be careful at the same time to pursue policies that will provide alternatives for citizens to switch too once the status quo is banned. R&D and subsidies for promising but not yet developed technologies should be followed in order to develop zero emissions technologies. Meanwhile, the provision of infrastructure, such as ZEVs charging networks, is pivotal in order to encourage private investment to follow. There is a careful balance to be struck between forcing citizens to change behavior and at the same time providing suitable alternatives.

At the same time, measures to promote and inform the general public of the benefits of action are fundamentally important. Government policies should be transparent, for example, information campaigns can explain how any revenue accruing is to be used such that decarbonization policies do not become confused with governments simply trying to raise revenues.

Beyond promoting awareness of the benefits of climate policy, it is of paramount importance to recognize and confront the potential realities of significant socioeconomic consequences. Whether it is measures to subsidize new technologies, accessible mainly by higher-income classes (e.g., EVs) or taxes on fuel consumption (where the incidence is often largest on lower-income classes) such policy measures are often regressive. In order to combat regressive effects and ensure broad population participation and enjoyment of the energy transition within the transport sector, governments must consider this issue of the upmost importance. Distribution of revenues in a progressive manner is a good start, but furthermore governments must look to assess the regressive impacts of individual policies and factor these into any decision-making process.
Open Access
This chapter is licensed under the terms of the Creative Commons Attribution 4.0 International License (http://creativecommons.org/licenses/by/4.0/), which permits use, sharing, adaptation, distribution and reproduction in any medium or format, as long as you give appropriate credit to the original author(s) and the source, provide a link to the Creative Commons license and indicate if changes were made.
The images or other third party material in this chapter are included in the chapter's Creative Commons license, unless indicated otherwise in a credit line to the material. If material is not included in the chapter's Creative Commons license and your intended use is not permitted by statutory regulation or exceeds the permitted use, you will need to obtain permission directly from the copyright holder.
Footnotes
2
With this expression we refer to the situation "where everyday objects are connected to networks to provide a range of services or applications in areas such as cars, home automation and smart grids." IEA (
2017a
).