01-09-2006 | Issue 17/2006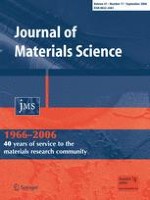 Poly(ether ether ketone) with pendent methyl groups as a toughening agent for amine cured DGEBA epoxy resin
Journal:
Authors:

Bejoy Francis, V. Lakshmana Rao, Seno Jose, Bina K. Catherine, R. Ramaswamy, Jesmy Jose, Sabu Thomas
Abstract
A diglycidyl ether of bisphenol-A (DGEBA) epoxy resin was modified with poly(ether ether ketone) with pendent methyl groups (PEEKM). PEEKM was synthesised from methyl hydroquinone and 4,4′-difluorobenzophenone and characterised. Blends of epoxy resin and PEEKM were prepared by melt blending. The blends were transparent in the uncured state and gave single composition dependent
T
g
. The
T
g
-composition behaviour of the uncured blends has been studied using Gordon–Taylor, Kelley–Bueche and Fox equations. The scanning electron micrographs of extracted fracture surfaces revealed that reaction induced phase separation occurred in the blends. Cocontinuous morphology was obtained in blends containing 15 phr PEEKM. Two glass transition peaks corresponding to epoxy rich and thermoplastic rich phases were observed in the dynamic mechanical spectrum of the blends. The crosslink density of the blends calculated from dynamic mechanical analysis was less than that of unmodified epoxy resin. The tensile strength, flexural strength and modulus were comparable to that of the unmodified epoxy resin. It was found from fracture toughness measurements that PEEKM is an effective toughener for DDS cured epoxy resin. Fifteen phr PEEKM having cocontinuous morphology exhibited maximum increase in fracture toughness. The increase in fracture toughness was due to crack path deflection, crack pinning, crack bridging by dispersed PEEKM and local plastic deformation of the matrix. The exceptional increase in fracture toughness of 15 phr blend was attributed to the cocontinuous morphology of the blend. Finally it was observed that the thermal stability of epoxy resin was not affected by the addition of PEEKM.