01-01-2015 | Original Paper | Issue 1/2015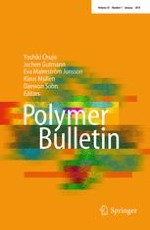 Polymethacrylates with pendant charge-transporting groups synthesized via RAFT polymerization
Journal:
Authors:

Ping Zhao, Haijun Niu, Guofeng Liu, Wen Ye
Abstract
The controlled radical polymerization of functional polymers with hole- or electron-transporting groups via reversible addition–fragmentation chain transfer (RAFT) process has been studied. Carbazole and 1,3,4-oxadiazole-containing methacrylic monomers, 6-(
N
-carbazolyl)hexyl methacrylate (CzHMA) and 4-(5-(naphthyl-1,3,4-oxadiazol-2-yl)phenyl) methacrylate (Naph-OxaMA), have been synthesized and polymerized via RAFT polymerization with cumyl dithiobenzoate (CDB) as a chain transfer agent (CTA) and 2,2-azobisisobutyronitrile (AIBN) as an initiator in a benzene solution. Good control of the polymerization is confirmed by the low polydispersity indexes (PDI) and controlled molecular weights (MW) of the resulting polymers as revealed by GPC measurements. The resulting charge-transporting polymers have been further characterized by NMR, UV–Vis spectroscopy, and cyclic voltammetry (CV).
Graphical abstract
Polymeric charge-transporting materials containing carbazole and 1,3,4-oxadiazole pendant groups, respectively, have been synthesized by reversible addition–fragmentation chain transfer (RAFT) polymerization with controlled molecular weights, narrow molecular weight distributions.
×