11-02-2019 | Original Research | Issue 5/2019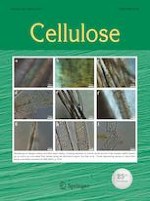 Polypyrrole@metal-organic framework (UIO-66)@cotton fabric electrodes for flexible supercapacitors
Journal:
Authors:

Chuanjie Zhang, Jiaxin Tian, Weida Rao, Bin Guo, Lingling Fan, Weilin Xu, Jie Xu
Important notes
Chuanjie Zhang and Jiaxin Tian have contributed equally to this work.
Publisher's Note
Springer Nature remains neutral with regard to jurisdictional claims in published maps and institutional affiliations.
Abstract
Metal-organic frameworks (MOFs) are recently attracting more and more interests as supercapacitor electrode materials. However, their low conductivity largely thwarts their capacitance performance. Herein, fabric electrodes for flexible supercapacitors were successfully fabricated by depositing polypyrrole (PPy) nanotubes and Zr-based MOF (UiO-66) particles on cotton fabrics. The PPy nanotubes could serve as conductive connectors to bridge the UIO-66 particles due to their superior conductivity with one-dimensional structure. The conductivity of the PPy@UIO-66@cotton fabric electrode was increased to 14.29 S cm−1. A specific capacitance of 565 F g−1 at a current density of 0.8 mA cm−2 was obtained for the PPy@UIO-66@cotton fabric electrode. In addition, the proposed fabric electrode exhibited good cycling stability with capacitance retention of 90% after 500 charge–discharge cycles and excellent rate capability. This study confirmed the combination of MOFs and PPy nanotubes has great application prospect in fabric-based flexible supercapacitors.