2020 | OriginalPaper | Chapter
29. PON Architecture Enhancements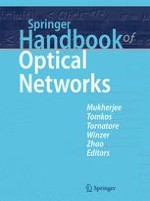 Read first chapter
Author: Thomas Pfeiffer
Publisher: Springer International Publishing
Zusammenfassung
In this chapter, possible architecture enhancements will be discussed, that allow for applying passive optical networks (s) to a wider range of network scenarios than previously considered. The ongoing specification and early deployment of 5G wireless networks and services turns out to be an important driver for the evolution of future optical access technologies and network architectures. The interworking of wireless networks with PONs, which provide for fixed transport, will hence be the starting point for introducing advanced architectures, especially those that can support low-latency requirements as imposed by 5G radio technologies and services (Sect.
29.2
). These services are provided over a flexible and versatile (long-reach) PON infrastructure on a metro scale, together with other service types over the same common network. Most hardware functions of such networks will be virtualized on data center platforms, supported by centralized resource orchestration across multiple network segments and technologies (Sect.
29.3
). In some scenarios, direct optical links between the end nodes of a PON segment enable lowest transmission latency or offloading high traffic volumes from the main PON link. Sample use cases, as found in wireless and intradata center networks, are discussed in Sect.
29.4
. Finally, in Sect.
29.5
, optical solutions are introduced that can help in remotely supervising and managing the passive fiber infrastructure, as well as in reconfiguring the connectivity map of complex PON-based metro-access networks, while respecting access operational models and cost targets.
The architectures presented are based on current PON technologies and deployment practices. Most of the modifications described that are required for accommodating advanced functionalities, such as those mentioned before, are either under investigation in research or even under development already. A few are still considered only on the conceptual level.