24-10-2021 | Original Paper | Issue 14/2021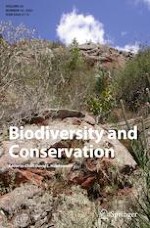 Pond creation and restoration: patterns of odonate colonization and community dynamics
Journal:
Authors:

Marceau Minot, Michaël Aubert, Aurélie Husté
Important notes
Communicated by Mike Kevin Joy.
Supplementary Information
Publisher's Note
Springer Nature remains neutral with regard to jurisdictional claims in published maps and institutional affiliations.
Abstract
Ponds are lentic waterbodies with a high conservation value for biodiversity that have long been overlooked by management policies. Recent initiatives aimed to promote the conservation of these ecosystems by restoring or creating new ponds throughout Europe. Therefore, studying responses of aquatic invertebrates to local pond characteristics and connectivity between them is determinant to understand community dynamics and colonization processes of these scattered ecosystems. We studied larval communities of odonates in 20 created or restored ponds to assess their colonization during the first 2 or 3 years. Community dynamics in relation to pond vegetation, landscape context and connectivity with other ponds were also investigated. No difference in species richness was found between restored and created ponds. Most species colonized the ponds during the first year, but a different pattern in colonization was observed between Anisoptera and Zygoptera. Community composition was related to the landscape context of ponds and the time since pond creation or restoration. Abundances were positively related to pond connectivity, especially in the suborder Zygoptera. No relationship was found between vegetation and Anisopteran larvae, while Zygoptera seem more sensible to the vegetation structure due to their endophytic oviposition. This work confirms the high colonization capacity of odonates and shows that creation of new ponds could be as efficient as pond restoration to enhance the conservation of freshwater species. It also highlights that landscape characteristics and connectivity between ponds are determinant to support higher abundances and a posteriori increase population viability at the landscape scale.