27-03-2018 | Original Paper | Issue 9/2018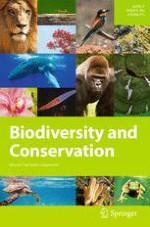 Population genetic analyses of the endangered alpine
Sinadoxa corydalifolia

(Adoxaceae) provide insights into future conservation
Journal:
Authors:

Yaling Wang, Qianlong Liang, Guoqian Hao, Chunlin Chen, Jianquan Liu
Important notes
Communicated by David Hawksworth.
Electronic supplementary material
Abstract
With increasing temperature and anthropogenic activity, endangered alpine species in the high altitudes of the Qinghai-Tibet Plateau face high risk of extinction; however, they have received little attention in the past. In this study, we used 12 nuclear and nine chloroplast microsatellites (simple sequence repeats, SSR) to assess genetic diversity within and among the only two populations of the highly endangered alpine species
Sinadoxa corydalifolia
(Adoxaceae). We identified only one individual exhibiting clonal reproduction across all 160 extant plants. The levels of genetic variability were estimated to be very low, with the allele number
N
a
= 3.2 and the expected heterozygosity
H
e
= 0.368. The genetic differentiation is extremely high between the two regional populations (
F
ST
= 0.214), with a limited rate of gene flow in the recent past. In addition, numerous endemic alleles were found for each subpopulation within each population. Our analyses suggest that it is critical not only to conserve all surviving individuals of the two populations in situ but also to mediate gene flow artificially between subpopulations within each population in this endangered species.