2015 | OriginalPaper | Chapter
35. Positioning, Navigation, and Timing for Security and Defense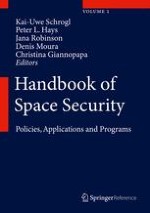 Read first chapter
Authors: Jean-Christophe Martin, Frédéric Bastide
Publisher: Springer New York
Abstract
Global Navigation Satellite Systems (GNSS) allow users to compute their position, velocity, and time anywhere in the world, anytime, and with a high accuracy. The best known, most popular GNSS, is the US Global Positioning System (GPS), although the Russian GLONASS system is regaining strength. In addition, other powerful nations in the world are developing their own systems: the European Union, China, Japan, and India.
These GNSS mainly offer two types of services: an open service, available to anyone, and an authorized service, available only to authorized users and which provides better performance. The authorized services already support defense military operations of the USA and Russia, while the open services have become instrumental in civil security operations of any state for police and civil protection for instance.
Open services from the current and future GNSS can be combined in order to deliver better performance to users. This is called the "interoperability" concept. On the contrary, the authorized services cannot be combined except if security and specific cooperation agreements are in place. In this case, the combined use of authorized services could also bring improved performance for defense applications.
This chapter addresses these aspects on the use of the GNSS for defense and security applications.