2006 | OriginalPaper | Chapter
Post-Rift Continental Slope and Rise Sediments from 38° E to 164° E, East Antarctica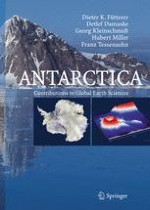 Read first chapter
Authors: Philip E. O'Brien, Shawn Stanley, Robert Parums
Publisher: Springer Berlin Heidelberg
The Australian Antarctic and Southern Ocean Profiling Project has acquired more than 20 000 km of north-south seismic reflection transects every 90 km along the East Antarctic continental margin between 38° E to 164° E. These data provide a unique overview of the broad scale depositional patterns around a large part of the Antarctic margin. Each line was examined and the post-rift section classified according to depositional environment.
The depositional environments recognised are:
1.
Submarine fans.
2.
Contourite drift and canyon complexes.
3.
Mixed contourite-turbidite drift sediments.
4.
Thin separated drifts.
5.
Non-deposition and erosion of older sediments.
6.
Prograding upper slope wedges.
7.
Distal abyssal plain deposits.
We have recognised nine sedimentary provinces on the continental slope and rise, based on the relative dominance of these environments. The distribution of contourite deposits is controlled by sediment input from the continent and by the shape of the margin. Prydz Bay has provided a large amount of sediment over a long period, producing the thickest post-rift sediment pile on the margin. It has been suggested that major sediment inputs have taken place via the Wilkes sub-glacial Basin, the Aurora Basin and Prydz Bay through the Lambert Graben. Our examination of the data implies that only Prydz Bay, western Enderby Land and the area at about Latitude 120° E have received large influxes of sediment, with western Enderby Land being relatively inactive during the Neogene. Sediment thicknesses are large when compared to the conjugate margin of Australia.