24-04-2020 | Electronic materials | Issue 21/2020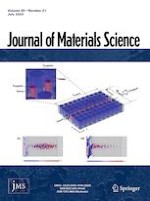 Potassium persulfate as an oxidizer in chemical mechanical polishing slurries relevant for copper interconnects with cobalt barrier layers
Journal:
Authors:

Lifei Zhang, Tongqing Wang, Xinchun Lu
Important notes
Publisher's Note
Springer Nature remains neutral with regard to jurisdictional claims in published maps and institutional affiliations.
Abstract
Cobalt (Co) has been applied as one of the most promising candidates of barrier metals for copper (Cu) interconnects. The present work describes the static etching and chemical mechanical polishing process of Cu and Co, which were conducted by potassium persulfate (K2S2O8) as an oxidizer at various pH values. It was found that compared with the conventional oxidizer hydrogen peroxide (H2O2)-based slurries, the K2S2O8-based slurries exhibited a relatively high Co removal rate, as well as the diminished particulate contamination and excellent post-etching morphology. A slurry consisting of 3 vol% colloidal silica, 10 mM K2S2O8, and 5 mM benzotriazole (BTA) produced a Co removal rate of ~ 127 Å/min at pH 10, along with a removal rate selectivity of ~ 1 between Cu and Co films. Based on the data of X-ray photoelectron spectroscopy, scanning electron microscopy, and nano-scratch depth tests, the interplaying mechanisms of chemical and mechanical on Cu and Co removal rates in K2S2O8-based slurries were investigated.