01-12-2020 | Cover Story | Issue 12/2020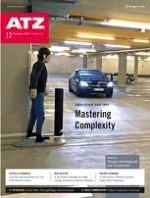 "Powertrain development always involves interdisciplinary teamwork"
Journal:
Author:

Michael Reichenbach
Systems engineering is an interdisciplinary approach that allows complex systems to be developed more efficiently. Hybrid drives in cars are complicated systems of this kind and their subsystems, which include a gasoline engine, an electric motor and a battery, require careful coordination during the testing process. In the ATZ interview, Dr. Gerald Eifler from ElringKlinger Motortechnik explains how the complexity of these systems can be managed. He describes the benefits that his company's new powertrain test rig offers when taking RDE measurements for plug-in hybrids and looks at why all of this depends to a large extent on how well the interfaces are defined.
×
...