27-10-2020 | Issue 2/2021 Open Access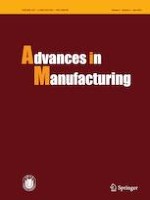 Precision micro-milling process: state of the art
Journal:
Authors:

Lorcan O'Toole, Cheng-Wei Kang, Feng-Zhou Fang
1

Introduction

The trend toward miniaturization of precision micro-components, such as for microelectromechanical, nanoelectromechanical, and micro-medical systems, has led to advances in microfabrication techniques in recent years. This demand for micro-sized parts with high aspect ratios has necessitated the biomedical, electronics, automotive, and aerospace industries to adopt and apply both new and old manufacturing processes at the microscale. Although microfabrication techniques have existed for many years, the stringent requirements of extremely tight tolerances on form, dimension, and surface characteristics [

1

], high machining efficiency, and machine positioning accuracy have led to further developments in precision machining processes [

2

]. Micro-milling is a precision micromechanical cutting process, which has been developed to facilitate the increasing requirements [

3

].

Micro-milling is an effective and efficient precision machining process for manufacturing components with microstructures such as complex three-dimensional (3D) surfaces at the microscale. Typically, micro-milling can be characterized by the size of the cutting edge diameter of the micro-milling tool, which lies between the range of 1 µm and 1 000 µm [

4

], whereas the diameter of the cutting edge in the conventional milling process is greater than 1 000 µm. However, this definition focuses only on the tool and does not incorporate the important aspects of the machining process, namely precision, accuracy, and underlying material removal mechanism. Therefore, a more technical approach to characterize the micro-milling process can be as follows: a precision mechanical cutting process with geometrically defined cutting edge tool diameters of less than 1 000 µm for precise material chip removal to within less than 1 µm tolerance on form and dimensional accuracy [

5

].

However, the micro-milling process is limited by inherent physical process issues when machining at the microscale, which are not present when milling at the macroscale. Such constraints relate to material removal mechanisms at the microdomain, which include chip formation, size effect, and process stability. Therefore, the major physical processes that limit the process efficiency and precision in micro-milling are thoroughly discussed. The effects of these negative phenomena on the machining process outputs are considered, while insights into how these effects can be minimized, if not eliminated, are presented.

Recently, there has been a strong research interest in the micro-milling process, with much work focusing on the process inputs, such as workpiece material and microstructure, geometry and materials of tools, efficient toolpath generation, and cutting fluid. Examining the latest works concerning the influence of these process inputs on the cutting force, surface roughness, and tool wear during machining provides a clear depiction of the current micro-milling process. This review therefore investigates the theoretical, analytical, and experimental works most recently published to identify areas of the process for future development.

In terms of process advancement, one of the key areas will be in supplementing the micro-milling process with other successful technologies. Section 4 of this review will examine the recent successful studies that implemented secondary systems to produce advanced processes, such as ultrasonic-assisted, laser-induced oxidation-assisted, and plasma jet-assisted micro-milling processes. The importance of such assisted processes will become even more apparent with future developments of higher hardness and wear resistant materials. Such materials are classified as "difficult-to-machine" materials, which include hard and wear resistant superalloys, refractory metals, structural ceramics, composites, polymers, and magnesium alloys [

6

]. The consideration is that the limitations of the micro-milling process in terms of physical process constraints, i.e., chip formation, size effect, and process stability, may not be overcome by micro-milling alone in the future.

The application of micro-milling across the biomedical, electronics, automotive, and aerospace industries is also discussed in relation to the versatile nature of the precision machining process. Such application ranges from machining of microstructures and textures to precision machining of very hard and wear resistant materials for utilization in the mold manufacturing industry. Therefore, this review introduces the current state-of-the-art micro-milling process, beginning with the issues of physical process phenomena associated with machining at the microscale and including an in-depth examination of how to minimize these negative issues. The process inputs are examined in relation to the process outputs, offering insights into areas for improvement in the future, which will further advance the development of the micro-milling technology. Finally, applications of the micro-milling process are described in detail, followed by insights into the future perspective of micro-milling. The objective of this work is to present the development, benefits, applications, limitations, and future insights of micro-milling and to discuss the recent publications regarding this precision machining process.
2

Fundamentals of the process

Because the precision micro-milling process has been developed from conventional milling, the two milling processes share many similar characteristics such as machine components and configuration, tool geometry, and cutting fluid. However, the material removal mechanisms between these two mechanical cutting processes cannot be mutually correlated. Conventional milling primarily considers shearing forces acting on the rake face and far lesser ploughing forces on the flank face [

7

], which are mainly caused by machine chatter stability [

8

]. The shearing-dominant regime is the desired material removal mechanism during any cutting process, where material is removed as distinctive chips along the rake face. The ploughing-dominant regime is the unwanted material removal mechanism, where material deforms plastically under the flank face and no chips are formed. The ploughing-dominant regime results in extremely poor surface finish and very high tool wear due to high cutting and friction forces, high temperature, etc., during machining. In contrast to precision milling, micro-milling is subject to both considerable ploughing and shearing regimes. The contribution of each mechanism depends heavily on numerous factors, such as chip formation, undeformed chip thickness (UCT), size effect, tool deflections, and process stability. Each of these factors can also significantly influence each other, leading to a more dynamic and complicated effect when determining which material removal mechanism will dominate during micro-milling.
2.3

Burr formation

Any burr left on the machined surface deteriorates the component quality, precision, function, and performance. This is particularly true for microparts and features. Therefore, burr minimization, and where possible elimination, is essential for high-quality micro-milling operations. This is achievable through extensive research on control techniques and further investigations into understanding the phenomena. Such key areas of interest for future work therefore lie in cutting parameter optimization, toolpath generation, tool geometry and material, and tool coatings and lubrication investigations.
2.4

Size effect

Micro-milling raises significant issues when removing material at the microscale owing to the effect of scaling, otherwise known as size effect. It has been shown that the size effect modifies the mechanism of material removal in conventional milling [

55

,

56

]. However, the characterization and exact cause of this effect remain a point of contention among researchers, indicating that many factors influence chip formation and material removal mechanisms at the microscale. In simple terms, size effect is a phenomenon that modifies the material removal and chip formation mechanisms at the microscale [

57

]. In conventional milling, the shearing mode of material removal dominates, which leads to chip formation. However, the size effect becomes more significant as the machining scale is reduced to the microlevel, where ploughing of the material surface dominates. This phenomenon produces a major challenge of preventing chip formation by a tooth during a cutting pass, which leads to high cutting forces, high friction, high temperature, and significant tool wear. However, as mentioned earlier, the exact characterization of the size effect has not been fully agreed upon. As an example, Qin [

58

] defined it as the relationship between the specific energy during cutting and the tool rake angle, which were two important physical parameters that affected the chip removal process. As the depth of cut decreases, the effective rake angle increases, influencing the specific energy. Therefore, the larger the rake angle, the greater the specific energy, which has been widely accepted as the main contributing factor to the size effect phenomenon [

59

]. Experimental observation by Mian et al. [

60

] determined that the specific energy, besides the burr root thickness and surface roughness of machined surfaces, could be used as a relevant measure of the size effect in micro-milling. The team also used wavelet transformation to extract energy bands related to the deformation mechanisms involved in machining, while high frequency bandwidths in the acoustic emission signals could also be exploited to identify the size effect phenomenon. The size effect can also be described as the phenomenon whereby the ratio of the UCT to the cutting edge radius of the tool, or the grain size of the workpiece material, will influence chip formation, material removal mechanisms, and material flow, as shown in Fig.

1

. This effect can become significant when the thickness of the material to be removed is of the same order of magnitude as the tool edge radius or grain size of the workpiece material [

60

]. The influence of tool edge radius on the size effect has also been demonstrated through a strain gradient plasticity-based FE model of orthogonal micro-cutting by Liu and Melkote [

61

].

Actually, the above two definitions are correct because many factors will affect the chip formation and material removal mechanisms; thus, it can be simply said that the size effect is characterized by a nonlinear increase in the energy consumed per unit volume of material removed as the UCT decreases to the same order of magnitude as the cutting tool edge radius or grain size [

60

,

62

]. Therefore, it is very clear that conventional milling mechanisms cannot be used to describe the micro-milling process, because simply reducing the scale of the system will not reproduce the same representative model [

63

]. The size effect becomes even more significant at the nanoscale, particularly for nanometric cutting, where ploughing of material dominates, rather than shearing and chip formation [

64

]. Consequently, this variation from the general behavior of both the tool and the workpiece microstructure at the microscale during machining will depend on many factors, such as the material properties and microstructure [

39

], micro-milling tool parameters [

59

], machining parameters [

65

], as well as tool specifications [

1

,

66

]. The physical mechanisms that govern the size effect will be discussed in the following section, including the specific energy, shearing and ploughing-dominant modes of material removal, as well as the effect of tool edge radius.
2.5

Tool edge radius

A small tool edge radius, rather than a sharp point, is an important feature of micro-milling tools to limit crack initiation and failure points at the cutting edge of the tool. However, because of the size effect, downscaling of conventional milling tools makes the cutting edge radius of microtools comparable to the instantaneous UCT. Micro-milling tool edge radii are usually less than 5 μm; however, they can be up to 20 μm [

67

]. This means that the tool edge radius is in the same order of magnitude as the chip being formed [

68

], leading to an increase in cutting force [

69

,

70

] and surface roughness [

71

]. In micro-milling tools, the edge is deliberately rounded to impart strength, prevent plastic deformation, and avoid early tool breakage [

72

]. Therefore, chip formation occurs along the rounded edge of a tool, resulting in a negative value of the effective rake angle, even if the nominal rake angle is positive [

73

].

Vipindas et al. [

74

] presented an investigation on the effect of cutting edge radius on cutting force, coefficient of friction, surface roughness, and chip formation during micro end milling of Ti-6Al-4V, for a wide range of feed per tooth. It was found that the feed per tooth within 1 μm range was the critical value, which was approximately one-third of the cutting edge radius. Below this critical value, the size effect is predominant, leading to the ploughing mode of material removal, as illustrated in Fig.

5

. Moges et al. [

75

] developed a comprehensive mathematical model that incorporated the edge radius of the micro-cutting tool, so that a more accurate prediction of cutting force models could be obtained. Therefore, even though rounding of the cutting edge was necessary in micro-milling tools, an extremely large tool edge radius would greatly influence the size effect. This suggests that a stronger cutting edge to prevent crack initiation could reduce the size effect issue, as it would lead to a smaller radius requirement, which in turn would result in a more dominant shearing mode of material removal. To fulfil this demand, further investigation on the cutting edge tool geometry is necessary.
×
2.6

Specific energy

The energy consumption during the machining process affects both the environmental and manufacturing costs. Therefore, evaluating and limiting the energy consumed during micro-milling can lead to more efficient manufacturing [

77

]. One such way, according to Fang et al. [

78

], is to compare the experimental cutting force and specific cutting energy. To compare the energy consumption during machining operations such as micro-milling, the specific energy parameter, which was defined by Li and Kara [

79

] as the energy consumed to remove a unit volume of material, may be used [

80

]. The specific energy is a particularly important parameter to consider during micro-milling, as it can be used to evaluate the cutting effectiveness of the process. The ratio of specific energy to the UCT can be helpful in characterizing the size effect in relation to surface generation, as can be seen from Fig.

6

.
×
It has been shown that the size effect strongly affects the specific energy necessary for material removal through chip formation mechanisms, which can alter the material removal mechanisms [
16
]. An experimental investigation was carried out by Yao et al. [
81
] to determine the relationships between the specific cutting energy, chip morphology, and surface integrity of martensitic aged steel. They proposed a new method for calculating the effective energy and non-effective energy by the criterion of whether it contributed to chip formation or not, respectively. Their results showed that chips became more segmented with decreasing proportion of the effective energy, whereas increasing the proportion of the non-effective energy resulted in surface integrity deterioration and contributed to the formation of a plastic deformation layer. Then, by assessing the trade-off between surface quality and specific cutting energy, optimized machining parameters were suggested to achieve a precision surface finish with low specific cutting energy and high energy efficiency, which had significant application for the realization of sustainable manufacturing. Gao et al. [
59
] examined the size effect in relation to the tool edge radius and cutting parameters on specific energy in micro-milling of heat resistant stainless steel. They showed that the specific cutting energy could be fully controlled by regulating the geometrical characteristics of the cutting tool, i.e., the cutting edge radius, and by the machining parameters recommended by their developed minimum chip thickness prediction model. Precise control of the specific energy during micro-milling can therefore lead to more efficient chip formation, which has great significance on improving machining efficiency, tool life, and surface quality. Lauro et al. [
82
] also analyzed the influence of the size effect on the specific cutting energy of AISI H13 steel in relation to austenitic grain size, while examining the response from a cutting force perspective. They observed that the grain size had a significant influence on both cutting force and specific cutting energy in micro-milling. Their results revealed that larger grain sizes displayed lower specific energy compared with smaller grain sizes. They also showed that increasing the feed rate had a significant effect on reducing specific energy (approximately by 70%) for both small and large grain sizes. Therefore, the recent research suggests that by reducing the specific energy during cutting, the size effect was therefore lessened, resulting in improved machining efficiency, tool life, surface finish, and material removal rates.
2.7

Process stability

Relatively large form error and poor component geometric accuracy are still major obstacles toward achieving higher precision in the field of micro-milling. The main cause of these inaccuracies is the inherent process instabilities during the micro-milling process. Among several factors, the influences of tool deflection, tool runout, and machining chatter are the main sources of surface and dimensional accuracy errors in micro-milled components. These process instabilities further lead to high cutting forces, excessive tool wear, and tool failure, as well as high cutting temperatures, as a result of frictional forces due to rubbing and ploughing during unstable machining conditions, as will be discussed in this section. Because of the relatively low strength and stiffness and very small cutting diameter of micro-milling tools, micro-milling must be performed at very high speeds between 20 000–100 000+ RPM, to ensure productive machining. Moreover, material removal rates can be maintained during the process by increasing the spindle speed to negate the effect of the small cutting diameter of the microtool and relatively slow feed rate. However, high-quality precision air bearing spindles with closed loop position and very accurate speed control are necessary for high RPM machining to ensure process stability. Furthermore, vibration and instabilities during high-speed micro-milling must be minimized, whereas feed rate and positioning must be smooth and continuous [

84

]. Therefore, it is necessary to develop accurate and reliable process stability models to analyze and improve the performance of such processes as tool runout and tool deflection, as well as minimize self-excited vibration, also known as chatter.
2.8

Tool deflection

Tool deflection is one of the most significant factors limiting the performance of micro-milling processes, particularly limiting form accuracy and precision [

85

,

86

], as can be observed from Fig.

7

. A micro-milling cutting tool is severely prone to relatively large deflections owing to a significantly smaller diameter to overhang length ratio. This results in a drastic reduction in tool shank section modulus, which lowers its strength and ability to withstand periodically varying cutting forces, leading to tool bending [

85

]. The increased flexibility and lower stiffness of smaller diameter tools result in large values of cutter edge deflections, which lead to two serious problems: form and feature geometric errors on the machined component and distortion of cutting forces. This effect is again strengthened even further as the cutting tool diameter reduces from 1 000 µm to 100 µm, where even a small deflection of 5 µm will lead to an error comparable to the cutting edge radius of the tool. As the deflected tool rotates, undesirable cycles of shearing to ploughing modes of material removal mechanism will occur, leading to spikes in high and low cutting forces on each tooth. This will in turn cause larger deflections, while the cycle itself will continue until either failure of the tool occurs or the tool skips. Moges et al. [

85

] presented a methodology for determining such cutting force-induced tool deflections and developed a cutting force model considering tool deflection on the resulting cutting forces. Similarly, Mamedov et al. [

87

] developed a novel mathematical model for estimating cutting force and tool deflection by calculating the UCT, which considered both ploughing and shearing modes of material removal. On the other hand, Lu et al. [

88

] proposed a revised 3D analytical model of micro-milling forces, which considered the effects of cutting temperature and ploughing force caused by the arc of the cutting edge during shearing-dominated cutting. Therefore, considering the seriousness of the tool deflection issue, it is of great importance to study its effect on the mechanics of the chip formation process, while examining cutting forces, surface errors, and cutting temperature, so that reliable and accurate predictions can be made to limit and prevent excessive deflections during machining.
×
Cutting forces directly affect tool deflection in the micro-milling process because of the relatively low stiffness of the tool, particularly at the tool tip, and results in imperfections on the machined surface as described above. As bases for determining tool deflection, accurate analytical cutting force models that consider the tool geometry and material, the specific cutting mechanism involved, as well as the vibration dynamics are key areas for research. Mamedov et al. [
87
] fully understood the importance of cutting force on tool deflection and became significant contributors to micro-milling tool deflection analysis early on. Using their mathematical model, the distribution of forces acting on the tool can be predicted and deflection of a micro-milling end mill tool can be estimated with good accuracy. High cutting forces lead to higher tool deflection. Mamedov et al. [
89
] presented an updated analytical cutting force model, which considered both the shearing and ploughing phenomena, based on the material elastic recovery properties. The tool deflections corresponding to the cutting force were calculated by considering the microtool stiffness. This model accurately predicts instantaneous tool deflections through analysis of the cutting force, which was presented as a function of cutting force coefficients, microchip thickness model, and tool geometry. Oliaei and Karpat [
90
] investigated the influence of increased cutting force due to tool wear on tool deflections and tool breakage. Their model for predicting tool deflection and tool breakage allows for the development of tool condition monitoring systems based on the physics of the micro-milling process. In their model, Rodríguez and Labarga [
91
] for the first time considered variable deflection rather than just static deflection along the cutting edge. Their model also has promising benefits in monitoring systems and adaptive control systems for the prevention of tool failure during micro-milling operations; however, it does not take tool wear into consideration. Moges et al. [
85
] also presented a method for determining cutting force-induced tool deflections and developed a flexible force model considering the effect of tool deflections on the resultant cutting force based on previous rigid models. The team presented a methodology for predicting variation in machine surface error due to tool deflections. Their proposed model accurately predicted cutting forces in the presence of tool deflections. In addition, it was found that deflection of the tool caused considerable deviations of the tool center location, resulting in change of tooth trajectories and uncut chip geometry. Their model provided great benefits in selecting optimum cutting parameters to control tool deflections, resulting in tighter tolerances and improved productivity. However, to further improve the prediction accuracy, their model must consider the dynamic vibration of the tool tip. Lu et al. [
92
] understood the importance of examining the cutting force and how it might be used to limit tool deflection. They proposed an indirect method of determining the average micro-milling cutting force, which was both low cost and high precision, by examining the power of the main transmission system of a micro-milling machine. Lu et al. [
93
] then developed a new method for predicting micro-milling tool breakage based on theoretical models by examining the tool bending stress. Finally, Zhang et al. [
94
] formulated a mechanistic model of cutting forces and instantaneous tool deflection in the micro end milling process, which took into account the minimum UCT effect and tooth trajectory. Their model also considered tool runout, consisting of both axial and tilt offsets, including entry and exit angles of the tool. Their developed model can be used to further optimize the accuracy of the micro-milling process because of the inclusion of a more complete tool deflection model. Clearly, deflection of a cutting tool is dependent on many factors and must be modeled as a dynamic phenomenon, rather than a static one. More accurate tool deflection prediction models will provide methods for reducing cutting forces, thereby reducing tool wear and breakage, increasing surface and feature quality as well as machining efficiency. However, tool deflection is an implicit issue of machining at the microdomain, which also has a multifactor influence on the process stability as a whole, similar to tool runout and self-excited machining chatter. Therefore, a thorough review of relevant research is presented below on tool runout and chatter in micro-milling.
3

Process inputs

As with any manufacturing process, the input variables, such as workpiece material, tool parameters, toolpath, and cutting fluid, are all widely known to affect the process outputs of cutting force, surface quality, tool wear, etc. The influence and multifactor effect of the process inputs have even more significance at the microscale, particularly when the microstructure of the tool and workpiece must be considered and they are of major concern to the micro-milling process performance. Therefore, it is essential to fully understand the process physics and characterize the effect of each variable in a systematic way, so that the input parameters that have considerable influences on the output quality can be easily recognized and accounted for. In theory, the optimization of the process for all machining variables appears to be very complex. However, considerable achievements focusing on predictive models, numerical simulations, statistical analysis, and experimental investigations have been made recently, such that the multitude of factors influencing the process outputs can now be examined accurately. Therefore, a full review of existing investigations on input variables and their effect on the micro-milling process outputs is presented.
4

Advanced processes

Currently, the micro-milling process is limited by the inherent constraints of cutting material removal mechanisms at the microdomain, which include chip formation, size effect, and process stability. However, these constraints may be overcome by the application and combination of new technologies with the micro-milling process, such as micro-rotary ultrasonic vibration-assisted milling (μRUAM), laser-induced oxidation-assisted micro-milling (LOMM), and atmospheric-pressure plasma jet-assisted micro-milling.
4.1

Micro-rotary ultrasonic-assisted machining

Micro-milling has been shown to be an advantageous machining process for manufacturing surfaces, features, and structures in the microdomain with high accuracy and precision. However, the application of micro-milling in the mold, optics, and biomedical industries requires that this process must be suitable for machining typical difficult-to-machine materials, from very hard and wear resistant metallic alloys to very brittle ceramics or deliquescent crystal materials. One of the major efforts directed toward processing these difficult-to-machine materials has been the application of μRUAM [

158

]. This process applies an ultrasonic frequency vibration in the range of 20–100 kHz with an amplitude between 5 μm and 50 μm at the tool tip in one or more directions, e.g., axially or radially. So far, μRUAM has been shown to reduce cutting forces and improve tool life during machining, owing to the working mechanisms of material removal, which form smaller chip sizes, reduce contact at the tool-workpiece interface, reduce frictional forces, and inhibit crack propagation on very brittle materials. However, strict control over the machining and vibration parameters, direction of vibration, and the process as a whole is necessary, as tool life can actually be diminished with wrong parameter selection [

171

,

172

].

In relation to the abovementioned materials, Jin and Xie [

173

] presented an experimental study on the surface generation in μRUAM of a BK-7 optical glass using a 2-flute micro end mill tool. They showed that the vibration direction had a major effect on surface quality, with vibration applied in the normal direction improving the machined surface. The vibration assistance also enhanced the brittle-ductile transition of glass and therefore reduced the surface damage. Finally, they concluded that a higher vibration frequency improved the surface quality by reducing the surface waviness. Bian et al. [

174

] also conducted an experimental investigation on micro-milling of brittle materials, but on ZrO

2

ceramics with diamond-coated micro end mills. It was found that the chips formed in the ductile mode were long and thin curled strips with a smooth back surface, leading to less edge and surface chipping. However, the compressive forces due to the ductile mode of material removal presented an increasing trend with random fluctuations of the cutting force, leading to higher tool wear.

With respect to very hard and wear resistant metallic alloys in particular, Li and Wang [

175

] recorded lower tool wear and better surface quality when the cutting speed was much less than the maximum vibration during μRUAM compared to conventional milling. The material tested was AISI H13, which was suitable for manufacturing molds and dies. Xu et al. [

176

] performed μRUAM research on titanium alloy TC4 and aluminum alloy 6061T6 with ultrasonic vibration in the radial direction. Their experimental results also verified that μRUAM could reduce the cutting force, while improving surface quality by reducing machining marks. Burr formation was also substantially lessened in μRUAM, compared to conventional milling, as shown in Fig.

13

. Finally, the team determined that the size effect appeared at much lower feed rates than in conventional micro-milling. They proposed that vibration-assisted machining at the microdomain triggered a change in the material removal mechanism. According to the authors, "impulse impact accelerates the generation and propagation of tiny cracks in the workpiece material, which reduces the binding force inside the grains of the material." Although this may be significant in reducing and eliminating the size effect in micro-milling, an in-depth analysis will be necessary for future work. Feng et al. [

177

] proposed a predictive model to estimate flank tool wear to a high accuracy. They found that a smaller axial depth of cut, larger feed per tooth, or higher cutting speed would result in higher flank wear rate, while the effects of the vibration parameters were less significant. Clearly, μRUAM is an interesting area in the development of micro-milling, as it may reduce some inherent limitations of the current conventional micro-milling process. Much work needs to be carried out concerning the physical process as well as process inputs, while research will now require focusing on more theoretical work rather than experimental work to fully characterize the process.
×
4.2

Laser-induced oxidation-assisted micro-milling

LOMM is derived from laser-assisted micro-milling (LAMM). LAMM combines the mechanical process of micro-milling with highly localized thermal softening of the hard material by continuous wave laser irradiation. Subsequently, the softened material is removed by micro-milling [

178

]. Compared to the conventional micro-milling process, the cutting force in LAMM is substantially decreased and the tool life is prolonged. However, a high laser power is required to soften hard materials such as ceramics. This would result in the ablation of workpiece material, expansion of heat affected zone, and formation of microcracks [

179

]. Therefore, Yang et al. [

179

] proposed the novel process of LOMM, which used a relatively low-power laser to irradiate the surface of a ceramic material. An oxidation reaction between the ceramic material and oxygen occurs, forming a loose and porous oxide layer, which can be removed easily through the mechanical process of micro-milling with a low cutting force thereafter. Compared to the conventional micro-milling, the surface quality by LOMM was better, and the machining efficiency was improved by 104%. Xia et al. [

180

,

181

] also presented a study on Ti-6Al-4V using this novel process. They showed that LOMM effectively decreased the cutting force and tool wear and prolonged the service life of the tool. They verified that the cutting force when removing the oxide layer in LOMM was 50%–65% lower than when removing the material in conventional micro-milling under the same cutting parameters. It was also noted that the top burr width of the machined microgroove and tool wear were smaller by LOMM. Wu et al. [

182

] also confirmed that far less tool wear occurred for LOMM compared to conventional micro-milling, as shown in Fig.

14

. This is a very new and promising area of research for the micro-milling industry, with considerable opportunities for theoretical and experimental works yet to be presented.
×
4.3

Atmospheric plasma jet-assisted micro-milling

Atmospheric-pressure plasma jet-assisted micro-milling is another underdeveloped assisted micro-milling process, which was proposed by Katahira et al. [

183

]. The team performed a feasibility study to investigate the effects of the application of an atmospheric-pressure plasma jet during PCD micro end milling, which compared machined SiC surfaces for both with and without the application of plasma jet. It was revealed that with the plasma jet, the formation of a high-quality surface was possible. Moreover, it was also highly effective in improving the chip formation process by imparting hydrophilicity to the tool and workpiece surfaces, as well as removing surface contamination at the tool edge during machining. However, no additional work had been presented on this process until Mustafa et al. [

184

] very recently. They also confirmed that atmospheric-pressure plasma jet-assisted micro-milling was a promising assisted technology with respect to the micro-milling process, as it provided the lowest surface roughness values among various cutting environments: dry, nitrogen jet, plasma jet, MQL, and plasma jet combined with MQL (see Fig.

15

). The material tested was Inconel 718. It was determined that the plasma jet could promote fracture of the nickel surfaces and therefore reduce the cutting force. However, it was demonstrated that the residual stresses in micro-milled machined surfaces were compressive, and atmospheric-pressure plasma jet tended to increase such compressive residual stresses. Again, far more work needs to be carried out to begin characterizing this process, which has great potential for reducing the inherent issues of machining in the microdomain.
×
5

Applications

The development of machine tools and the manufacturing technology as a whole has led to high-precision micro-milling processes in both research and industrial fields. The increasing demand for micro-structured parts and products with functional surfaces requires enhancing the process efficiency to develop new technologies and improve existing ones, so that a faster and more reliable production can be achieved [

185

]. The application of the micro-milling process ranges from fabrication of microstructures and micro-components to micro-texturing and mold manufacturing for industries such as electronics, aerospace, aeronautics, and biomedicine.
5.1

Micro-structures

One of the earliest and most employed application areas for the micro-milling process is in microstructure and micropart fabrication. Microdevices can be defined as having at least two critical dimensions in the sub-millimeter range with at least one critical dimension significantly smaller than 0.1 mm and with tolerance ranges of a few microns to nanometers [

84

,

186

,

187

]. The functionality of components can be improved by surface modifications such as microstructures using the micro-milling process. These structures can cause changes in the mechanical properties of the components, as reported by Godart et al. [

188

], who determined that 50 µm wide microstructures with a depth of 10–20 µm could increase tensile strength and decrease the fracture elongation in commercially pure-titanium workpieces. A basic example of such structure is a micro-thin wall, which usually refers to a cantilever structure with a thickness below 100 μm and a height to thickness ratio greater than 10 [

189

]. Accurate and precise removal of material to form micro-thin wall structures is very difficult to accomplish in reality, especially for metallic alloys that tend to deform plastically when the wall thickness is in microns, as exhibited in Fig.

16

. As the thickness of the wall is decreased, failure of the microstructure begins to occur owing to the wall thickness exceeding the material threshold of rigidity and strength. Other microstructures include pipes, blades of an impeller or turbine, walls of a microchannel, microcolumns, and fins of a heat exchanger. At present, these microstructures have been widely applied in micro-fuel cells [

190

], microfluidic chip channels [

191

], and EDM electrodes [

192

,

193

].
×
In the energy and electronics industries, the enhancement in efficiency of heat transfer devices is crucial as the trend toward miniaturization of devices requires better understanding of heat transfer in small dimensions [
194
]. Repeated rib surfaces are known for their effectiveness in enhancing heat transfer and they are widely required in many scientific and industrial applications. Further improvements to these microstructures were made by Wang et al. through the introduction of a textured asymmetric arc rib structure on which microstructure arrays of secondary microgrooves were superimposed [
195
]. It was then verified by Zhao et al. [
196
] that these hierarchical microstructures, composed of a primary microstructure and secondary micro V-grooves, could be machined well by an ultra-precision micro-milling process using a one-step cutting operation and a diamond tool.
Another application of microstructures that can be produced by micro-milling is for mass sensing in microelectromechanical system (MEMS) devices [
197
], which are used in the telecoms market, e.g., mobile phones and optical modulators [
198
], using lithium niobate (LiNbO
3
) material. LiNbO
3
is a crystalline material also often used in surface acoustic wave sensors and optical drives owing to its superior electrical, optical, and physical properties [
199
]. However, because of its low toughness, it is considered a difficult-to-machine material, which has conventionally been used as a substrate with deposited microstructures, rather than machined. However, owing to the ever-increasing demand for higher efficiency, direct fabrication of structures on the surface of LiNbO
3
is now necessary, and this can be accomplished easily by micro-milling, according to Huo et al. [
200
]. Clearly, micro-milling is a direct and effective manufacturing method for fabricating microstructures with complex 3D shapes. Nevertheless, the limitations of material deflection, plastic deformation, and burr formation during machining of such microstructures remain to be major issues that need to be addressed.
5.2

Micro-texturing

Another major application of the micro-milling process is in micro-texturing or micro-patterning to reduce frictional forces and reduce wear between parts in industries such as automotive and biomedicine. As summarized by Chen et al. [

202

], functional microtextured surfaces have high aspect ratio features, which enable the component to have superior properties such as reduced adhesion friction [

203

], improved lubricity [

204

], increased wear resistance [

205

], ability to manipulate hydrophilic performance [

206

], as well as influence optical properties [

207

]. Three possible mechanisms by which surface micro-texturing improves tribological performance, as outlined by Chen et al. [

208

], are described as follows. Firstly, the textured surface can increase the load-carrying capacity by serving as micro-hydrodynamic bearings for hydrodynamic lubrication [

209

]. Secondly, surface micro-textures can act as a second lubricant source to permeate the surface and reduce friction and wear between both surfaces, creating a lubrication boundary [

210

]. Finally, surface micro-textures can reduce the ploughing induced by abrasive wear and deformation between components by capturing wear debris between the texture features [

211

]. It was also shown by Kovalchenko et al. [

212

] that arrayed dimples on contact surfaces under lubrication helped to establish hydrodynamic pressure and decrease the friction force. These three mechanisms of tribological performance improvements have significant potential in orthopedic implants for arthroplasty procedures related to replacement of joints, such as hips, knees, or elbows. It has already been shown that micro-milling is a high-precision machining process suitable for difficult-to-machine materials, such as titanium alloys, cobalt-chrome alloys, and ceramics, all of which are commonly used for orthopedic implants.

Micro-textures can be fabricated by employing various techniques, including laser machining [

213

] and etching [

214

]. However, the most cost effective and efficient method will always be rapid and direct machining owing to the relatively low power consumption, precise and accurate 5-axis CNC programming, and high surface finish, all of which are characteristics of the micro-milling process. Although the application of micro-milling to fit this purpose is relatively new, there has been some interesting works presented lately. For example, Syahputra and Ko [

215

] developed a rapid process for acquiring complex texture data by using an image processing technique for the micro-milling process in which a complex surface texture representing human skin is transferred to a metal surface. Similarly, Chen et al. [

208

] concluded that the friction performance of micro-milled Al-Si alloy ZL10 surfaces could be enhanced by malposed rectangle dimple micro-textures, as illustrated in Fig.

17

. Their results showed that the average friction coefficient was reduced by 6.93%, while optical micrographs indicated that the microtextured specimens exhibited the narrowest and shallowest wear track, in comparison to untextured specimens. Micro-milling using a ball nose end tool is another viable technique for creating such micro-textures, as demonstrated by Graham et al. [

216

]. By tilting the tool at an inclined angle, the spindle speed and feed rate can be adjusted so that the flutes of the cutter create periodic patterns in a workpiece surface. However, the problem of burr formation associated with the machining of microgrooves and micropatterns remains an important issue. In an attempt to solve this problem, Fang et al. [

217

] studied the effects caused by cutting parameters, work material, and cutting methodology. However, more detailed work into tool geometry will be necessary to limit burr formation during micro-milling. Evidently, micro-milling is an efficient and versatile manufacturing technique, ideal for rapid machining of micro-textures and micropatterns across a broad range of materials and industries. However, the limited research available at this time indicates a significant research gap, which must be filled so that this precision machining process can be applied in the field of orthopedic implant manufacturing.
×
5.3

Mold making

The most significant application of the micro-milling process is in the mold making industry, because it permits precise, rapid, and accurate machining of high aspect ratio microfeatures, such as microchannels, microarrays, and thin walls, as already discussed. These molds are essential to microinjection molding, micro-hot embossing, and nanolithography industries for the polymer micro/nano mass replication of features and surfaces [

218

]. The most obvious contribution is rapid manufacturing and prototyping of molds and mold inserts through finishing processes of roughed out mold cavities, providing a quick and efficient processing time. A distinctive application example of this is for the microfluidics industry, which is important for the employment of disposable medical sensors. This highly significant area for micro-milling application in the microfluidics industry is in functionally optimized surfaces through patterned microstructures on miniaturized bioreactor components, also known as "lab-on-a-chip", as shown in Fig.

18

. The microfluidic chip provides a cheap and disposable platform for production and testing of pharmaceutical and biomedical products [

219

]. The possibilities for such microfeatures may also offer an important role in distinguishing biofilm behavior in the future [

220

]. The miniaturized size also allows for lower power consumption and greater portability, while utilizing smaller volumes of reagents and samples, which are extremely important to the microfluidics industry [

221

]. From a manufacturing perspective, the micro-milling process allows for rapid prototyping of microfluidic devices [

222

].
×
However, several challenges remain in micro-milling of molds and dies, namely burr formation and thin-wall deformation. Thus, it is important to identify and investigate these issues in applying this process in the mold making industry. Saptaji determined that micro-milling is capable of creating the features necessary for a thin microfluidic embossing mold, with a thickness and feature height of approximately 160 μm and 100 μm, respectively [
223
]. The appropriate selection of the micro-milling strategy is also crucial in achieving designed micro-lens array surfaces, according to Gao et al. [
224
], while different machining strategies have different machining surface textures due to the cutting direction. An important work by Ardila et al. [
185
] aimed at improving the entire micro-milling production chain to generate knowledge about related process stages, including potential improvements of productivity and quality. The team concluded that to increase the application of micro-milling in the mold industry, the micro-milling process must satisfy the productivity and quality standards, confirming that the process needs further research to comply with these requirements.
6

Conclusions and perspective

The high-precision micro-milling process was shown to be a very effective and versatile manufacturing process, capable of machining a broad range of difficult-to-machine materials for applications that require tight tolerance, good surface integrity, and efficient machining across all industries. Although micro-milling is not a particularly new manufacturing process and has been the focus of considerable research work throughout the years, new and novel applications for this process are constantly being established in the industry. The flexible and versatile nature of micro-milling has guided this precision process from direct manufacturing of MEMS components to 5-axis CNC machining of precision molds for micro/nano-polymer replication. Currently, further development of the process is being driven by the necessity for rapid and highly accurate micro-patterning and micro-texturing of surfaces, for producing large numbers and arrays of micro-sized features such as dimples and rectangular pockets to increase lubricity and reduce friction forces between wear parts. The driving force behind this latest development is the requirement of the bio-implant industry to produce such features in a precise and efficient manner and to improve the tribological performance of orthopedic implants, thereby extending implant life. Therefore, the development of efficient and precise micro-milling to produce microstructures, micro-textures, and high-quality molds has promoted a sustainable future for the micro-milling process, with interesting new areas and applications to overcome current limitations of other technologies.

However, as mentioned throughout the review, many problematic and inherent issues of the micro-milling process prevent its application in industries until further research and investigations are carried out. Such issues include the phenomena of downscaling machining to the microdomain, i.e., the size effect, chip formation mechanisms, and fundamental process instabilities involved. Primarily, burr formation during channel or slot milling is the most critical issue limiting the use of micro-milling in microfluidic chip molds, where undesirable projections of the material form as a result of the plastic flow from cutting and shearing operations. Since post processes such as deburring are costly and are non-value added operations, understanding and control of burr formation are research topics with high relevance to industrial applications, with much work yet to be carried out. Similarly, adhered materials on the tool cutting edge, i.e., BUEs, have a large influence on the machining process outputs. The effect is particularly significant with the reduction in diameter of microtools, where even small material deposits can lead to substantial geometric errors and poor surface finish. Accordingly, more thorough investigations into BUE prevention, while looking toward stable BUE development, will have profound impacts on the current state of the micro-milling process. Likewise, reduction and altogether elimination of process instabilities, such as tool deflection, tool runout, and chatter, will advance the development of micro-milling in the future. Reduction of such instabilities will make micro-milling evolve into a high-precision process, i.e., with reduced feature size from a few microns down to the submicron level. This will also significantly contribute to decreasing the cutting force, surface roughness, cutting temperature, and tool wear.

High tool wear is another major issue currently impeding the micro-milling process, leading to less efficient machining, poorer surface finish, and higher costs. Further examination of the multifactor effect of the process inputs involved in micro-milling offers another significant area for micro-milling research, specifically in relation to tool optimization, e.g., tool geometry, material, microstructure, and coating. Furthermore, the effects of workpiece material microstructure, CNC toolpath, and cutting fluid, will all carry an important role for future work. Similarly, combined processes of new technologies with the conventional micro-milling process offer suitable solutions to overcome inherent constraints of cutting material removal mechanisms at the microdomain. Finally, current and future trends of the micro-milling process are discussed in detail in relation to its industrial applications, while important insights into further development are considered and significant research gaps are identified.
Acknowledgments
This work was supported by the National Key Research and Development Program (Grant No. 2016YFB1102200), Science Foundation Ireland (Grant No. 15/RP/B3208) and the "111" Project by the State Administration of Foreign Experts Affairs and the Ministry of Education of China (Grant No. B07014).
Open Access
This article is licensed under a Creative Commons Attribution 4.0 International License, which permits use, sharing, adaptation, distribution and reproduction in any medium or format, as long as you give appropriate credit to the original author(s) and the source, provide a link to the Creative Commons licence, and indicate if changes were made. The images or other third party material in this article are included in the article's Creative Commons licence, unless indicated otherwise in a credit line to the material. If material is not included in the article's Creative Commons licence and your intended use is not permitted by statutory regulation or exceeds the permitted use, you will need to obtain permission directly from the copyright holder. To view a copy of this licence, visit
http://​creativecommons.​org/​licenses/​by/​4.​0/​
.