18-11-2019 | Original Paper | Issue 4/2020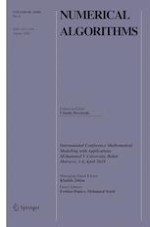 Preconditioned Krylov subspace and GMRHSS iteration methods for solving the nonsymmetric saddle point problems
Journal:
Authors:

A. Badahmane, A. H. Bentbib, H. Sadok
Important notes
Publisher's note
Springer Nature remains neutral with regard to jurisdictional claims in published maps and institutional affiliations.
Abstract
In the present paper, we propose a separate approach as a new strategy to solve the saddle point problem arising from the stochastic Galerkin finite element discretization of Stokes problems. The preconditioner is obtained by replacing the (1,1) and (1,2) blocks in the RHSS preconditioner by others well chosen and the parameter
α
in (2,2) −block of the RHSS preconditioner by another parameter
β
. The proposed preconditioner can be used as a preconditioner corresponding to the stationary itearative method or to accelerate the convergence of the generalized minimal residual method (GMRES). The convergence properties of the GMRHSS iteration method are derived. Meanwhile, we analyzed the eigenvalue distribution and the eigenvectors of the preconditioned matrix. Finally, numerical results show the effectiveness of the proposed preconditioner as compared with other preconditioners.