28-04-2021 | Issue 2/2021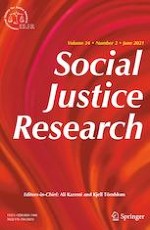 Predicting Support for Affirmative Action in Educational Admissions
Journal:
Author:

Christopher L. Aberson
Important notes
Publisher's Note
Springer Nature remains neutral with regard to jurisdictional claims in published maps and institutional affiliations.
Abstract
The present study examines predictors of support for ethnicity-based affirmative action (AA) in college admissions. There is considerable work focused on predicting support for AA policies in employment, but there is comparative dearth of knowledge about reactions to AA in education. This work applies existing models of support for AA that include beliefs about AA policies (fairness, merit, diversity valuation, and prevalence of discrimination) and individual characteristics (sex, political orientation, and self-interest). White (
n
 = 413) and Hispanic (
n
 = 343) college students completed measures of the model predictors and reactions to a general AA policy and several specific policies (e.g., recruitment of minority applicants, different standards for admission). Regarding the general policy, those who more strongly valued diversity in educational setting and believed discrimination still existed indicated stronger support for general AA policy. Surprisingly, fairness, merit, gender, and political orientation did not uniquely predict support in either sample. Self-interest related to greater support for Hispanic participants only. Across specific policy applications, diversity valuation and recognition of ongoing discrimination were the also most consistent predictors. Findings highlight that models of support for AA in hiring may not be wholly applicable in predicting support for AA in educational admissions.