14-12-2019 | Production Process | Issue 1/2020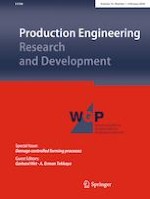 Prediction and analysis of damage evolution during caliber rolling and subsequent cold forward extrusion
Journal:
Authors:

Alexander Schowtjak, Shuhan Wang, Oliver Hering, Till Clausmeyer, Johannes Lohmar, Robin Schulte, Richard Ostwald, Gerhard Hirt, A. Erman Tekkaya
Important notes
Publisher's Note
Springer Nature remains neutral with regard to jurisdictional claims in published maps and institutional affiliations.
Abstract
Damage in the sense of voids influences material as well as product properties and thus is important for the performance of formed components. In this work, the influence of caliber rolling prior to a cold forward extrusion process in terms of damage evolution is investigated. To this end, an uncoupled Lemaitre-type damage model considering the effects of strain-rate and temperature dependent plasticity is employed. The damage-related parameters are identified in an inverse manner based on notched tensile tests. Numerical investigations of the forming processes show that damage increases throughout the process chain. The simulations are validated in terms of density measurements and microscopic investigations. The experimental measurements and numerical simulations are in good qualitative agreement. It is shown that the influence of rolling on subsequent cold forward extrusion is negligible for this experimental setup. For other process parameters, however, the influence could be significant.