05-06-2020 | Production Process | Issue 3/2020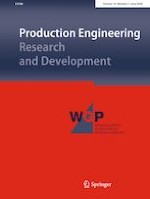 Prediction and optimization of machining results and parameters in drilling by using Bayesian networks
Journal:
Authors:

X. Wang, R. Eisseler, H.-C. Moehring
Important notes
Publisher's Note
Springer Nature remains neutral with regard to jurisdictional claims in published maps and institutional affiliations.
Abstract
Tool wear and borehole quality are two critical issues for high precision drilling processes. In this paper, several drilling experiments in terms of different drilling parameters and drill bit with and without coating are conducted according to the Taguchi orthogonal arrays. Thrust force and moment were measured during the drilling process. The cutting edge radius depending on the wear, roughness and roundness of the borehole were also aquired. By combining the experiment dataset with the expert knowledge, a Bayesian prediction network of tool wear radius, surface roughness and borehole roundness is established through structure learning and parameter learning algorithms based on GeNIe, a disposable software to create Bayesian networks. Up to
\(89\,\%\)
accuracy were achieved using this approach. The research described in this paper can provide a new approach to multivariate prediction and parameter optimization in drilling.