Published in: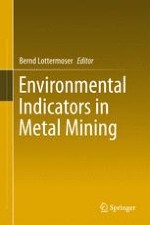 2017 | OriginalPaper | Chapter
Predictive Environmental Indicators in Metal Mining
Abstract
Predictive environmental indicators in mining can be defined as '
values derived from parameters that provide quantitative information against which some aspects of
environmental risks
associated with mineral resource development can be measured
'. At mine sites, such indicators provide information on conditions and processes that may develop during the mine life cycle and after mine closure. They are measures to forecast changes in the quality of the air, water, land and ecological systems. Predicting environmental risks is typically not an attribute that is strongly embedded into the development of mineral resources. However, a more predictive and proactive approach to early environmental characterization and risk assessment should be used early in the life-of-mine stages, because such an approach supports more effective mineral processing, better storage of waste, improved mine closure outcomes and ultimately reduced financial risks and liabilities to operators and regulators.