20-03-2021 | Original Paper | Issue 2/2021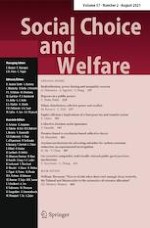 Premise-based vs conclusion-based collective choice
Journal:
Author:

Masaki Miyashita
Important notes
Under the previous title of "Binary Collective Choice with Multiple Premises," this paper won the Kanematsu Fellowship from the Research Institute for Economics and Business Administration of Kobe University in 2016. I am grateful to Hitoshi Matsushima and Toyotaka Sakai for many suggestions and encouragement, and three anonymous referees of the Kanematsu Fellowship and two anonymous referees of the journal for detailed comments. I would also like to thank Ryota Iijima, Yoko Kawada, Akihiko Matsui, Alan Miller, Yuta Nakamura, Noriaki Okamoto, Daisuke Oyama, and Dov Samet for helpful discussions and comments.
Publisher's Note
Springer Nature remains neutral with regard to jurisdictional claims in published maps and institutional affiliations.
Abstract
Imagine a group of individuals faces a yes-no type question whose answer is logically determined by multiple premises. There are two salient types of procedures to aggregate individual judgments—the "premise-based way" (PBW) and the "conclusion-based way" (CBW). We derive necessary and sufficient conditions under which two procedures are universally ordered. If (and only if) a decision problem takes a "conjunctive" form, PBW derives a positive collective judgment (i.e., "yes") whenever CBW does. Furthermore, if we replace "conjunctive" with "disjunctive" in the previous line, PBW derives a negative collective judgment (i.e., "no") whenever PBW does. These observations highlight the fact that these two procedures are a mathematical dual of each another. Asymptotic properties are also studied. Under classical Condorcetian assumptions, PBW ensures the probability that the voting outcome is correct converges to one as the size of a group tends to infinity, whereas this holds for CBW only if an additional condition is satisfied.