01-07-2020 | Original Research | Issue 13/2020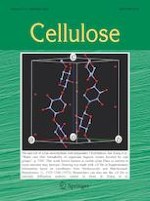 Preparation and oil adsorption properties of hydrophobic microcrystalline cellulose aerogel
Journal:
Authors:

Yifan Zhao, Kai Zhong, Wei Liu, Sheng Cui, Ya Zhong, Shengjun Jiang
Important notes
Publisher's Note
Springer Nature remains neutral with regard to jurisdictional claims in published maps and institutional affiliations.
Abstract
Hydrophobic microcrystalline cellulose (MCC) aerogel is synthesized using microcrystalline cellulose and NaOH/urea solution as precursors through the sol–gel route and alkylation hydrophobic coagulation bath. Especially, the effects of different drying modes and content of MCC on the physical chemistry properties are investigated. The results show that samples using nano-self-assembly method combined supercritical CO2 drying possess loose and uniform porous three-dimensional network structure. The specific surface areas before and after modification are 180.28 m2/g and 154.37 m2/g with average pore sizes at 22.58 nm and 25.71 nm. The hydrophobic angle is up to 154.3°, the maximum adsorption efficiency can reach 12 g/g, which is also of reusability after 5 adsorption tests. This hydrophobic MCC aerogel has excellent adsorption performance, and simple, rapid, effective oil contamination treatment which is of use in oil adsorption.