01-06-2015 | Original Paper | Issue 11/2015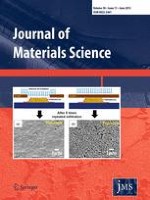 Preparation of Zn1−

x

Mg

x

O films with high Mg content by novel chemical bath deposition
Journal:
Authors:

Ryosuke Maekawa, Hiroyuki Suto, Takenobu Sakai, Mamoru Ishikiriyama
Abstract
We successfully synthesized single-phase Zn
1−

x
Mg
x
O thin films with high-Mg content value (
x
) of up to 0.48 by a novel chemical bath deposition (CBD) method. Through a detailed survey of the solution phase diagram for each component cation, Zn
2+
and Mg
2+
, as a function of the cation concentration, the pH value and the temperature, we found the condition where hydroxides of these two cations can coprecipitate. The two parameters, the pH value and the temperature, were simultaneously controlled. The different optical band gap values of these films made by this method were obtained at different annealing temperatures. The band gap values of the films annealed at 500 and 300 °C were 3.3–4.0 eV and 3.4–4.2 eV, respectively. The higher band gap value of the films annealed at 300 °C is attributed to containing hydroxide with large band gap value.