24-12-2020 | Theoretical / Philosophical Paper | Issue 4/2020 Open Access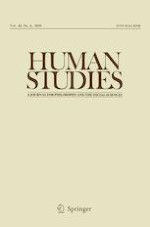 Presence in Digital Spaces. A Phenomenological Concept of Presence in Mediatized Communication
Journal:
Authors:

Gesa Lindemann, David Schünemann
Important notes
Publisher's Note
Springer Nature remains neutral with regard to jurisdictional claims in published maps and institutional affiliations.
Introduction
Sociological discourse about communication technologies often concentrates on phenomena deemed pathological, using terms such as "addiction" or "isolation" in reference to social media usage (e.g., Turkle
2011
). In some ways, this reserved stance seems to be at odds with the enthusiasm with which modern society embraces such technologies; on the other hand, it echoes popular criticisms. Either way, the prevailing sociological perspective is characterized by an apparent indifference towards the actual experience of using such technology and by a demonization of its allure (Turkle
2011
). Quite removed from this critical pretense, current empirical studies of digital communication technologies have discovered the phenomenon of "telepresence" (Bracken and Skalski
2010
), "telecopresence" (Zhao
2015
), or the phenomenon of "being together" without bodily proximity (Hardesty and Sheredos
2019
). Ollinaho even argues that the "paramount reality of everyday life" (Schutz) has been "transformed to entail virtual realms" (Ollinaho
2018
: 206). Similarly, Ayaß acknowledges that the online realm has become a normal part of our everyday life (Ayaß
2014
). The focus of these studies is not on the pathological effects of such technologies, but rather on describing and even managing the actual experience of actors using them.
Such experiences are often dismissed as inferior to or less real than face-to-face interaction (see Sutter
2010
; Turkle
2011
). This assumption is based on a particular understanding of space going back to the implicit spatial concepts inherent in classical theories of face-to-face interaction.
Starting with a short overview of these spatial concepts, we show how they are unsettled by the empirical phenomenon of telepresence. As a consequence, we propose a phenomenological conception of space which defines mediatized communication as an interaction of lived bodies in a "social resonance space". We develop a heuristic for the analysis of the technical functions of digital communication media as they establish a social resonance space and show how this can be applied to the analysis of communication through e-mail in open source software communities. The aim is to come up with more accurate descriptions of the actual experience of using communication technologies and the accounts thereof. This is a theoretical paper, which also provides an empirical example to give a principle proof of the empirical fruitfulness of our proposed concepts.
Mediatized Communication, Social Interaction and Space
Analyses of "mediatized" (Krotz et al.
2014
: 11) communication have compared it to face-to-face interaction since the early days of the internet (see Esposito
1995
; Wehner
1997
; Sutter and Charlton
2001
; Sutter
2010
). In these approaches, the sociological concept of face-to-face interaction is defined by people being in close spatial proximity to each other (Sutter
2010
: 88). Thus communication between people who are not in the same place at the same time does not, in this view, count as interaction. Instead, auxiliary constructs such as "artificial communication" (Wehner
1997
: 97), "artificial interactivity" (Mehler
2010
) and "virtual intimacy" (Turkle
2011
: 12) are developed to criticize mediatized communication and to differentiate it from "natural interactions" (Wehner
1997
: 97), "real relations" (Sutter
2010
: 95) or "a full social life" (Turkle
2011
: 11). Mediatized communication is here placed in a "parallel universe", a cyberspace (Esposito
1995
: 226). This idea corresponds to the sociological narrative according to which the spatial dimension is becoming increasingly less important for understanding sociation processes in modernity (Schroer
2006
: 172).
However, in the past decade, theoretical studies have been published that focus on the importance of space for sociation processes (Schroer
2006
; Löw
2016
). This seems to contradict empirical research in the field of mediatized communication, which emphasizes the category of time rather than the category of space (Knorr-Cetina
2009
; Werron
2015
). At the same time, research is being done that highlights the importance of the experience of presence (Bracken and Skalski
2010
; Hahn and Stempfhuber 2015; Zhao
2015
) and the relevance of the embodiment of actors (Knorr-Cetina
2009
). We argue that it is a contradiction to emphasize presence and embodiment while at the same time marginalizing space. These contradictions impose on us the urgent task of finding ways to conceptualize mediatized communication in relation to space. We develop our argument in three steps.
First, we elaborate the implicit concept of space employed in interaction theories and in studies of mediatized communication based on these theories. We show that this concept can be traced back to the concept of presence in a shared
physical
space in classical face-to-face interaction theory. It turns out that both Goffman and the studies that draw on his concept of face-to-face interaction employ an understanding of sensual perceptibility when they talk about presence, while Luhmann introduces a constructivist element in the sense that sensually perceptible actors can be treated as absent in social settings. We call this a 'halved constructivism' because it does not entertain the possibility that those who are, in a physical, perceptible sense, absent, can conceptually be present.
We then present a phenomenological concept of space that accounts for its various facets and introduce an expanded constructivism grounded in the theory of the lived body of Helmuth Plessner (
1928
/2019) and the concepts of space developed by Hermann Schmitz (
1967
). This concept of space allows for absentees to be treated as present and thus completes Luhmann's halved constructivism.
Finally, we show how this approach enables new insights into mediatized communication by way of an empirical example from the field of open source software development.
Implicit Concepts of Space in Theories of Face-to-Face Interaction
In both theoretical traditions (Luhmann and Goffman), mediatized communication is contrasted with face-to-face interaction. In both cases the interaction partners' presence in close proximity in a shared physical space is the foundation of face-to-face interaction. The notion of physical distance between humans is treated as an unquestioned basic assumption in social concepts of interaction.
Thus, when distinguishing between perception/expression and communication, the subtle nuances of "indirect" communication become the focus of analysis. This means that perception functions as a catalyst for attributing messages to the sender which he can be imputed to have communicated involuntarily.
This shows that, while social construction is stressed in theories of face-to-face interaction, space is at least partly conceptualized as a physical reality beyond the realm of social construction. In particular, classical interaction theory does not consider the possibility of actors experiencing presence through mediatized communication.
Evidence of the Experience of Presence in Studies of Mediatized Communication
In summary, we can state that, according to the phenomenological tradition, the immediate embodied experience can be included in the analysis. Nevertheless, in the tradition of Schütz, this leads to focusing on temporality while neglecting the spaciality of exerience. Although, following Merleau-Ponty and Waldenfels, the meaning of space can be included in the analysis to some extent, it remains impossible to grasp the spatiality of experience in a differentiated way with the concepts put forward by these authors. We would like to extend these efforts with a proposal that integrates the spatiality of the social into a concept of embodied presence. This allows us to explicate the implicit phenomenological borrowings in Luhmann's and Goffman's concepts.
Embodied Space
Our aim in incorporating the perspective of the lived body is to complement and render more precise the concepts put forward within the more recent sociology of space, which is a part of the more general "spatial turn" (Bachmann-Medick
2016
). Space is understood as being constructed by "social operations" such as "spacing" and "operation of synthesis" (Löw
2016
: 134ff.). However, it remains uncertain here whether and, in particular, how actors carrying out these social operations are themselves spatially constituted in their references to their environment.
3
The proposals put forward by Helmuth Plessner and Hermann Schmitz seem more productive to us here. Their concepts also allow us to address the confusion surrounding the problem of presence in Internet-mediated communication. Following Plessner's (
1928
/2019) theory of excentric positionality, we understand the relationship of embodied selves to their environment as a mediated immediate relationship. The concept of mediated immediacy allows us to take into account both technical as well as socio-symbolic mediations of lived body-environment relationships (see Plessner
1928
/2019; Lindemann
2020
: 107ff., 165ff., 185ff.).
The "body-to-body starting point" of interaction theory is made more precise by distinguishing between the lived body [
Leib
] and the physical body [
Körper
]. This means that instead of thinking in terms of bodies perceiving the world, we think in terms of embodied selves experiencing it. With this move, physical space as the definitive boundary of the reach of the social situation ceases to be self-evident, and space as experienced by lived bodies can be broken down into different "modes of spatial givenness" (Schmitz
1967
: chap. 2) for the embodied self. These modes can be differentiated in empirical observation. Thus, for instance, the question of whether something is a "full" interaction can be separated from the observation of the distances between the bodies in question and located in the experiences of the selves. Distance and proximity are then no longer regarded as objectively measurable quantities which determine whether deviating statements in the field appear as illusion or syndrome, but are rather conceptualized as descriptions of embodied actual experience. Making this experience into the object of empirical observation allows for the possibility that mediatized communication can be experienced as a social situation.
In his phenomenological archeology of space, Schmitz distinguishes between three different forms of space: (1) the unstructured space of vastness [
ungegliederter Weiteraum
], (2) embodied directional space [
leiblicher Richtungsraum
], and (3) local space [
Ortsraum
]. We suggest adding a fourth form to this list: digital space, that is, space measured in arbitrarily small units. Overall, this understanding of space allows us to conceptualize the particularities of the presence of others as well as to understand the technical characteristics of the space of digital communication. In the following, we give a brief overview of the lived body-environment relationship, the forms of space, and the relationship between space and sociality, in order to then formulate a hypothesis about the changes initiated by new media that takes up our criticism of the approaches summarized above.
Lived Body, Environment, and the Forms of Space
Starting from the lived body means analyzing sociation as a situated, spatiotemporally structured execution of embodied relationships to the environment. It is not about individual actors acting and making decisions, but about how these actors are technologically and symbolically mediated and integrated into their situation, how they are affected by it, and how they act and impact on their environment and communicate with others accordingly.
Space and Sociality
The embodied giving direction of the space of vastness and the situating of embodied action centers in a structured local space can be taken to ground, from the perspective of a phenomenology of the lived body, what Löw describes as "spacing" and "operations of synthesis". It is here that the spatiality of embodied actors' relationship to their environment becomes observable as such.
In our phenomenological approach, we comprehend space not only in terms of its attachment to the "here" of the standpoint, but also as a relationship to surrounding space. The structuring of spatial forms that follows from this allows for an understanding of space as also enabling sociality. There are different possibilities here. Goffman's and Luhmann's concepts of space based on interaction, presented in Sect.
2
, above, implicitly operate with a concept of local space when analyzing the relationship between sociality and space. Spatial proximity is seen as the condition for overcoming the separateness of spatial standpoints, and interaction takes place between those bodies that are present in a particular place. The minimum requirement for someone to be present (Goffman's concept of space) or to be treated as present (Luhmann's constructivist concept of space) is to be visible and within earshot or calling distance. This ties presence—or, in the case of the constructivist concept of presence, the possibility of being treated as present—to immediate sensory presence.
Working with a phenomenologically differentiated concept of space—i.e., including the space of vastness experienced by the lived body as well as embodied directional space—opens up other ways of understanding the connection between space and sociality. Embodied actors experience a surrounding, unstructured space of vastness and direct themselves into it. This makes the surrounding space of vastness into a potentially social space (Lindemann
2020
: 127f.) or into a "social space of resonance" (Fritz-Hoffmann
2017
).
6
Embodied actors direct themselves into the surrounding space using, for instance, glances and gestures, thereby touching/affecting other embodied selves. This possibility is one of the—generally tacit—background expectations of embodied selves. Thus one can feel a glance without immediately being able to identify where it's coming from. In other words, without being able to tell right away where the body is located from which the glance is coming from, a perceiving embodied self senses that someone is looking at it. Similarly, sounds can also be experienced as an indication of the immediate presence of another even if it is not possible to determine where that other is. Every rustling or scuffling noise can indicate the immediately experienced presence of another. The studies on the phenomenon of presence presented above (Bracken and Skalski
2010
; Licoppe
2004
) suggest that in addition to glances and sounds, mediatized gestures of communication, such as for instance "textual self-representations", can also be experienced as indications of presence.
The surrounding space of vastness is not structured according to places or measurements and distances; it is unstructured space. At the same time, actors expect others to be able to direct themselves at them from out of this space, making it into a social resonance space. Social resonance space
is
the surrounding space of vastness insofar as actors expect to be communicatively addressed from out of this space. If we expect to be communicatively addressed from out of the surrounding space of vastness, we have entered into a social resonance space.
Our analyses in the following are anchored in these phenomenological concepts of embodied selves and space.
Mediated Immediacy
Integrating the differentiated phenomenology of spatial forms following Schmitz with Plessner's concept of "mediated immediacy" (Plessner
1928
/2019: 324f.) leads to further analytical perspectives (see Lindemann
2020
). Mediated immediacy means that a phenomenon is technically or symbolically mediated but is nevertheless experienced as immediate; technically mediated immediacy is understood to be a continuation of the mediatedness of the physical/lived body's experience of its environment. Plessner develops his concept of the lived body starting from the objectified body.
7
The objectified body refers to the three-dimensionally extended body located in a particular place in local space. By contrast, the lived body refers to a living body that has itself as the means of its relationship to its environment. Thus for the objectified body, seeing, for example, is a process in which light stimuli encounter bodily sensors, which process and transmit them as neural signals. At the same time, the seen phenomenon is perceived as immediately present in surrounding space. In the experience of this perception, the bodily mediation is dominated by the immediacy of the lived body's relationship to its environment. Embodied experience of the environment thus means an immediate sensory experience of the environment. The notion of mediated immediacy describes this concurrence of immediate embodied experience and bodily-organic mediatedness. As means, the body has the character of an "apparatus" and, as lived body, is at the same time the subject of its life (Plessner
1928
/2019: 186). As apparatus, the mediating organs can be at least partially replaced, optimized, or augmented. Phenomena that are made accessible by technically augmenting perception can also be experienced as immediately given in line with Plessner's principle of mediated immediacy. In the following, this assumption guides our analysis of the digitally/technically mediated perception of the immediate presence of other actors.
The use of language and writing points to the symbolic mediatedness of the presence of others.
8
A linguistic utterance describing a state of affairs leads it to be experienced as immediately given. Social relationships are technically/symbolically mediated in manifold ways and at the same time are experienced as immediate social relationships.
The Empirical Significance of the Concepts of the Lived Body and of Embodied Space
Building on the concepts of embodied space, local space, and technically mediated, predimensional, social resonance space, we will now seek to identify one of the historical changes in spatial experience that is expressed in mediatized communication. As a starting point we can identify a type of spatial experience that is determined by the interconnection between local space and embodied directional space and distinguish it from a recently emerging structure of spatial experience that is characterized by the interconnection between an embodied relationship to space and the unstructured space of vastness, which is at the same time a (in part) technically mediated social resonance space.
The interconnection between embodied directional space and local space can be illustrated by the example of getting one's bearings with a city map. The creation of a city map presupposes a measured, three-dimensionally extended space, which allows for a controlled translation of territory to map. When an embodied actor reads the map, she positions herself on this map and then orients herself with her lived body: I'm standing here; I need to turn left at the third intersection, then right, then another left; then I'll look at the map again. Objectified local space and the form of embodied orientation become interconnected in this process in a way that seems to characterize embodied actors' relationship to space in modern societies. Furthermore, according to both Goffman's and Luhmann's implicit concept of space, local space is the epitome of social space. Thus the interconnection between embodied directional space and local space also implies that the primary sociality of embodied actors is tied to local space. Accordingly, sociality in this view is primarily understood as interaction between actors present in local space. Other forms of communication are seen as having to simulate the ordering functions valid in the interaction between locally present actors or having to replace them with other functions. Luhmann's media theory is a good example of this approach. Schütz's theory of the lifeworld similarly ties the primary sociality of embodied actors to local space.
A perspective that includes a theory of the lived body, by contrast, replaces the concept of perceptual space with that of space experienced by the lived body, which includes the space of vastness and embodied directional space. The embodied sensation of the presence of others is not limited in this conception to proximity in local space. An example from the field of open-source software development illustrates the advantage of this conceptual adjustment.
Conclusion
In this article we show in which way the concept of interaction as it is used in the tradition of Goffman and Luhmann leads to an understanding of digital communication that describes this emerging form of technically mediated interaction as less real (Lombard and Ditton
1997
) or even a pathological (Turkle
2011
) form of interaction respectively communication. Even studies, which focus on the concrete experience of presence in technically mediated communications, primarily highlight the temporal aspect of presence (e.g., Hardesty/Sheredos
2019
, Knorr Cetina
2009
: 79, Zhao
2015
). Thus they fail to take into account the particular spatiality of these interactions. Presence is understood only as a temporal but not as a spatio-temporal phenomenon. While Friesen (
2014
) and Berger (2020) both consider the embodied experience of space to some extent, they do not succed in giving a detailed analysis of spatial experience.
To avoid these conceptual shortcomings we suggest a new approach based on the phenomenological concepts of the lived body and mediated immediacy (Helmuth Plessner) combined with the concepts of embodied space (Hermann Schmitz). Herewith we avoid a restricted understanding of interaction that does not allow for an appropriate empirical analysis of the emerging structures of digital communication.
With respect to an analysis of interactions in an open source project, we provide a principle proof of the empirical significance of our proposed conceptual framework. In open-source projects, Internet-based communication technologies are used in a routine way and accepted as a natural part of this activity. Although participants rarely meet each other face to face, they nevertheless experience their communication as an encounter with others in a shared space. This space is established in particular by text-based communicative gestures.
At present such spaces of interaction permeate everyday life and all relationships, whether it be with colleagues, friends, or closest family members. Face-to-face interaction and electronically mediated communication seamlessly blend in everyday life. In many cases, such as in the field of open-source software development, real names are used, or those involved know the real names behind the pseudonyms. Therefore we need analytical concepts, which allow for describing the experience of different spatial relations, without denying reality to some of these experiences.
Schmitz distinguishes between different forms of spatial experience, with the space of vastness figuring as the basic form of spatial experience. We interpret this space as a basic social resonance space. It encompasses face-to-face interactions as well as those that are technologically mediated. As a second form of spatial experience we identify directional space, in which lived bodies direct themselves at one another and affect one another immediately either in a symbolically or both symbolically and technically mediated way. Local space, the third form of spatial experience, is the form of space sociological interaction theories (Goffman, Luhmann) usually refer to.
Conceptualizing these forms of spatial experience allows us to describe the similarities and differences between face-to-face interaction and technologically mediated interaction. Both of these occur in social resonance space, which is always at least implicitly present. Until recently, participants in face-to-face interactions thought of these as only being able to occur in local space. Social resonance space was only implicitly or quite rarely of practical relevance, such as when someone directs him/herself at me from somewhere else—in a letter or a landline phone call. But if interactions are mediated in a more technologically comprehensive way, social resonance space is experienced directly as a space of vastness. It is always possible that others will direct themselves at me in a technologically mediated way—with a message on a computer or a smartphone. By structuring interaction in this way, social resonance space becomes practically relevant.
Of course these spaces cannot be isolated against each other. Even if the social resonance space of face-to-face interaction is experienced practically as a local space, it is specified as such from a background of a space of vastness, from which other actors can intrude a particular local space. For example, I talk to my friend in a bar, and my mobile indicates a message. Someone from somewhere has addressed me. If the focus is on internet-based communication (see the analysis of the mailing list communication above) the social resonance space is specified as a space of vastness. Nevertheless, entering this particular social resonance space is also related to a particular local space, where an embodied self sits in front of computer display. Using the proposed concepts, we are not forced to distort the phenomenon of concrete experience, instead we can analyze how concrete actors make sense of their spatial experiences, without denying reality to some of them.
This approach not only makes it possible to analyze the emerging digital culture, but also allows sociology to abandon its methodological ethnocentrism. In the ethnological research we find numerous examples of interactions with actors (such as ghosts or deceased ancestors) that cannot meaningfully be situated in three-dimensionally extended local space, but can indeed be situated in an experiential space without a local-space structure. Limiting the definition of interaction to actors present in local space is based on a historically contingent state of affairs that is on the verge of changing. We have shown that mediatized communication seems to exhibit structures similar to those identified in ethnological research: other actors are experienced as existing in unstructured, i.e., non-measurably extended space. They are experienced as being present somewhere in the surrounding space without being situated in a measurably extended place.
In short, we suggest a revision of basic premises of interaction analyses. First, we understand space not only as a shared local space, instead we propose a broadened understanding of space, which includes the space of vastness and embodied directional space. Second, this allows for an understanding of presence, which is not only understood as a temporal, but always as a spatio-temporal phenomenon. Third we propose a new understanding of actors as lived bodies, which relate in a mediated immediate way to their environment. These lived bodies are "artificial by nature" (Plessner
1928
/2019: 309ff.) that is, there is no true nature of embodied selves, instead their immediate experience is always mediated by technology and symbols. Fourth, we introduce the concept of digital space. This allows us to grasp the space of technological functioning and to understand how it differs from the space of embodied experience. Using these concepts of embodied selves and embodied space makes it possible for sociological analysis not only to abandon its methodological ethnocentrism, but also prepares it for the challenge of analyzing the emerging forms of digital culture.
Open Access
This article is licensed under a Creative Commons Attribution 4.0 International License, which permits use, sharing, adaptation, distribution and reproduction in any medium or format, as long as you give appropriate credit to the original author(s) and the source, provide a link to the Creative Commons licence, and indicate if changes were made. The images or other third party material in this article are included in the article's Creative Commons licence, unless indicated otherwise in a credit line to the material. If material is not included in the article's Creative Commons licence and your intended use is not permitted by statutory regulation or exceeds the permitted use, you will need to obtain permission directly from the copyright holder. To view a copy of this licence, visit
http://​creativecommons.​org/​licenses/​by/​4.​0/​
.
Publisher's Note
Springer Nature remains neutral with regard to jurisdictional claims in published maps and institutional affiliations.