10-02-2017 | Review Article | Issue 2/2017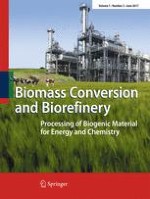 Pretreatment technologies of lignocellulosic biomass in water in view of furfural and 5-hydroxymethylfurfural production- A review
Journal:
Authors:

David Steinbach, Andrea Kruse, Jörg Sauer
Important notes
In memory of Michael J. Antal.
Abstract
Lignocellulosic biomasses are strongly connected composites of cellulose, hemicelluloses, and lignin. A pretreatment is required in order to make these components available for their later conversion into chemicals. At this point, two strategies have to be considered: to either produce chemicals via microorganism or enzymes (1), or by chemical conversion (2). The focus of this article is the second strategy, which is chemical conversion, performed in water to produce the final products furfural and 5-hydroxymethylfurfural (HMF). Reviewed first is the composition of cellulose and hemicelluloses as well as their degradation chemistry in water. Then, fundamental modes of action and process parameters of pretreatment methods in aqueous solution are summarized. The pretreatment methods discussed here are steam explosion, treatment with hot liquid water, diluted and concentrated acids, as well as alkaline solutions. Finally, the advantages and disadvantages of these pretreatments are discussed for lignocellulosic biomass.